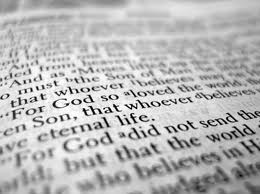 I have gone to church all my life, and have been familiar with the Bible.
I have attended, participated, worked, and served at church. I graduated from a private Christian University while attending chapel services 3 times each week, and on Sundays, I served at church in the morning and in the evening, and went on several missions trips.
I have listened to countless sermons, attended multiple Bible studies, and have sung in many choirs. And yet, last summer, at the age of 39, I had NEVER read all the way through the Bible, cover to cover.
Oh, don't get me wrong! I had known a lot about the Bible. I had memorized many verses, and was very familiar with all the stories. I knew about the life of Jesus, and His message. But I still couldn't say I'd really read it ALL.
As a result I was a "concordance-cripple", Always knowing the "gist" of a verse, Thinking I remembered it was "in there somewhere", Lacking clarity on the over-all "flow" of the unified story, And as a result often feeling inadequate and ignorant. [Read more...]