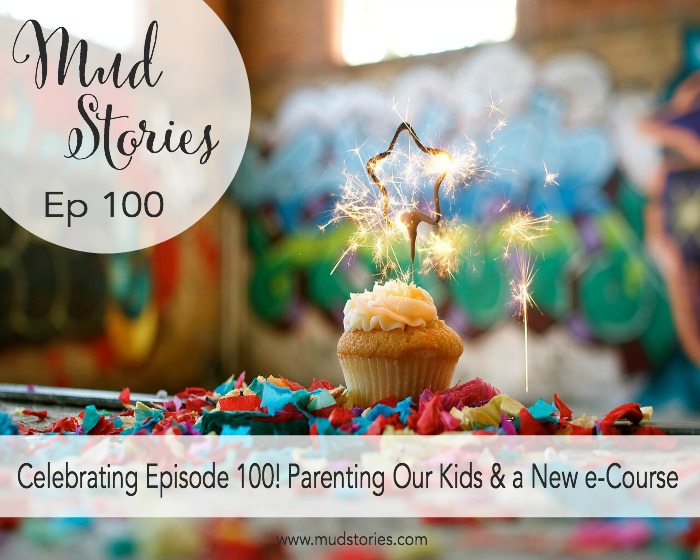 Welcome to episode 100 of Mud Stories!
Mud Stories is a podcast dedicated to bringing you inspiration in your muddiest moments, hope to make it through your mud, and encouragement for you to know, you are not alone.
To learn more about Jacque's new e-course:
Text the words: 'CONNECTWITHYOURTEEN'
To the number: '33444'
Today I'm celebrating my 100th episode of Mud Stories! There's so much to celebrate and I've invited my cousin Heather to join me for this special episode.
Heather has such wisdom and insight, is a huge encouragement behind-the-scenes, and is the perfect guest to help me celebrate!  She is the wife to Brad and mom to five children, and like me, has journeyed through some hard mud in life, including the muddy challenges of parenting!
In celebration of the release of my very first e-course, entitled Connecting with Your Teen, Heather is here to also talk through the challenges of the adolescent years, and to offer some experience and insight along the way.
In this episode we talk about:
How Heather and Brad met (it's an incredible story!)
The problem of tween and teen years
The danger of taking our kids' reactions personally it personally
How to better connect with our boys through shoulder to shoulder time
And the truth of how God uses our kids to refine our character
Heather shares about:
Struggling as the "unpopular" parent
How we long for our kids not to repeat our mistakes
The dilemma and challenge in letting our kids make their own decision
Her terrible and very difficult conversation with her daughter Morgan
And how to teach our kids to be able to afford themselves
Heather encourages us:
How to lay the ground work early
How to let our yes be yes, and our no be no
To remember that changes during adolescence are normal
To talk openly with our kids about any uncomfortable issues
To never hesitate to share our failures and be real with our kids
And to remind ourselves of who God says we are
May this conversation inspire you, bring you an extra dose of wisdom today, and be an encouragement to you no matter what you are facing!
I'd be SO grateful if you'd take the time to SUBSCRIBE to this podcast over in iTunes on your computer, or on the purple podcast app on your Apple device.
SUBSCRIBE HERE, so you don't miss an episode
AND it helps others find this show! 
SCRIPTURE:
I can do all things through Christ who gives me strength.
Philippians 4:13 (NIV)
LINKS:
Image credit: Flickr Creative Commons, Loraxgirl
*some links are affiliate links
TO DOWNLOAD THIS PODCAST:
Right click here and save-as, to download this podcast episode. 
How to listen to The Mud Stories Podcast
1. Subscribe to the Podcast – You can always access the podcast in iTunes or Stitcher, or you can search for Mud Stories on your smartphone's podcast app. And if you have missed past episodes, you can also listen via iTunes or Stitcher after you've subscribed, or click HERE to find all the episodes.
Subscribe in  iTunes HERE
Subscribe in Stitcher HERE
2. On your smart phone or mobile device– There are a lot of great podcasting apps. The most common one is Apple's purple podcast app, and Stitcher Radio for Android devices. They all allow you to search for shows, subscribe to them and even speed up the audio.
3. Listen on the blog. Click to the podcast episode you would like to listen to and click the play button within the post.
4. Listen on the Mud Stories App for FREE. Download your free app through the following links:
Mud Stories App: iOS Apple Version
Mud Stories App: android Version
Rate or Review the Podcast
By rating the podcast or writing a 1-2 sentence review, it will help others find Mud Stories more easily, exposing the podcast to a wider audience!
Thank you so much for your help!
 CLICK HERE to leave a review in iTunes 
 CLICK HERE to leave a review in Stitcher