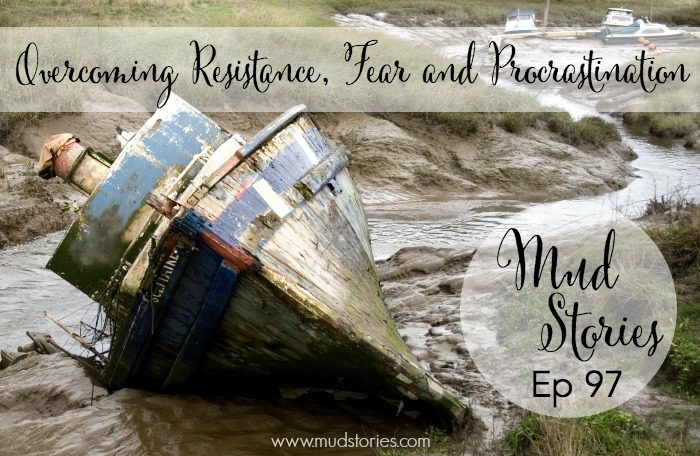 Welcome to episode 097 of Mud Stories!
Mud Stories is a podcast dedicated to bringing you inspiration in your muddiest moments, hope to make it through your mud, and encouragement for you to know, you are not alone.
For the latest info on my (soon coming) NEW E-course:
Text the words: 'CONNECTWITHYOURTEEN'
To the number: '33444'
This week I'm sharing about the challenge I've been facing to overcome resistance, fear, and procrastination, in order to get the things done that matter the most. There are so many things that distract us from our passions and callings– so much that gets in the way of us checking off our lists and getting around to doing those things we've longed to do for so long!
The War of Art, by Steven Pressfield, is a classic book I've been loving lately, because it is igniting the motivation I've needed to get moving and follow through with what I'm uniquely called to offer the world. And maybe it will be just what you need too!
In this episode I offer insights from Pressfield's book, tips I've been gathering, and a very practical plan to overcome our resistance and get things done.
In  this episode we'll discuss:
The problem of resistance, fear and procrastination
Our desire and passion to get things done
The disappointment and underlying dissatisfaction of work not done
The qualities of resistance
Our tendency to make excuses and rationalizations
The problem of distractions
How procrastination becomes a habit
The symptoms of resistance (criticism, self-doubt, fear)
Recognizing resistance in our lives
Steps to conquer resistance, fear, and procrastination
AND!! Here's your assignment!!
PART 1:
Get a pen and paper
Set your timer for 10 minutes
Put your phone on airplane mode and computer off
Make a list of ALL the things you've been putting off, the things you're apprehensive of or afraid to tackle
DON'T OVERTHINK THIS!
JUST. MAKE. A. LIST.
PART 2:
To conquer the resistance and do the work:
Select ONE thing to do from your big list, ONE thing!
Break that one thing into smaller steps if needed
Put a date next to each step, as to when you will complete it
Tell someone else your plan, for accountability
Wake up each day and go to war with resistance and DO THE WORK
Repeat the next day until completion
Then, when complete, select ONE more thing and repeat
PART 3:
Leave a comment below, or find me on social media, and share:
What is your ONE thing?
How did the process go, as  you showed up, did the work, and got that ONE thing done?
After you listen, I'd be SO grateful if you'd take the time to SUBSCRIBE to this podcast over in iTunes on your computer, or on the purple podcast app on your Apple device.
SUBSCRIBE HERE, so you don't miss an episode
AND it helps others find this show! 
SCRIPTURE:
 For we are his workmanship, created in Christ Jesus for good works, which God prepared beforehand,that we should walk in them. Ephesians 2:10 (ESV)
LINKS:
Photo Credit: chillihead, Flickr Creative Commons
TO DOWNLOAD THIS PODCAST:
Right click here and save-as, to download this podcast episode. 
How to listen to The Mud Stories Podcast

1. Subscribe to the Podcast – You can always access the podcast in iTunes or Stitcher, or you can search for Mud Stories on your smartphone's podcast app. And if you have missed past episodes, you can also listen via iTunes or Stitcher after you've subscribed, or click HERE to find all the episodes.

Subscribe in  iTunes HERE

Subscribe in Stitcher HERE

2. On your smart phone or mobile device– There are a lot of great podcasting apps. The most common one is Apple's purple podcast app, and Stitcher Radio for Android devices. They all allow you to search for shows, subscribe to them and even speed up the audio.

3. Listen on the blog. Click to the podcast episode you would like to listen to and click the play button within the post.

4. Listen on the Mud Stories App for FREE. Download your free app through the following links:

Mud Stories App: iOS Apple Version
Rate or Review the Podcast

By rating the podcast or writing a 1-2 sentence review, it will help others find Mud Stories more easily, exposing the podcast to a wider audience!

Thank you so much for your help!

 CLICK HERE to leave a review in iTunes 

 CLICK HERE to leave a review in Stitcher