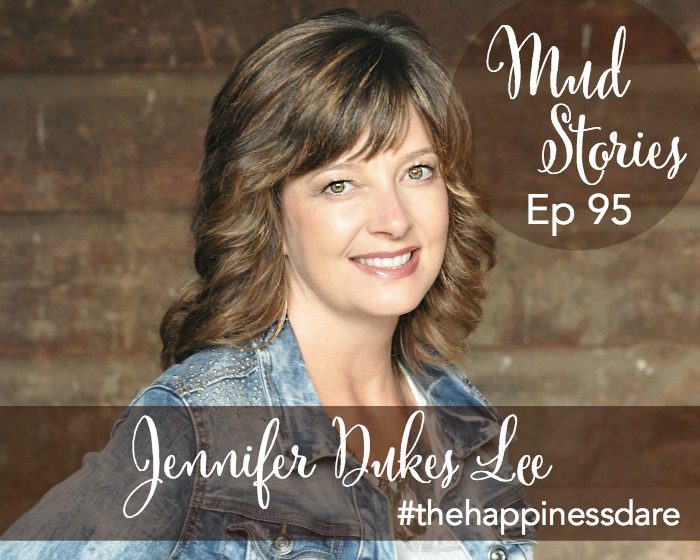 Welcome to episode 095 of Mud Stories!
Mud Stories is a podcast dedicated to bringing you inspiration in your muddiest moments, hope to make it through your mud, and encouragement for you to know, you are not alone.
For the latest info on my (soon coming) NEW E-course:
Text the words: 'CONNECTWITHYOURTEEN'
To the number: '33444'
ENTER to win a signed copy of Jennifer's Book
Text the words: 'HAPPINESSDARE'
To the number: '33444'
This week I'm talking with Jennifer Dukes Lee, a former news reporter and journalism professor, who now uses her reporting skills to chase the biggest story ever: the redemptive story of Christ.
Jennifer describes herself as speaker and writer who loves air guitar, dark chocolate, emojis, messy people, and Jesus. She lives on a farm in Iowa with her husband and two daughters, and is the author of two books, including her newest one entitled The Happiness Dare, Pursuing Your Hearts Deepest, Holiest, and Most Vulnerable Desire.
In this episode we talk about:
Jennifer's first time as a guest on  Mud Stories in Episode 14
The message of her first book, Love Idol
The struggle of wanting the approval of people over the approval of God, and finding our value in our performance
The circumstances which led from Love Idol to this second book, The Happiness Dare
Feeling guilty that we SHOULD be happy
Jennifer shares about:
Her feelings of worry, anxiety and regret of losing the fullness of her happiness
Wondering if God even cares about our happiness
How Happiness can exist and be a part of our holiness
The doubt she struggled with in regard to her faith
And the change that came when she met Christ in a new way
Jennifer encourages us:
That real happiness has a durable quality
That real happiness leaves space for tears and not always being okay
That happiness can be a spiritual discipline
That we can discover our own happiness style
Be aware of our own happiness style hang ups
And how we can pursue happiness in practical ways in just five minutes each day
May this conversation bring you some happy today, and be an encouragement to you, no matter what you are facing!
I'd be SO grateful if you'd take the time to SUBSCRIBE to this podcast over in iTunes on your computer, or on the purple podcast app on your Apple device.
SUBSCRIBE HERE, so you don't miss an episode
AND it helps others find this show! 
SCRIPTURE:
Blessed (Happy) are the pure in heart, for they shall see God.
Matthew 5:8 
CONNECT with Jennifer:
SOCIAL MEDIA:
LINKS:
*some links are affiliate links
TO DOWNLOAD THIS PODCAST:
Right click here and save-as, to download this podcast episode. 
How to listen to The Mud Stories Podcast
1. Subscribe to the Podcast – You can always access the podcast in iTunes or Stitcher, or you can search for Mud Stories on your smartphone's podcast app. And if you have missed past episodes, you can also listen via iTunes or Stitcher after you've subscribed, or click HERE to find all the episodes.
Subscribe in  iTunes HERE
Subscribe in Stitcher HERE
2. On your smart phone or mobile device– There are a lot of great podcasting apps. The most common one is Apple's purple podcast app, and Stitcher Radio for Android devices. They all allow you to search for shows, subscribe to them and even speed up the audio.
3. Listen on the blog. Click to the podcast episode you would like to listen to and click the play button within the post.
4. Listen on the Mud Stories App for FREE. Download your free app through the following links:
Mud Stories App: iOS Apple Version
Mud Stories App: android Version
Rate or Review the Podcast
By rating the podcast or writing a 1-2 sentence review, it will help others find Mud Stories more easily, exposing the podcast to a wider audience!
Thank you so much for your help!
 CLICK HERE to leave a review in iTunes 
 CLICK HERE to leave a review in Stitcher