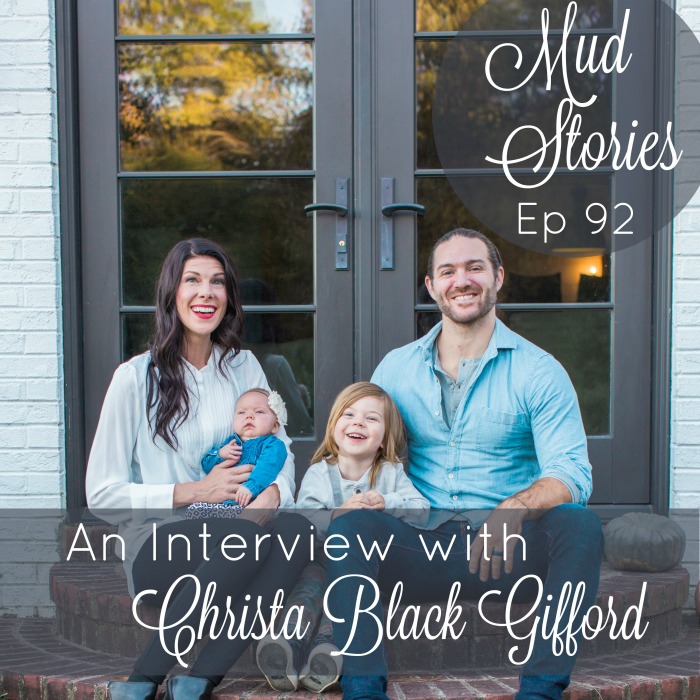 Welcome to episode 092 of Mud Stories!
Mud Stories is a podcast dedicated to bringing you inspiration in your muddiest moments, hope to make it through your mud, and encouragement for you to know, you are not alone.
 Coaching with Jacque: Sign up HERE
http://www.jacquewatkins.com/coaching
"Like" The Mud Stories Facebook Page: Click HERE 
http://www.facebook.com/jacquewatkins
This week I'm talking with Christa Black Gifford, who shares her journey through her unhealed pain–pain which included a past of sexual abuse, eating disorders, alcohol, relationships, and the full term delivery–and subsequent passing–of her second baby, Goldie, born with anencephaly.
Christa knows we all have pain, but encourages us that linking arms with Jesus, taking responsibility for our emotions, and facing our pain with Christ, is the only way for our broken hearts to be made whole.
Christa is a wife, mom, worship leader, and multi-platinum selling songwriter who has written songs like One Thing Remains, recorded by Passion, and Forever, recorded by Kari Jobe. She has also shared the stage with many artists, including The Jonas Brothers, and Michael W. Smith.
Christa is an author and speaker who recently released her second book entitled, Heart Made Whole: Turning Your Unhealed Pain into Your Greatest Strength. She lives in Nashville with her husband and children.
In this episode Christa shares about:
Her growing up years and the trauma she faced
The difference between trauma A, and trauma B
The danger of demonizing our emotions
The cycle of trying to be enough on our own
And our tendency to try to "serve out" our issues and lock away our emotional pain
Christa and I discuss:
Her struggles with alcohol, eating issues, and men
How we try to control our outer world because we don't feel in control of our inner world
The importance of taking responsibility and control of our inner world
And how marriage problems in a large part can be somewhat resolved if we face our individual pain and issues
Christa shares his insights about:
Guarding our intimacy with God
How to release our internal pain
And practical ways we can turn toward our pain to finally deal with it and have a heart made whole
I'm so SO thankful for all Christa shares, as it is such a lifeline for so many reasons. May this conversation  an encouragement to you, that you may link arms with Christ and run toward your pain, knowing He can make your heart whole.
I'd be SO grateful if you'd take the time to SUBSCRIBE to this podcast over in iTunes on your computer, or on the purple podcast app on your Apple device.
SUBSCRIBE HERE, so you don't miss an episode
AND it helps others find this show! 
SCRIPTURE:
Above all else, guard your heart, for everything you do flows from it.

Proverbs 4:23 (NIV)
CONNECT with Christa:
Website: christablack.com
Book Website: Heart Made Whole Book
Christa's book: Heart Made Whole: Turning Your Unhealed Pain into Your Greatest Strength
SOCIAL MEDIA:


Facebook

Pinterest

Instagram
LINKS:
*some links are affiliate links
TO DOWNLOAD THIS PODCAST:
Right click here and save-as, to download this podcast episode. 
How to listen to The Mud Stories Podcast
1. Subscribe to the Podcast – You can always access the podcast in iTunes or Stitcher, or you can search for Mud Stories on your smartphone's podcast app. And if you have missed past episodes, you can also listen via iTunes or Stitcher after you've subscribed, or click HERE to find all the episodes.
Subscribe in  iTunes HERE
Subscribe in Stitcher HERE
2. On your smart phone or mobile device– There are a lot of great podcasting apps. The most common one is Apple's purple podcast app, and Stitcher Radio for Android devices. They all allow you to search for shows, subscribe to them and even speed up the audio.
3. Listen on the blog. Click to the podcast episode you would like to listen to and click the play button within the post.
4. Listen on the Mud Stories App for FREE. Download your free app through the following links:
Mud Stories App: iOS Apple Version
Mud Stories App: android Version
Rate or Review the Podcast
By rating the podcast or writing a 1-2 sentence review, it will help others find Mud Stories more easily, exposing the podcast to a wider audience!
Thank you so much for your help!
 CLICK HERE to leave a review in iTunes 
 CLICK HERE to leave a review in Stitcher