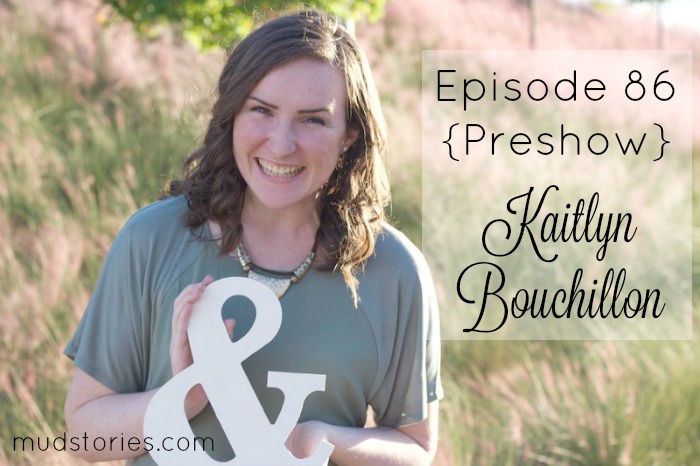 Welcome to the Mud Stories PRESHOW!
Mud Stories is a podcast dedicated to bringing you inspiration in your muddiest moments, hope to make it through your mud, and encouragement for you to know, you are not alone.
Join our gathering place:

The Mud Stories Gathering,  

a closed group on Facebook:
This week, Kaitlyn Bouchillon is our Mud Stories guest, and today we dive into a fun PRESHOW episode– a light-hearted, fun and candid conversation, with some pre-set questions to help us get to know Kaitlyn better.
Episode 086–Kaitlyn's regular Mud Stories episode–will be released Wednesday.
In this PRESHOW episode we talk about:
curried goat
Ireland and Liz Curtis Higgs novels (episode 71 & episode 72)
Kaitlyn's love for quotes
Monday Jars
double jointedness
The Florida Keys and jungles of Panama
Sweet Potato Chips
Giving thanks and counting gifts
How searching for thanks and writing it with a pen releases dopamine
The value of our stories, our mud, and in-between places
After you listen, I'd be SO grateful if you'd take the time to SUBSCRIBE to this podcast over in iTunes on your computer, or on the purple podcast app on your Apple device.
SUBSCRIBE HERE, so you don't miss an episode

AND it helps others find this show! 
SCRIPTURE:
O 

Lord

 my God, I cried to you for help,


    

and you have healed me.

Psalm 30:2-3 (ESV)   
LINKS:
Don't forget to subscribe to the show!
TO DOWNLOAD THIS PODCAST:
Right click here and save-as, to download this podcast episode. 
How to listen to The Mud Stories Podcast

1. Subscribe to the Podcast – You can always access the podcast in iTunes or Stitcher, or you can search for Mud Stories on your smartphone's podcast app. And if you have missed past episodes, you can also listen via iTunes or Stitcher after you've subscribed, or click HERE to find all the episodes.

Subscribe in  iTunes HERE

Subscribe in Stitcher HERE

2. On your smart phone or mobile device– There are a lot of great podcasting apps. The most common one is Apple's purple podcast app, and Stitcher Radio for Android devices. They all allow you to search for shows, subscribe to them and even speed up the audio.

3. Listen on the blog. Click to the podcast episode you would like to listen to and click the play button within the post.

4. Listen on the Mud Stories App for FREE. Download your free app through the following links:

Mud Stories App: iOS Apple Version
Rate or Review the Podcast

By rating the podcast or writing a 1-2 sentence review, it will help others find Mud Stories more easily, exposing the podcast to a wider audience!

Thank you so much for your help!

 CLICK HERE to leave a review in iTunes 

 CLICK HERE to leave a review in Stitcher