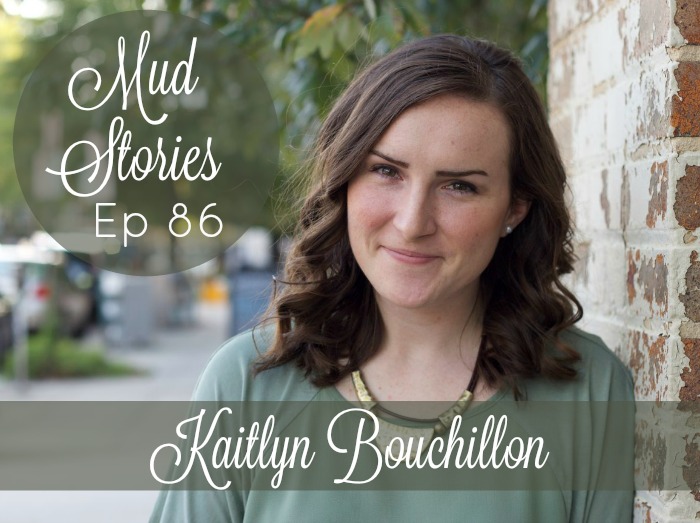 Welcome to episode 086 of Mud Stories!
Mud Stories is a podcast dedicated to bringing you inspiration in your muddiest moments, hope to make it through your mud, and encouragement for you to know, you are not alone.
NEW ANNOUNCEMENT!! I will be accepting a limited number of COACHING clients, for anyone interested!

If you are:

finding yourself in an in between place
alone
confused
undecided about something
hurt
in crisis or failure
unsure of your next step

If you need someone to:

walk with you
process with you from a biblical perspective
encourage you,
pray with you
or confidentially walk alongside you through a muddy place

I'd be more than honored to serve and connect with you!

Sign up HERE for coaching, or get more information at:
 Also, we'd love to have you join us in our Facebook group:

 The Mud Stories Gathering 

(A closed group on Facebook)
This week I'm talking with Kaitlyn Bouchillon, a lover of words whose heart is crazy about the power of our stories. Kaitlyn is unashamedly addicted to coffee and queso, and since graduating from college, works as a Virtual Assistant.
Kaitlyn writes at KaitlynBouchillon.com, is the author of her very first book entitled,  Even If Not: Living, Loving and Learning in the in Between, and she currently splits her time between Starbucks and her cute little apartment in Birmingham, Alabama.
In this episode Kaitlyn and I discuss:
What an ampersand is
How the words in Daniel Chapter 3 inspired the title of her book
What we can learn from the story of Shadrach, Meshach, and Abednego
What it looks like to believe and trust, even if God doesn't come through the way we wish He would
And learning to identify the ampersands in our own lives–those in between moments
Kaitlyn shares about:
Her growing up years in Florida
The circumstances and pain of broken friendship and lost community
Her diagnosis of a brain tumor at age 17
And how God used the brokenness, loneliness, and health crisis to grow her intimacy with Him
Kaitlyn explains:
How we can choose to believe that Jesus is enough
How the skeletons in our closet can be the bones that teach us how to dance
How God mends and repairs our hearts in ways we can't even ask or imagine
The challenge of singleness in her life
And how God is writing our stories even in–especially in–our in between moments
I'm so thankful for all Kaitlyn shares, and trust it will be an encouragement to you, no matter what in between place you are facing today.
I'd be SO grateful if you'd take the time to SUBSCRIBE to this podcast over in iTunes on your computer, or on the purple podcast app on your Apple device.
SUBSCRIBE HERE, so you don't miss an episode

AND it helps others find this show! 
SCRIPTURE:
Now to him who is able to do far more abundantly than all that we ask or think, according to the power at work within us,

 

to him be glory in the church and in Christ Jesus throughout all generations, forever and ever. Amen. Ephesians 3:20-21 (ESV)
CONNECT with Kaitlyn:
Website:

 Kaitlyn's book: 
SOCIAL MEDIA:
LINKS:

*some links are affiliate links
TO DOWNLOAD THIS PODCAST:
Right click here and save-as, to download this podcast episode. 
How to listen to The Mud Stories Podcast

1. Subscribe to the Podcast – You can always access the podcast in iTunes or Stitcher, or you can search for Mud Stories on your smartphone's podcast app. And if you have missed past episodes, you can also listen via iTunes or Stitcher after you've subscribed, or click HERE to find all the episodes.

Subscribe in  iTunes HERE

Subscribe in Stitcher HERE

2. On your smart phone or mobile device– There are a lot of great podcasting apps. The most common one is Apple's purple podcast app, and Stitcher Radio for Android devices. They all allow you to search for shows, subscribe to them and even speed up the audio.

3. Listen on the blog. Click to the podcast episode you would like to listen to and click the play button within the post.

4. Listen on the Mud Stories App for FREE. Download your free app through the following links:

Mud Stories App: iOS Apple Version
Rate or Review the Podcast

By rating the podcast or writing a 1-2 sentence review, it will help others find Mud Stories more easily, exposing the podcast to a wider audience!

Thank you so much for your help!

 CLICK HERE to leave a review in iTunes 

 CLICK HERE to leave a review in Stitcher