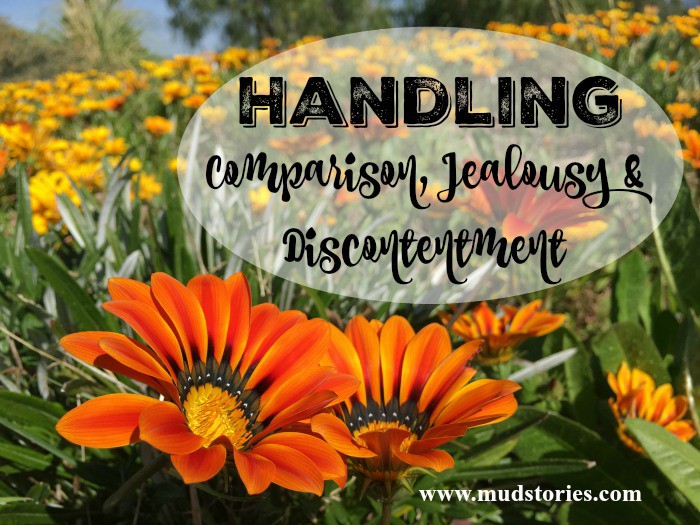 Welcome to episode 082 of Mud Stories!
Mud Stories is a podcast dedicated to bringing you inspiration in your muddiest moments, hope to make it through your mud, and encouragement for you to know, you are not alone.
1. Join our gathering place:

The Mud Stories Gathering,

a closed group on Facebook
This week we're talking about how to handle the struggle of comparison, jealously, and discontentment in our lives. This is a topic I've struggled with personally, and I wanted to share not only what I've faced, but what I've been learning in this area, to add value to help you, and for you to know you are not alone.
My hope is that when you are drawn to compare, or feel tinges of jealousy, that you would know that the goal is never to achieve perfection, but to make an effort to heighten our awareness of the struggle, to name it, and to make imperfect progress one day at a time.
In  this episode we'll discuss:
The problem of comparison and jealousy
The way those lead to discontentment
Two ways I attempted to mitigate my tendency to compare and feel jealous
How that only grew the problem
Tips for self-introspection and evaluation
What the Bible has to say
The surprising discovery of the root problem of comparison
Tips to help us all learn to compare less and surrender jealousy
And how to shift our focus to feel like we are "enough"
After you listen, I'd be SO grateful if you'd take the time to SUBSCRIBE to this podcast over in iTunes on your computer, or on the purple podcast app on your Apple device.
SUBSCRIBE HERE, so you don't miss an episode

AND it helps others find this show! 
SCRIPTURE:
 A healed heart is life to the flesh, and rottenness to the bones is envy. Proverbs 14:30 (Young's Literal Translation)   
QUOTES:
The path of comparison and jealousy is born from a "not-enough" place.
When I'm comparing, jealous, envious, or discontent, my issue is not the situation, my issue is my trust in God.
Comparison and jealousy are a distrust in God's choice–a distrust in His plan for me–a distrust in His control of all things.
God is working in me–giving me what He desires FOR me–for my ultimate good and His ultimate glory.
We must learn to not live FOR acceptance, but because we're already accepted.
We must not long for control, but trust THE ONE who is already in control, and is giving us exactly what is best for us.
LINKS:

Last week I was honored to be a guest on the Undone Redone podcast with my friends, Tray and Melody Lovvorn, in a two-part episode sharing my own mud story in detail. The first half is in episode 77, and the second half is in episode 78, and it is there, where I share some never-before-told information about forgiveness from my own personal experience. I'd love to have you join us over there!
(OR Text 'SUBSCRIBEMUDSTORIES' to 33444)
TO DOWNLOAD THIS PODCAST:
Right click here and save-as, to download this podcast episode. 
How to listen to The Mud Stories Podcast

1. Subscribe to the Podcast – You can always access the podcast in iTunes or Stitcher, or you can search for Mud Stories on your smartphone's podcast app. And if you have missed past episodes, you can also listen via iTunes or Stitcher after you've subscribed, or click HERE to find all the episodes.

Subscribe in  iTunes HERE

Subscribe in Stitcher HERE

2. On your smart phone or mobile device– There are a lot of great podcasting apps. The most common one is Apple's purple podcast app, and Stitcher Radio for Android devices. They all allow you to search for shows, subscribe to them and even speed up the audio.

3. Listen on the blog. Click to the podcast episode you would like to listen to and click the play button within the post.

4. Listen on the Mud Stories App for FREE. Download your free app through the following links:

Mud Stories App: iOS Apple Version
Rate or Review the Podcast

By rating the podcast or writing a 1-2 sentence review, it will help others find Mud Stories more easily, exposing the podcast to a wider audience!

Thank you so much for your help!

 CLICK HERE to leave a review in iTunes 

 CLICK HERE to leave a review in Stitcher