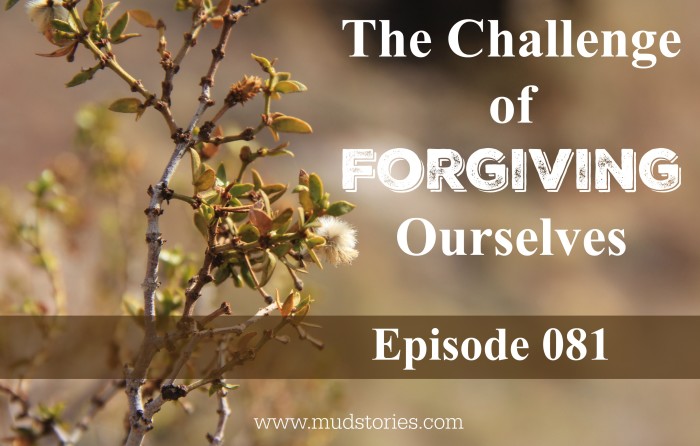 Welcome to episode 081 of Mud Stories!
Mud Stories is a podcast dedicated to bringing you inspiration in your muddiest moments, hope to make it through your mud, and encouragement for you to know, you are not alone.
1. Join our gathering place:

The Mud Stories Gathering,

a closed group on Facebook
This past week I was honored to be a guest on the Undone Redone podcast with my friends, Tray and Melody Lovvorn, in a two-part episode sharing my own mud story in detail. The first half is in episode 77, and the second half is in episode 78, and it is there, where I share some never-before-told information about forgiveness from my own personal experience. I'd love to have you join us over there!
For today's episode, it's just you and me, talking all about the challenge it is to forgive ourselves–which was a decade long process for me. Often we are able to accept God's forgiveness, but offering forgiveness to our own hearts–amidst our sadness, shame, and guilt–is much harder.
In  this episode we'll discuss:
The problem of forgiving ourselves
How to cherish God's forgiveness
How to change our old patterns
Encouragement from the lives of Peter and the apostle Paul
Turning from what is behind and looking toward what is ahead
How to choose joy and gratitude
The importance of writing things down
After you listen, I'd be SO grateful if you'd take the time to SUBSCRIBE to this podcast over in iTunes on your computer, or on the purple podcast app on your Apple device.
SUBSCRIBE HERE, so you don't miss an episode

AND it helps others find this show! 
SCRIPTURE:
 And you, who were dead in your trespasses and the uncircumcision of your flesh, God made alive together with him, having forgiven us all our trespasses. Colossians 2:13 (ESV)  

"I, I am he
    who blots out your transgressions for my own sake,
    and I will not remember your sins."

Isaiah 43:25 (ESV)  

But one thing I do: forgetting what lies behind and straining forward to what lies ahead, I press on toward the goal for the prize of the upward call of God in Christ Jesus. Brothers, join in imitating me, and keep your eyes on those who walk according to the example you have in us.

Philippians 3:13b-14 (ESV)

For it is God who works in you, both to will and to work for his good pleasure.

Philippians 2:13 (ESV)  

The steadfast love of the Lord never ceases;
    his mercies never come to an end;
they are new every morning;
    great is your faithfulness.

Lamentations 3:22-23 (ESV)  
LINKS:
(OR Text 'SUBSCRIBEMUDSTORIES' to 33444)
TO DOWNLOAD THIS PODCAST:
Right click here and save-as, to download this podcast episode. 
How to listen to The Mud Stories Podcast

1. Subscribe to the Podcast – You can always access the podcast in iTunes or Stitcher, or you can search for Mud Stories on your smartphone's podcast app. And if you have missed past episodes, you can also listen via iTunes or Stitcher after you've subscribed, or click HERE to find all the episodes.

Subscribe in  iTunes HERE

Subscribe in Stitcher HERE

2. On your smart phone or mobile device– There are a lot of great podcasting apps. The most common one is Apple's purple podcast app, and Stitcher Radio for Android devices. They all allow you to search for shows, subscribe to them and even speed up the audio.

3. Listen on the blog. Click to the podcast episode you would like to listen to and click the play button within the post.

4. Listen on the Mud Stories App for FREE. Download your free app through the following links:

Mud Stories App: iOS Apple Version
Rate or Review the Podcast

By rating the podcast or writing a 1-2 sentence review, it will help others find Mud Stories more easily, exposing the podcast to a wider audience!

Thank you so much for your help!

 CLICK HERE to leave a review in iTunes 

 CLICK HERE to leave a review in Stitcher