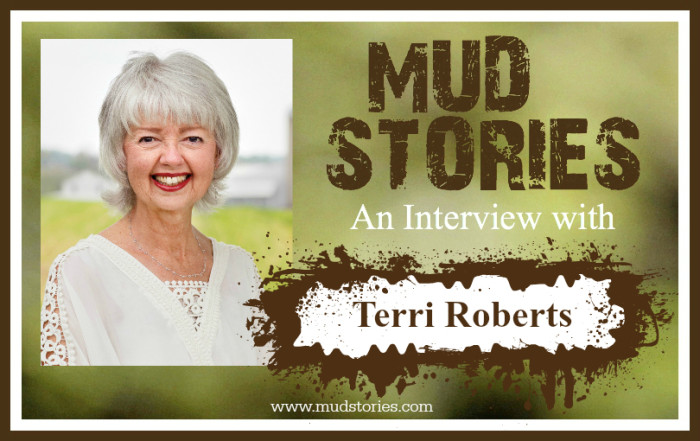 Welcome to episode 080 of Mud Stories!
Mud Stories is a podcast dedicated to bringing you inspiration in your muddiest moments, hope to make it through your mud, and encouragement for you to know, you are not alone.
1. Join our new gathering place:

The Mud Stories Gathering,

a closed group on Facebook
Today I'm talking with Terri Roberts, an author and speaker who is currently battling stage four breast cancer, and also has learned so much about choosing joy and forgiveness in the face of unexpected tragedy.
Nine years ago, Terri's  oldest son walked into an Amish schoolhouse and killed five young girls before taking his own life. And what followed was a lesson in forgiveness that Terri never imagined.
AND!! We are giving away THREE copies of Terri's book 
Forgiven: The Amish School Shooting, a Mother's Love, and a Story of Remarkable Grace
, where Terri tells the story of that day and so much of what has come from it.
In this episode, Terri shares insight and wisdom for the moments we meet unexpected tragedy in life, how to surrender our anger and choose joy, and many of the ways the Amish have led the way in teaching us all about forgiveness.
Terri is the mom to four boys and a beloved grandmother, who writes about how to find joy through adversity, and she lives with her husband, Chuck, in Lancaster County Pennsylvania.
Terri shares about:
Her journey to faith as a young adult
The events of October 2, 2006 — The Nickel Mines Shooting
The miracles of comfort and forgiveness that came, even that first day
And ways to process guilt, fear, and anger amidst unexpected tragedy
Terri and I discuss:
The incredible kindness and forgiveness of the Amish people
Her ongoing relationship and partnership with them
Practical tips in surrendering to God in the middle of pain or suffering
And what she is continuing to learn as she battles ongoing cancer
Terri shares with the wisdom and perspective of profound experience, and it is a joy to welcome her to the show!
After you listen, I'd be SO grateful if you'd take the time to SUBSCRIBE to this podcast over in iTunes on your computer, or on the purple podcast app on your Apple device.
SUBSCRIBE HERE, so you don't miss an episode

AND it helps others find this show! 
SCRIPTURE:
Do not be anxious about anything, but in everything by prayer and supplication with thanksgiving let your requests be made known to God. 

And the peace of God, which surpasses all understanding, will guard your hearts and your minds in Christ Jesus.

Finally, brothers, whatever is true, whatever is honorable, whatever is just, whatever is pure, whatever is lovely, whatever is commendable, if there is any excellence, if there is anything worthy of praise, think about these things.

Philippians 4:6-8 (ESV)   
CONNECT with Terri:
Website:

 Terri's book: 
SOCIAL MEDIA:
Facebook
LINKS:
TO DOWNLOAD THIS PODCAST:
Right click here and save-as, to download this podcast episode. 
How to listen to The Mud Stories Podcast

1. Subscribe to the Podcast – You can always access the podcast in iTunes or Stitcher, or you can search for Mud Stories on your smartphone's podcast app. And if you have missed past episodes, you can also listen via iTunes or Stitcher after you've subscribed, or click HERE to find all the episodes.

Subscribe in  iTunes HERE

Subscribe in Stitcher HERE

2. On your smart phone or mobile device– There are a lot of great podcasting apps. The most common one is Apple's purple podcast app, and Stitcher Radio for Android devices. They all allow you to search for shows, subscribe to them and even speed up the audio.

3. Listen on the blog. Click to the podcast episode you would like to listen to and click the play button within the post.

4. Listen on the Mud Stories App for FREE. Download your free app through the following links:

Mud Stories App: iOS Apple Version
Rate or Review the Podcast

By rating the podcast or writing a 1-2 sentence review, it will help others find Mud Stories more easily, exposing the podcast to a wider audience!

Thank you so much for your help!

 CLICK HERE to leave a review in iTunes 

 CLICK HERE to leave a review in Stitcher