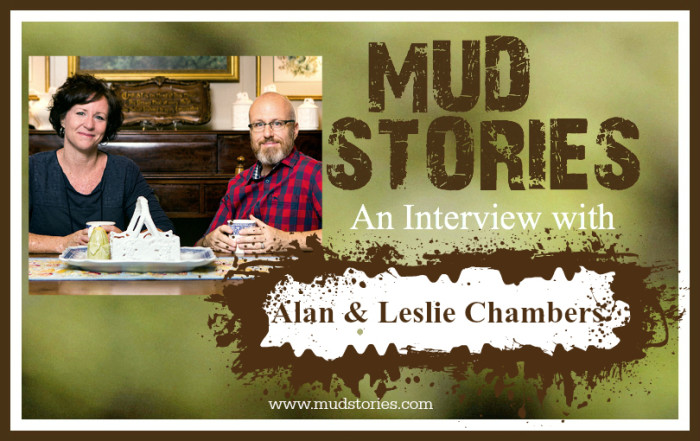 Welcome to episode 079 of Mud Stories!
Mud Stories is a podcast dedicated to bringing you inspiration in your muddiest moments, hope to make it through your mud, and encouragement for you to know, you are not alone.
1. Join our new gathering place:

The Mud Stories Gathering,

a closed group on Facebook

(http://www.facebook.com/groups/mudstoriesgathering)

2. AND enter a GIVEAWAY!!! by simply completing

(http://www.jacquewatkins.com/survey)

(Enter to win a 30 minute Skype session with Jacque or a $25 Amazon gift card!)
Today's episode is part two of a two-part episode with Alan Chambers, and his wife Leslie, who share their very public story of Alan's struggle with same sex attraction and their journey together through the ex-gay movement. Choosing to move from fear to embracing grace and learning to love well, no matter the cost.
Alan served as the leader of Exodus International–a ministry of the ex-gay movement that he voluntarily closed in 2013 with a public apology to the LGBT community and anyone who had ever been marginalized or hurt by Exodus.
They write of their journey in their book, My Exodus: From Fear to Grace
, and firmly believe we don't need to compromise our theology to love as Christ loves. They share with passion about all they've found along the way–a call to accept God's mercy, extend grace to our own hearts and to those God loves, and to love well, no matter what, even when it's uncomfortable.
Alan and Leslie share about:
Alan's same sex attraction
His decision from celibacy to marriage with Leslie
Their wedding night and honeymoon
And intimacy and sexual struggles are universal
We talk about:
Their experience filming a documentary with Lisa Ling that aired nationally
How hearing others' stories helps us love better
Reparative therapy and theory
Alan's decision to shut down Exodus International
And what he and Leslie are learning about embracing God's grace
And how we can all learn to love well, all because of Christ
Alan and Leslie's story gripped me because of grace and I am praying we are all changed because of their words.
After you listen, I'd be SO grateful if you'd take the time to SUBSCRIBE to this podcast over in iTunes on your computer, or on the purple podcast app on your Apple device.
When you SUBSCRIBE, iTunes helps others find this show. 
SCRIPTURE:
Therefore, if anyone is in Christ, he is a new creation. 

The old has passed away; behold, the new has come.

  All this is from God, who through Christ reconciled us to himself and gave us the ministry of reconciliation;that is, in Christ, God was reconciling the world to himself, not counting their trespasses against them, and entrusting to us the message of reconciliation. 

Therefore, we are ambassadors for Christ, God making his appeal through us. We implore you on behalf of Christ, be reconciled to God.

 

For our sake he made him to be sin who knew no sin, so that in him we might become the righteousness of God.

2 Corinthians 5:17-21 (ESV)   
CONNECT with Alan and Leslie:
Website:

 Alan & Leslie's book: 
SOCIAL MEDIA:
LINKS:
TO DOWNLOAD THIS PODCAST:
Right click here and save-as, to download this podcast episode. 
How to listen to The Mud Stories Podcast

1. Listen on the Mud Stories App for FREE. Download your free app through the following links:

Mud Stories App: iOS Apple Version

Mud Stories App: android Version

2. Listen on the blog. Click to the podcast episode you would like to listen to and click the play button within the post.

3. On your smart phone or mobile device– There are a lot of great podcasting apps. The most common one is Apple's purple podcast app. Also the Downcast App for Apple devices and Stitcher Radio for Android devices. They all allow you to search for shows, subscribe to them and even speed up the audio.

4. Subscribe to the Podcast – You can always access the podcast in iTunes or Stitcher, or you can search for Mud Stories on your smartphone's podcast app. And if you have missed past episodes, you can also listen via iTunes or Stitcher after you've subscribed, or click HERE to find all the episodes.

Subscribe in  iTunes HERE

Subscribe in Stitcher HERE
Rate or Review the Podcast

By rating the podcast or writing a 1-2 sentence review, it will help others find Mud Stories more easily, exposing the podcast to a wider audience.

Thank you so much for your help!

 CLICK HERE to leave a review in iTunes 

 CLICK HERE to leave a review in Stitcher