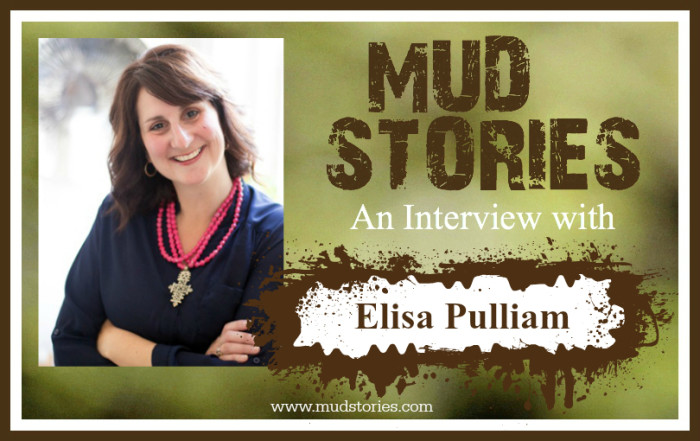 Welcome to episode 077 of Mud Stories!
Mud Stories is a podcast dedicated to bringing you inspiration in your muddiest moments, hope to make it through your mud, and encouragement for you to know, you are not alone.
1. Join our new gathering place:

The Mud Stories Gathering,

a closed group on Facebook

(http://www.facebook.com/groups/mudstoriesgathering)

2. AND enter a GIVEAWAY!!! by simply completing

(http://www.jacquewatkins.com/survey)

(Enter to win a 30 minute Skype session with Jacque or a $25 Amazon gift card!)
In today's episode I'm talking with Elisa Pulliam, wife to Stephen, mom to four amazing kids (including a set of twins), life coach, and speaker who resides in Pennsylvania with her family.
Elisa has spent over 20 years in youth and women's ministry, and is passionate about us experiencing a life transformed by God–primarily because she has experience His transforming power in her own life.
In this episode…
Elisa shares her personal mud story including:
Experiencing childhood abuse
Poor decisions as an adolescent and young adult
Her struggle with anger
The challenge to forgive
Elisa and I talk about:
Her journey through counseling
Handling the issues of her past
Dealing with the anger reactions in her present
And how new insight and knowledge can help us move forward with transformed lives
Elisa gives insight about:
How to let God heal us from our past
How to choose forgiveness instead of fear, resentment and bitterness
How to carve new paths, one step at a time
And how to allow our pain to be a positive force for transformation
Elisa knows that giving our mud to God doesn't change the past, or erase the circumstances of our present, but it does provide a way to no longer carry it into our future. We can be free.
After you listen, I'd be SO grateful if you'd take the time to SUBSCRIBE to this podcast over in iTunes on your computer, or on the purple podcast app on your Apple device.
When you SUBSCRIBE, iTunes helps others find this show. 
SCRIPTURE:
Put on then, as God's chosen ones, holy and beloved, compassionate hearts, kindness, humility, meekness, and patience, 

bearing with one another and, if one has a complaint against another, forgiving each other; as the Lord has forgiven you, so you also must forgive.

 

And above all these put on love, which binds everything together in perfect harmony.

 

And let the peace of Christ rule in your hearts, to which indeed you were called in one body.

And be thankful.

Colossians 3:12-15 (ESV)   
CONNECT with Elisa:
Website:

 Elisa's book: 
SOCIAL MEDIA:
LINKS:
TO DOWNLOAD THIS PODCAST:
Right click here and save-as, to download this podcast episode. 
How to listen to The Mud Stories Podcast

1. Listen on the Mud Stories App for FREE. Download your free app through the following links:

Mud Stories App: iOS Apple Version

Mud Stories App: android Version

2. Listen on the blog. Click to the podcast episode you would like to listen to and click the play button within the post.

3. On your smart phone or mobile device– There are a lot of great podcasting apps. The most common one is Apple's purple podcast app. Also the Downcast App for Apple devices and Stitcher Radio for Android devices. They all allow you to search for shows, subscribe to them and even speed up the audio.

4. Subscribe to the Podcast – You can always access the podcast in iTunes or Stitcher, or you can search for Mud Stories on your smartphone's podcast app. And if you have missed past episodes, you can also listen via iTunes or Stitcher after you've subscribed, or click HERE to find all the episodes.

Subscribe in  iTunes HERE

Subscribe in Stitcher HERE
Rate or Review the Podcast

By rating the podcast or writing a 1-2 sentence review, it will help others find Mud Stories more easily, exposing the podcast to a wider audience.

Thank you so much for your help!

 CLICK HERE to leave a review in iTunes 

 CLICK HERE to leave a review in Stitcher