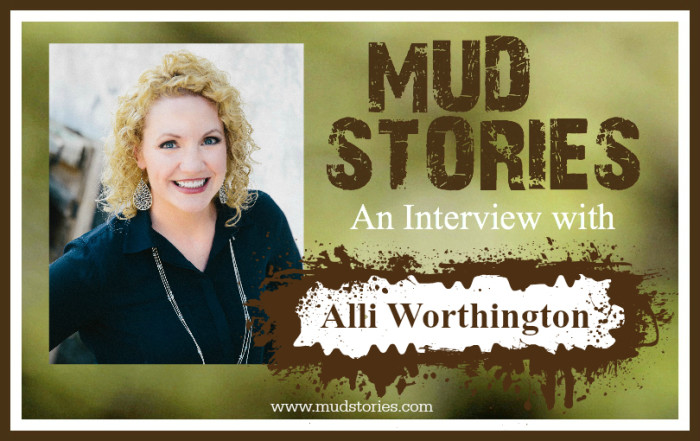 Welcome to episode 076 of Mud Stories!
Mud Stories is a podcast dedicated to bringing you inspiration in your muddiest moments, hope to make it through your mud, and encouragement for you to know, you are not alone.
1. Join our new gathering place:

The Mud Stories Gathering,

a closed group on Facebook

(http://www.facebook.com/groups/mudstoriesgathering)

2. AND enter a GIVEAWAY!!! by simply completing

(http://www.jacquewatkins.com/survey)

(Enter to win a 30 minute Skype session with Jacque or a $25 Amazon gift card!)
In Today's episode I'm chatting with Alli Worthington, wife to Mark, mom to five sons, business owner and coach, entrepreneur, and the Executive director of Propel Women.
And she loves movies, Jesus, and using emojis!
Alli lives in Nashville, Tennessee with her family and is releasing her first book entitled Breaking Busy: How to Find Peace and Purpose in a World of Crazy
.
In this episode…
Alli shares about her personal mud story including:
Her father's death when she was a young child
Struggling with a learning disability
Multiple moves
Parenting five sons
And experiencing job loss, foreclosure, and bankruptcy
Alli and I talk about:
How God asked her to shut down her event company and conference (Blissdom)
The struggle and pain it was to obey
And the way God brought the hardship to a full redemption–more than she imagined
Alli also gives insight about:
How to hear God and steps in trusting God
Ways to edit our lives for our good
How to recognize we're functioning at capacity
Common symptoms of being too busy
And practical tips to help us break the crazy-busy in our lives
Alli helps us identify the lies we believe and replace them with truth. She also encourages us to find the root of our busyness–dealing with our beliefs–in order to release our greatest creativity to the world.
After you listen, I'd be SO grateful if you'd take the time to SUBSCRIBE to this podcast over in iTunes on your computer, or on the purple podcast app on your Apple device.
When you SUBSCRIBE, iTunes helps others find this show. 
SCRIPTURE:
Abide in me, and I in you.

As the branch cannot bear fruit by itself, unless it abides in the vine,

neither can you, unless you abide in me.

 

 

I am the vine; you are the branches.

Whoever abides in me and I in him, he it is that bears much fruit,

for apart from me you can do nothing.

John 15:4-5 (ESV)   
CONNECT with Alli:
Website:

 Alli's book:
SOCIAL MEDIA:
LINKS:
TO DOWNLOAD THIS PODCAST:
Right click here and save-as, to download this podcast episode. 
How to listen to The Mud Stories Podcast

1. Listen on the Mud Stories App for FREE. Download your free app through the following links:

Mud Stories App: iOS Apple Version

Mud Stories App: android Version

2. Listen on the blog. Click to the podcast episode you would like to listen to and click the play button within the post.

3. On your smart phone or mobile device– There are a lot of great podcasting apps. The most common one is Apple's purple podcast app. Also the Downcast App for Apple devices and Stitcher Radio for Android devices. They all allow you to search for shows, subscribe to them and even speed up the audio.

4. Subscribe to the Podcast – You can always access the podcast in iTunes or Stitcher, or you can search for Mud Stories on your smartphone's podcast app. And if you have missed past episodes, you can also listen via iTunes or Stitcher after you've subscribed, or click HERE to find all the episodes.

Subscribe in  iTunes HERE

Subscribe in Stitcher HERE
Rate or Review the Podcast

By rating the podcast or writing a 1-2 sentence review, it will help others find Mud Stories more easily, exposing the podcast to a wider audience.

Thank you so much for your help!

 CLICK HERE to leave a review in iTunes 

 CLICK HERE to leave a review in Stitcher