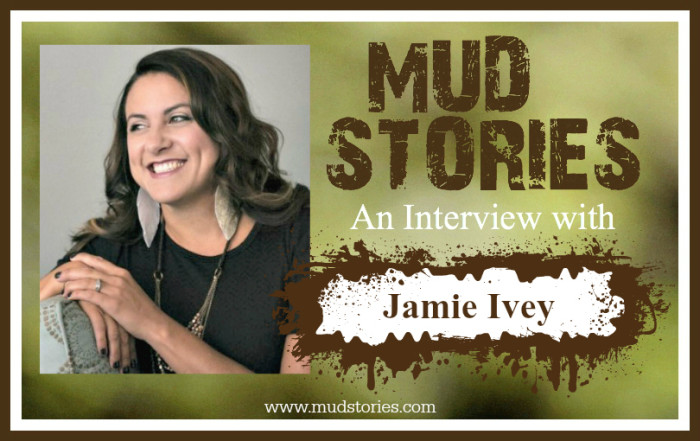 Welcome to episode 075 of Mud Stories!
Mud Stories is a podcast dedicated to bringing you inspiration in your muddiest moments, hope to make it through your mud, and encouragement for you to know, you are not alone.
1. Join our new gathering place:

The Mud Stories Gathering,

a closed group on Facebook

(http://www.facebook.com/groups/mudstoriesgathering)

2. AND enter a GIVEAWAY!!! by simply completing

(And be entered to win a 30 minute Skype session with me, or a $25 Amazon gift card!)
In Today's episode I'm chatting with Jamie Ivey, wife to Aaron, mom to 4 beautiful kids, and host of The Happy Hour Podcast with Jamie Ivey. Jamie resides with her family in Austin, Texas and has a passion for adoption, reading, date nights, Jesus, Mexican food, and traveling.
Jamie shares about her personal mud story including:
Becoming sexually active at age 16, and the heartbreak that brings
Choosing to party and drink in college
Getting pregnant at 19, and then miscarrying
Learning to have more open communication with her parents
Meeting Jesus at the Passion Conference
Getting engaged and breaking off the engagement
And meeting her future husband, Aaron, and sharing with him her past
Jamie and I talk about:
How God is in every moment of our lives
How nothing is a mistake with Him
How God's forgiveness and grace free us
And the hardship of mothering, including the crazy, chaos, and sometimes depression
We also take time at the end to share some things we are LOVING right now, and how to subscribe and listen to podcasts!
And after you listen, I'd be SO grateful if you'd take the time to SUBSCRIBE to this podcast over in iTunes on your computer, or on the purple podcast app on your Apple device.
When you SUBSCRIBE, iTunes helps others find this show. 
SCRIPTURE:
Therefore, since we have been justified by faith, we have peace with God through our Lord Jesus Christ.

 

Through him we have also obtained access by faith into this grace in which we stand, and we rejoice in hope of the glory of God.

  Not only that, but we rejoice in our sufferings, knowing that suffering produces endurance,

 

and endurance produces character, and character produces hope,

 

and hope does not put us to shame,

because God's love has been poured into our hearts through the Holy Spirit who has been given to us.

Romans 5:1-5 (ESV)   
CONNECT with Jamie:
Website: www.jamieivey.com

Podcast: The Happy Hour with Jamie Ivey
SOCIAL MEDIA:
LINKS:
TO DOWNLOAD THIS PODCAST:
Right click here and save-as, to download this podcast episode. 
How to listen to The Mud Stories Podcast

1. Listen on the Mud Stories App for FREE. Download your free app through the following links:

Mud Stories App: iOS Apple Version

Mud Stories App: android Version

2. Listen on the blog. Click to the podcast episode you would like to listen to and click the play button within the post.

3. On your smart phone or mobile device– There are a lot of great podcasting apps. The most common one is Apple's purple podcast app. Also the Downcast App for Apple devices and Stitcher Radio for Android devices. They all allow you to search for shows, subscribe to them and even speed up the audio.

4. Subscribe to the Podcast – You can always access the podcast in iTunes or Stitcher, or you can search for Mud Stories on your smartphone's podcast app. And if you have missed past episodes, you can also listen via iTunes or Stitcher after you've subscribed, or click HERE to find all the episodes.

Subscribe in  iTunes HERE

Subscribe in Stitcher HERE
Rate or Review the Podcast

By rating the podcast or writing a 1-2 sentence review, it will help others find Mud Stories more easily, exposing the podcast to a wider audience.

Thank you so much for your help!

 CLICK HERE to leave a review in iTunes 

 CLICK HERE to leave a review in Stitcher