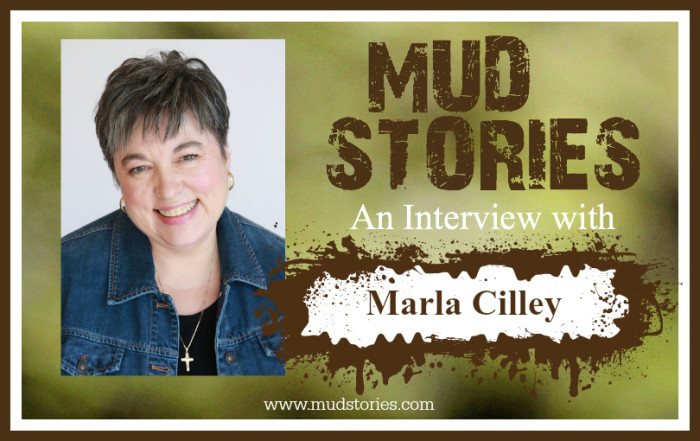 Welcome to episode 073 of Mud Stories!
Mud Stories is a podcast dedicated to bringing you inspiration in your muddiest moments, hope to make it through your mud, and encouragement for you to know, you are not alone.
To get a FREE audiobook today, go to mudstoriesbook.com

and sign up for free 30-day trial today!
Today's episode is part one, of a two-part episode with Marla Cilley, founder of FlyLady.net, who resides in North Carolina with her husband, Robert and their dogs. Years ago, Marla began using the name flylady in a forum, all because she loved to flyfish and teach others too. Over the years, FLY has come to stand for Finally Loving Yourself–a gift Marla wants you to receive.
Marla has three rules she lives by:
Don't sweat the small stuff; what doesn't matter, doesn't matter.
Laugh everyday. Even if it is at yourself.
Love like there is no tomorrow.
Marla is an author of two books, and leads her online community, which is dedicated to helping others clean and organize their homes and their hearts–to kill their perfectionism and be gentle and loving with themselves.
In this episode Marla shares:
Her personal mud story of divorce and remarriage
Her experience through homelessness
Her struggle with CHAOS and messes (Can't Have Anyone Over Syndrome)
Her life-changing moment on New Year's Day one year
Marla shares how to begin to establish monthly habits:
January — Shine your kitchen sink every night
February — Declutter 15 minutes every day
March — Get dressed to lace up shoes
April — Make your bed everyday
May — Move for 15 minutes every day
And together we talk about:
Killing our perfectionist tendencies
Investing in incremental change over time
And allowing God to help us and strengthen us through each day
And after you listen, I'd be SO grateful if you'd take the time to SUBSCRIBE to this podcast over in iTunes on your computer, or on the purple podcast app on your Apple device.
When you SUBSCRIBE, iTunes promotes Mud Stories, which helps others find this show. 
SCRIPTURE:
Rejoice always,

 

pray without ceasing,

 

give thanks in all circumstances;

for this is the will of God in Christ Jesus for you.

  I Thessalonians 5:16-18 (ESV)   
CONNECT with Marla:
Website:
SOCIAL MEDIA:
LINKS:

TO DOWNLOAD THIS PODCAST:
Right click here and save-as, to download this podcast episode. 
How to listen to The Mud Stories Podcast

1. Listen on the Mud Stories App for FREE. Download your free app through the following links:

Mud Stories App: iOS Apple Version

Mud Stories App: android Version

2. Listen on the blog. Click to the podcast episode you would like to listen to and click the play button within the post.

3. On your smart phone or mobile device– There are a lot of great podcasting apps. The most common one is Apple's purple podcast app. Also the Downcast App for Apple devices and Stitcher Radio for Android devices. They all allow you to search for shows, subscribe to them and even speed up the audio.

4. Subscribe to the Podcast – You can always access the podcast in iTunes or Stitcher, or you can search for Mud Stories on your smartphone's podcast app. And if you have missed past episodes, you can also listen via iTunes or Stitcher after you've subscribed, or click HERE to find all the episodes.

Subscribe in  iTunes HERE

Subscribe in Stitcher HERE
Rate or Review the Podcast

By rating the podcast or writing a 1-2 sentence review, it will help others find Mud Stories more easily, exposing the podcast to a wider audience.

Thank you so much for your help!

 CLICK HERE to leave a review in iTunes 

 CLICK HERE to leave a review in Stitcher