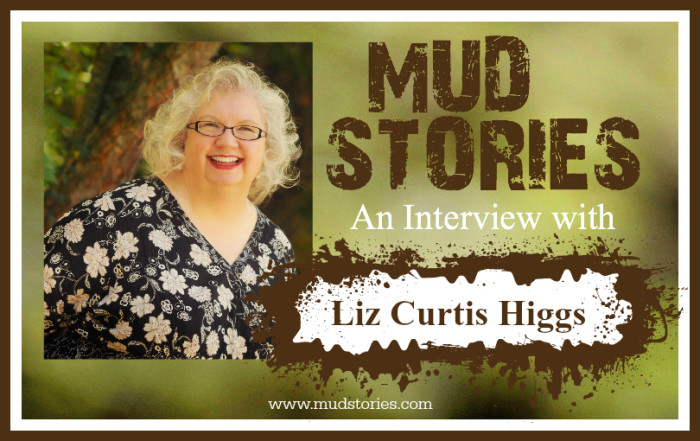 Welcome to episode 071 of Mud Stories!
Mud Stories is a podcast dedicated to bringing you inspiration in your muddiest moments, hope to make it through your mud, and encouragement for you to know, you are not alone.
To get a FREE audiobook today, go to mudstoriesbook.com

and sign up for free 30-day trial and hear one of Liz' books today!
In today's episode I'm talking with Liz Curtis Higgs, author of more than 30 books–with over 4 million copies in print–including her best-selling Bad Girls of the Bible series, The Women of Christmas, and writing historical fiction novels and children's books as well.
Liz is a national speaker whose messages are biblical, encouraging, down-to-earth, and profoundly funny, and she is passionate about helping sisters and seekers embrace the truth of God's amazing, unchanging grace.
Liz resides with her husband Bill in Louisville, Kentucky. She is blessed to live near her two adult and even learns about God from her twin tabby, Samson and Boaz.
In this episode Liz:
Shares about the challenge of growing more mature in age and faith
Describes her writing process and morning routines
Explains the different details of writing fiction and non-fiction
Shares why her novels are set in historical Scotland
And some of the mud she faced in her twenties
Liz offers encouragement:
To become constant encouragers to those around us
To know and believe we can be used by God for good, at any stage of our lives
And for us to carve out time to find our still, quiet moments with God
And after you listen, I'd be SO grateful if you'd take the time to SUBSCRIBE to this podcast over in iTunes on your computer, or on the purple podcast app on your Apple device.
When you SUBSCRIBE, iTunes promotes Mud Stories, which helps others find this show. 
SCRIPTURE:
The Lord is my rock and my fortress and my deliverer; The God of my strength, in whom I will trust. 2 Samuel 22:2-3 (NKJV)   
CONNECT with Liz:
Website:
SOCIAL MEDIA:
LINKS:

TO DOWNLOAD THIS PODCAST:
Right click here and save-as, to download this podcast episode. 
How to listen to The Mud Stories Podcast

1. Listen on the Mud Stories App for FREE. Download your free app through the following links:

Mud Stories App: iOS Apple Version

Mud Stories App: android Version

2. Listen on the blog. Click to the podcast episode you would like to listen to and click the play button within the post.

3. On your smart phone or mobile device– There are a lot of great podcasting apps. The most common one is Apple's purple podcast app. Also the Downcast App for Apple devices and Stitcher Radio for Android devices. They all allow you to search for shows, subscribe to them and even speed up the audio.

4. Subscribe to the Podcast – You can always access the podcast in iTunes or Stitcher, or you can search for Mud Stories on your smartphone's podcast app. And if you have missed past episodes, you can also listen via iTunes or Stitcher after you've subscribed, or click HERE to find all the episodes.

Subscribe in  iTunes HERE

Subscribe in Stitcher HERE
Rate or Review the Podcast

By rating the podcast or writing a 1-2 sentence review, it will help others find Mud Stories more easily, exposing the podcast to a wider audience.

Thank you so much for your help!

 CLICK HERE to leave a review in iTunes 

 CLICK HERE to leave a review in Stitcher