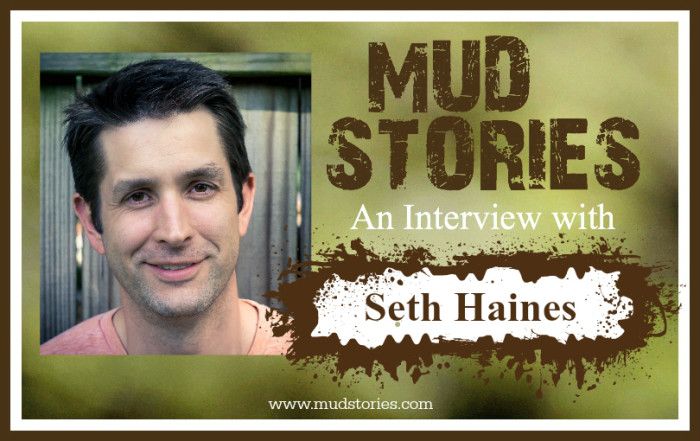 Welcome to episode 067 of Mud Stories!
Mud Stories is a podcast dedicated to bringing you inspiration in your muddiest moments, hope to make it through your mud, and encouragement for you to know, you are not alone.
In today's episode I'm talking to Seth Haines, a writer, author, and attorney by trade, who has just released his first book entitled, Coming Clean: A Story of Faith
.
Coming Clean: A Story of Faith
, is a raw account of Seth's first 90 days of sobriety, and illuminates the ways in which he faced his own pain. It's a narrative of rediscovery and of finding an abiding God in the darker hours of life. It's a journey through pain, the passion of Christ, and into wholeness–a journey for us all.
Seth is a humanitarian and worship leader, who resides in Northwest Arkansas with his wife, Amber, and their four energetic sons.
In this episode we discuss:
Seth's childhood growing up in Texas
How his young faith turned against itself and doubt set in
And the process of relegating God to an intellectual exercise
Seth shares:
How his doubt, isolation, and pain set the stage for addiction
The health challenge his son Titus faced
How he decided to give in to drinking alcohol instead of feeling internal pain
And the crucial crossroad he came to, as he realized he had a drinking problem
Seth encourages us:
To identify our pain, name it, sit with it, and get to know it
To see sin and addiction as the symptom, not the problem
To keep company with Jesus in the cave of our soul everyday
To find healing in the environment of Christian community
And to practice the act of forgiving again and again
And after you listen, I'd be SO grateful if you'd take the time to SUBSCRIBE to this podcast over in iTunes on your computer, or on the purple podcast app on your Apple device.
When you SUBSCRIBE, iTunes promotes Mud Stories, which helps others find this show. 
SCRIPTURE:
"Pray, then, in this way:

'Our Father who is in heaven,
Hallowed be Your name.
Your kingdom come.
Your will be done,
On earth as it is in heaven.
Give us this day our daily bread.
 And forgive us our debts, as we also have forgiven our debtors.
And do not lead us into temptation, but deliver us from evil.'

Matthew 6:9-13 (NASB)   
CONNECT with Seth:
Website:

Book:
SOCIAL MEDIA:
LINKS:
TO DOWNLOAD THIS PODCAST:
Right click here and save-as, to download this podcast episode. 
How to listen to The Mud Stories Podcast

1. Listen on the Mud Stories App for FREE. Download your free app through the following links:

Mud Stories App: iOS Apple Version

Mud Stories App: android Version

2. Listen on the blog. Click to the podcast episode you would like to listen to and click the play button within the post.

3. On your smart phone or mobile device– There are a lot of great podcasting apps. The most common one is Apple's purple podcast app. Also the Downcast App for Apple devices and Stitcher Radio for Android devices. They all allow you to search for shows, subscribe to them and even speed up the audio.

4. Subscribe to the Podcast – You can always access the podcast in iTunes or Stitcher, or you can search for Mud Stories on your smartphone's podcast app. And if you have missed past episodes, you can also listen via iTunes or Stitcher after you've subscribed, or click HERE to find all the episodes.

Subscribe in  iTunes HERE

Subscribe in Stitcher HERE
Rate or Review the Podcast

By rating the podcast or writing a 1-2 sentence review, it will help others find Mud Stories more easily, exposing the podcast to a wider audience.

Thank you so much for your help!

 CLICK HERE to leave a review in iTunes 

 CLICK HERE to leave a review in Stitcher