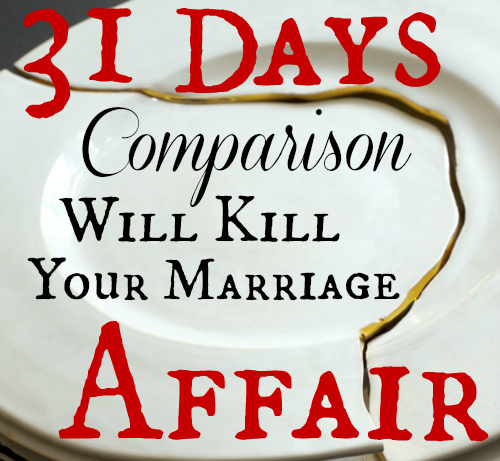 This is Day 7 in the series "31 Days: What You Should Know Before An Affair"
Day 7
I'll never forget the butterflies of anticipation the night before my first wedding. Two of my college girlfriends spent the night with me at my parent's house, and it was the best send-off a girl could ask for. Who wouldn't love just one last night of girl-time with snacks and chats and a safe place to share all the happy-nervous speculations of what would be ahead?
At twenty-one, idealistic and full of unrealistic expectations, it's no surprise disappointment was ahead for me. I've often wondered if someone would have sat me down and talked through it all–counseled me more seriously–if it would have made a difference in my expectations. Looking back, I probably wasn't mature or humble enough for it to have mattered.
I'm imagining it—me calmly listening, nodding my head to show engagement, and politely thanking them for their concern. But my internal dialogue would have been very different—a mix of a condescending 'I've got this' accompanied by a dismissive Texas-style 'Bless-your-heart'.
It's no surprise, after a few months of marriage I discovered marriage is really hard.
Family of origin differences.
Male and female differences.
Personality differences.
So many differences.
The sharpness of reality began to burst my idealistic balloons at rapid-fire speeds, until I was looking at a plethora of popped balloon debri all over the floor of my life.
This is where the danger started, slow and steady.
I noticed other marriages around me and began to idealize them. Not only did I make up stories in my mind of how amazing their relationships were, but I started comparing their marriages to mine. What of my reality wouldn't fall short compared to an embellished version of another couple's marriage I barely even knew?
But it didn't stop there. I upped my comparison game.
I began to compare my husband to other husbands, and over time, shifted my focus from seeing my husband's uniqueness to gazing at his weaknesses and inadequacies.
The more I compared, the more discontent I became—increasingly restless, uncertain, irritable, and annoyed. A quiet discontent became the backdrop for my soul–a initiated and perpetuated by my thoughts and the power of my mind.
Here's the thing you need to know,
Comparison will kill your marriage, one small thought at a time.
Today it's critical for us to understand the danger of comparison and acknowledge the emotional death it can bring. Because over time, the emotional desert it brings is fertile ground for an affair.
Comparison, if left unchecked, will eventually kill our marriage.
A wise person once said, "The grass is always greener on the side you water most," and that certainly couldn't be closer to pure truth.
So today, when you catch yourself judging, complaining about, or comparing your spouse to someone else's, remember to pull that hose back, point it down, and begin with one thing about your spouse you can be thankful for. 
Choose to grope for it.
Choose to name it.
Choose to write it.
Choose to speak it out.
Then pick a new one for tomorrow.
And then the next day.
And watch your feelings come to life.
I promise this is a choice.
You have the power to make this choice.
You are only in control of you.
And this watering at your own feet—on your own ground—will bring life.
I promise.
How has comparing brought disappointment for you?
What is one thing about your spouse you are thankful for TODAY?

Listen to Day 8 Podcast HERE
Throughout this series, if you have a question or a struggle and want me to address it or write on it in this series, please send me an email (jacque at jacquewatkins dot com) or a voicemail (green button on right sidebar) and I will do my best to incorporate it into this series. It will make me so happy to have feedback from you and to write what it is you might need. I can't wait to hear from you.