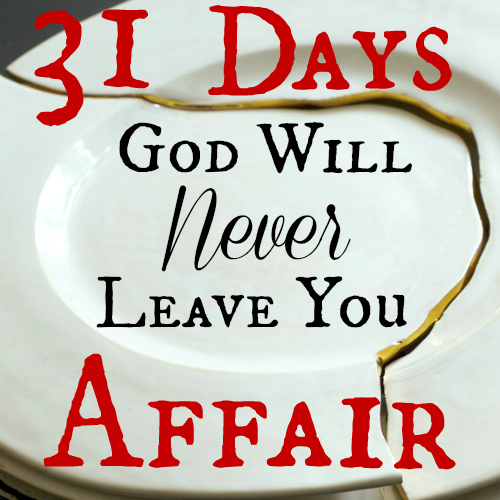 This is Day 31 in the series "31 Days: What You Should Know Before An Affair"
Day 31
In my years of deepest crisis, there were times I wondered if God would leave me—if there was something I could do to lose my salvation, or a reason for God to withdraw His love from me. I knew God had been with me prior to my failure, but now that I'd messed everything up with my selfish choices, I wasn't sure where I stood with Him.
I suspected I'd crossed the line and gone too far, but I wasn't completely sure. Growing up I'd gotten the impression I was supposed to obey and do good to please God, and that the motivations of my heart were supposed to be pure. But this had become my problem. I wasn't fully obeying or doing good. In fact, I'd distanced myself from God in order to be capable of doing what I did, and my motivations were far from pure. I was motivated only by what I wanted.
The affair had been one thing, and I knew from reading the Bible that God could forgive that. But choosing to divorce and marry each other? I wondered if that would be the deal breaker—if that would make God leave?
During the time I was separated and going to counseling, I wrestled with these questions and dove in head first. I was determined to find out if God would leave me, and if so, what would cause Him to walk away. I so badly needed to know.
Deep down I just couldn't believe God would reject me just because of who I was married to. That just made no sense to me.
I turned to the Bible in an attempt to sort out the answers to my questions. I hadn't actually read my Bible much. I knew snippets here and there—the main childhood Bible stories and some key verses—but hadn't learned the over-arching story of the Bible, how the books fit together, or where to find the actual verses for what I'd been taught to believe.
This would be a process of discovery and learning that would go on for years. It would take until age 38 before finally reading my Bible all the way through for the first time.
But in those crisis years prior to getting remarried, even my initial investigation into what the Bible actually said, changed everything. God was so patient, and gentle, and faithful to me.
I first learned from Ephesians 2, that salvation through God's grace was a gift, and He didn't give me the gift because of anything I could do to deserve it. This was very good news to me. Then, Romans 11 made it clear that grace wouldn't be grace if it was based on my choices, either good or bad. God chose to give a gift, and it was His decision and promise, separate from me.
I then learned in John 10, that once God gave me eternal life, He promised that nothing could snatch me out of His hand. And this was so significant because God is the boss. He's greater than all things, and if He determined I was His, then I was. Period. John 6 confirmed I'd never be cast out or rejected by God for any reason, and then Psalm 34 promised that God always redeems those who are His—that no one who takes refuge in Him will be condemned, no matter what. This meant that if I ran to Him for cover—for safety from even myself—He would take me in and protect me. And not only that, but He would redeem the mess I'd made somehow. This was His amazing promise.
Then there was Colossians 2 and Ephesians 2, which became the best news yet. I read about how I didn't have to get myself all together first, in order for God to accept me. There was no need to climb most of the way out of the hole I'd dug, before He'd help rescue me. There in Colossians 2 and Ephesians 2 I learned that God had made me alive together with Christ, even when I was in the worst possible place. It was then—in horrible failure—when I was completely dead in my sinful choices, that God chose to forgive me and cancel the record of debt that stood against me—to give mercy by withholding the punishment I deserved. Instead, God nailed it all to the cross through Christ, who paid for it, for once and all time. And this was His promise. As God, this is what He chose to do, all because of His love for me. And it was all regardless of my choices.
Romans 8 reassured me that I am never condemned if I'm in Christ Jesus, because I've been set free already by Christ. God condemned sin by sending Jesus to the cross to die for me, in order that the righteous requirement of the law might be fulfilled—through Him, all for me. And Romans 3 encouraged me to know that I am made right with God even now as I am—just as if I never sinned. It was all because of God's grace—this indescribable and undeserved gift—through the redemption Christ provided on the cross.
And if that wasn't enough, then I found Romans 8, which confirmed and solidified once and for all, that there is nothing—including my own choices—that could ever separate me from the love of God in Christ Jesus. NOTHING. Ever.
I want you to know today, God will never ever leave you.
God does not turn away. He doesn't leave us and He never withdraws His love. Because of Christ, we are forever sealed as His. He has chosen us. And when God looks upon us, He sees the righteousness of Christ, and the righteousness of Christ never changes based on what we do, or fail to do. We are so very loved.
It took me years to fully absorb this truth about God—that He was with me even in my worst choices, waiting for me to turn to Him, and longing for me to run to Him and be protected by the shelter and refuge He longed to provide. Not only did He never turn His back on me, or reject me, He pursued me, waiting patiently to rescue me from where I'd fallen.
It is our own hearts that have a hard time comprehending a love this great, this strong, this faithful. But this is who God is. He is with us, and for us, and He promises to work all things for good as we love Him.
I'm so thankful for you and our journey together this month. Of all the things I've longed for you to know, of all I've shared, and all we've discussed, to me, the most important one is this..
I want you to know today in the deepest parts of your soul,
No matter where you've been,
No matter what you've done,
No matter what's been done to you,
Or what you are about ready to choose—
God will never leave you, no matter the choices you make. 
And there is absolutely nothing He will leave unredeemed.
This I know full well.
When have you ever doubted God's love for you?
What Bible verse gives you the most hope that God will never leave you?

Read All the Posts in This Series HERE 
Throughout this series, if you have a question or a struggle and want me to address it or write on it in this series, please send me an email (jacque at jacquewatkins dot com) or a voicemail (green button on right sidebar) and I will do my best to incorporate it into this series. It will make me so happy to have feedback from you and to write what it is you might need. I can't wait to hear from you.