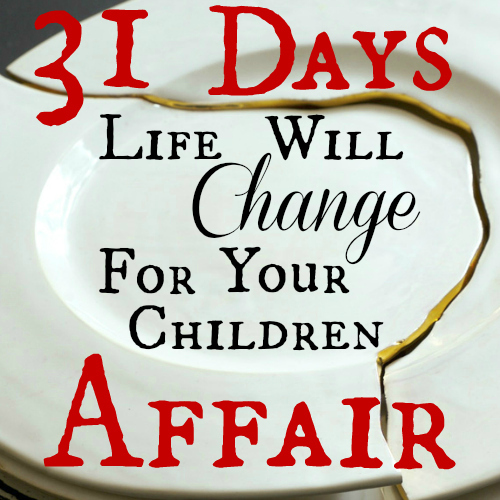 This is Day 23 in the series "31 Days: What You Should Know Before An Affair"
Day 23
I hated the exchange. It happened every Sunday night in the Thrifty parking lot. I'd scoop Matt up into my arms and carry him to the car. And as we walked, he'd arch his back and cry—twisting his body and extending his arms toward his dad—begging not to go.
It just about killed me.
At the age of three, there was no way he could understand our separation and divorce. All he knew was what he was feeling—that he loved both of us very much and his heart-felt like it was being ripped in two.
Being the cause of my toddler's pain escalated my shame and guilt, but not enough to penetrate my hardened heart. And not enough to make me turn from divorce.
Over the next nine years we shared custody, and transitioning became a normal way of life. Matt would go back and forth from his dad's house to ours—one week here, one week there—without any place to fully call his own.
There were two beds, two pillows, two sets of clothes, two toothbrushes, different rules, different families, and completely different friends. It became difficult for him to participate in activities or sports teams since we lived in two different cities. And follow-up with homework and discipline became difficult to track no matter how consistent the schedule became.
It wasn't long before new babies were born, in our house and theirs. In the end there would be six siblings total, all of whom would enjoy the privilege of living with both their moms and dads—a privilege he would never enjoy.
This is the only life he's ever known. Separate birthday celebrations. Holidays divided. Everyday days split between homes.
From the beginning I shared truth with him in age appropriate ways. Sometimes there were no questions, other times many. But I promised truth—always truth—careful to take responsibility for my choices. And also quick to admit my mistakes and failures—both past and present—along the way.
Before an affair, you must know life will change for your children.
While not all affairs usher in divorce, many do. And one thing is sure, affairs always cause fractures in relationships. The brokenness brings emotional turmoil, and with that comes a changed emotional tone in our homes. Our moods shift and our countenance changes. Joy is harder to find. And if anger, fighting, or animosity are present, it will be almost impossible to hide.
Kids are very sensitive emotional barometers, and are affected more than we know. They are innocent observers of our relationships, and our choices impact them against their will. Many navigate the minefield of their parents' relationship choices, and are forced to endure their whimsical decisions—decisions which will deliver consequences which have the capacity to plague them all of their adult lives.
No matter the outcome of an affair, life will change for your children.
And there will be a cost to both your heart and theirs—a price to be paid which may be higher than you can afford.
This I know by heart.
How has a decision you've made changed your child's life forever?
What did you do to help your heart recover?

Read Day 24 HERE 
Throughout this series, if you have a question or a struggle and want me to address it or write on it in this series, please send me an email (jacque at jacquewatkins dot com) or a voicemail (green button on right sidebar) and I will do my best to incorporate it into this series. It will make me so happy to have feedback from you and to write what it is you might need. I can't wait to hear from you.