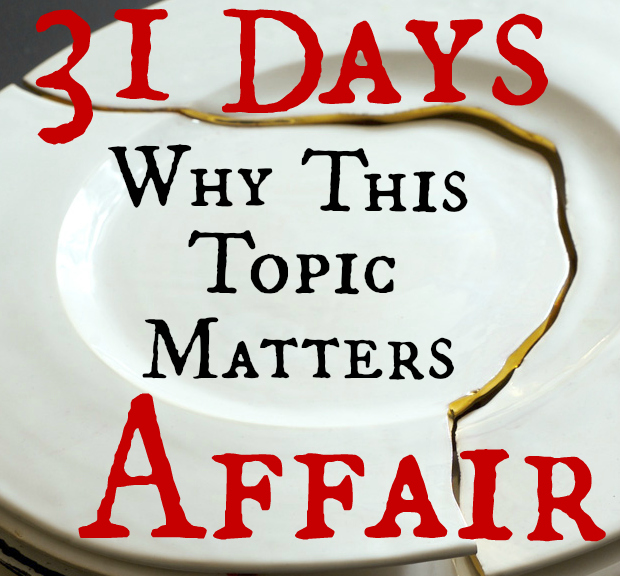 This is Day 2 in the series "31 Days: What You Should Know Before An Affair"
Day 2
Before we talk about all the details and what you should know before an affair, I want you to understand my intent behind this series, and why it even matters.
Yesterday I shared my story on the podcast and introduced Day 1 of this series.
If you missed it, you can listen here.
I told you about my affair, how there was so much pain I never anticipated, and details and implications I would have never known.
How could I have known?
Most people don't wake up one day and just decide to have an affair. Most often an affair happens as a slow and gradual process of incremental change over time—thoughts changing, emotions shifting, and finally behavior following. Much of the time it's a process you don't even realize is happening until you are deeply invested and wake up to find yourself in a huge mess.
This slow, insidious process happened to me. And I don't want it to happen to you.
That is why this series matters.
I've had seventeen years to reflect upon what I've learned from my affair and to think of what you might need to know. I want you to have these facts ahead of time—before the slow fade—before you consider making a life-altering choice or end up finding you've accidentally landed in one.
But writing this to you is a fine line for me to walk. It implies I don't want you to have an affair—that I don't think an affair would be best for you. And it wouldn't be best.
And yet, that's not my story—that's not what my life's actions proclaim. I chose to not only have an affair, but to divorce my husband and marry the man I had an affair with.
And the fact that we've been married for almost fifteen years and still love each other and our life, doesn't make it seem like I would be opposed to you having an affair either. I get that. And that's what's so very hard about my story.
In fact it's such a tricky thing to discuss, it almost kept me from writing this series to you. Who wants to be a hypocrite?
It's tricky because to tell you I should have never had an affair, minimizes and degrades the life I am now living—life with a faithful and loving husband and four beautiful children—none of whom would be in my life were it not for the affair.
But to tell you it is okay to have an affair, okay for you to follow your desires and abdicate your covenant marriage commitment, that would most definitely be wrong. It is not only wrong, but you will absolutely suffer. This I know.
Although to some, my life seems like everything is fine and I "got my sinful way," there is still pain I experience from my long-ago choices every single day—some of which I will share with you in this series.
The life I now live, loved by my family and my God, is only because of God's goodness, faithfulness, and love. I am alive today because God's mercy found me and His grace infiltrated my life, and I will never be the same.
Even still,  I continue to face the natural consequences of my choices. And you need to know that you would too.
The good news is, even if you mess up—especially when you mess up—God's grace is there. It meets us in the regular moments of every single day, and it is enough.
So you must know, my intention with this series is not to tell you what to do or what not to do. I simply want to start a conversation with you.
Where you are in charge of your life not me.
Where what I share is never prescriptive, but simply informative.
Where my input and experiences neither condemn you nor instruct you, but simply inform you.
And as we engage, I want our interaction to take place in front of a gigantic backdrop of grace. Where we are ever aware of it's magnitude and accept the truth that—no matter what we decide to do, or fail to do—God loves us.
I long for you to remember that if we are followers of Christ and have surrendered our lives to Him, the righteousness of Christ is applied to us. And what that really means is that when God looks at us, He doesn't see our successes or failures and decide if he wants to bless us based on them. Instead he sees the righteousness of Christ, and the righteousness of Christ never changes.
We are forgiven and free. Loved and enough. Affair or no affair.
Always.
And it's all because of Christ.
Thanks be to God.
What do you see as the benefit of daring to talk about this?
Why does it matter?

Read Day 3 HERE
Throughout this series, if you have a question or a struggle and want me to address it or write on it in this series, please send me an email (jacque at jacquewatkins dot com) or a voicemail (green button on right sidebar) and I will do my best to incorporate it into this series. It will make me so happy to have feedback from you and to write what it is you might need. I can't wait to hear from you.