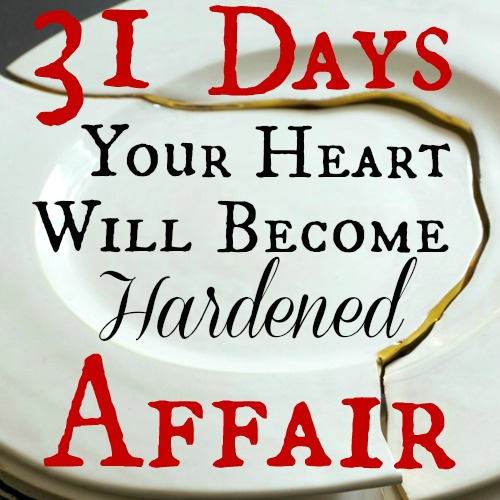 This is Day 17 in the series "31 Days: What You Should Know Before An Affair"
Day 17
As the affair went on in secrecy, my heart grew more hardened with each passing day. The truth is, as embarrassing as it is to admit, I wanted what I wanted. What started as a single thought so long ago, had transformed into a raging passion I couldn't seem to control—one I didn't want to control.
In large part I didn't want to control it because for so long I'd worked to please other people in my life, including God. And this time, I wanted to choose myself. But choosing myself required me to gradually disconnect from what I knew was right, including distancing myself from God.
Although I'd grown up in church, accepted Christ at a young age, and served God throughout my young adult life, distancing myself from Him didn't prove to be very hard. Unfortunately, as I grew up, I had acquired a wrong view of God, even though no one overtly taught it to me. I knew God loved me, but I also knew He had some rules—rules I thought I needed to follow to make Him happy with me.
If heaven was the eternal party, the goal of my Christian life was to be there—to get in and to stay in. I knew God had already given me a free entry ticket—salvation by grace. But I was convinced that in order to get to stay—sanctification—I needed to earn it by proving how thankful I was to Him. I figured the best way to do all of that was to follow all the rules, so God would be pleased with me and let me stay.
And so as life progressed, I set out to be the best Christian girl I could be—performing for God and for others. If I started to not feel enough, I'd choose to do more, or strive to do it better.
I became exhausted trying to keep up. 
So when I felt the first inkling of attraction, I chose to feed thoughts, dream of possibilities, and tell no one. I chose myself, and began to push God away by necessity.
It was almost like I decided to put God on a shelf, saving Him for some day in the future when I got the mess all sorted out. I wasn't going to leave God, I just wanted to explore my own way, and I started to harden my heart.
I stopped reading my Bible, which I wasn't doing much of anyway. Instead of praying infrequently, I didn't pray at all, and I hardly worshipped. I wasn't planning to walk away from God, or stop believing in Him, I just wanted my way. And my heart became more hardened to His voice as more time passed.
You need to know today, that when you stop pursuing God, your heart will become hardened. You will gradually become desensitized to God's ways, less convicted by His truth, and more capable of sin.
This I know.
It took me many years after my confession to learn to see God with a more accurate view, and to dare to grow in intimacy with Him.
The real truth I've come to know about God is that He doesn't just tolerate us, He adores us. There's no need for performing, obeying to please, or following rules to be accepted.
He's not judging us. He's waiting for us to choose Him, because He made a way. He sent Jesus to be the bridge that connects us to Him. All of God's wrath and judgment was satisfied in Christ.
We never have to earn the right to stay at the party.
We are in.
Forever.
All because of Christ.
Today, may we choose Him over ourselves.
May we remain soft and pliable to His ways.
May we refuse to allow our hearts to become hardened.
May we see the truth that we are never a bother to Him, but His greatest pleasure and delight.
And may we remember that nothing—except our own selves—can ever separate us from His love.
Ever.
I'm so very thankful.
Have you ever discovered you had a wrong view of God
?
What happened in your life that led to you hardening your heart?

Read Day 18 HERE 
Throughout this series, if you have a question or a struggle and want me to address it or write on it in this series, please send me an email (jacque at jacquewatkins dot com) or a voicemail (green button on right sidebar) and I will do my best to incorporate it into this series. It will make me so happy to have feedback from you and to write what it is you might need. I can't wait to hear from you.