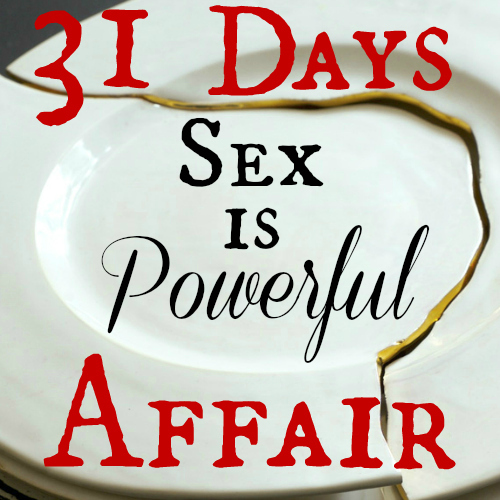 This is Day 14 in the series "31 Days: What You Should Know Before An Affair"
Day 14
When the affair turned physical I became consumed. 
I spent a full year investing in the emotional relationship—feeding my thoughts, engaging the attraction, coddling the conversation, and sending signals of interest—all of which were returned.
It was as if a small spark ignited that very first time we spoke our attraction out loud, and the ongoing interaction continued to stoke an expanding fire over time. We chose to consistently add fuel—sharing dreams, disclosing emotions, empathizing about disappointments and struggles, and making memories of secret time spent in each other's presence.
The emotional entanglement grew so strong, physical symptoms of excitement surfaced—heart beating fast, stomach feeling weak, and the anticipation bringing an excited nervousness like the high of any new relationship.
The intensity of the connection screamed for it to end. 
It's not easy to forget the autumn day we sat at my kitchen table eating sandwiches and chips, and talked about saying goodbye.
It would be the first of many times we would try to say goodbye.
Now, this next part is going to sound crazy to you, and it is I know, but this is my honest truth.
After declaring how much we cared about each other and how wrong it was that we did, we acknowledged the inappropriateness of our connection, and decided to open our Bibles.
Yes we sure did.
Right there in my kitchen we turned to every passage about adultery. The story of David, the Proverbs, the Gospels, Paul's letters—we referenced it all. I'm not sure why we needed to read it in black and white that day, because we both already knew what it said. But we read on, as if our eyes seeing the words again in each other's presence, would somehow give us the magic power we needed to extinguish the fire and to say goodbye.
And this is how dangerous affairs are.
They warp our sense of judgment and cause crooked justified thinking.
Our selfish desires run roughshod all over obvious truth, and bend our willingness to do right.
It feels better in the moment to serve self.
That day we mutually confessed we'd rather regret choosing something wrong than regret never experiencing it at all. We chose not to say goodbye. Instead we stoked the fire. And within a few weeks the relationship became physical, exploding into an inferno which would prove difficult to control.
While it's true that emotional connection is the power that drives an affair, sex is the power that cements the connection—physiologically bonding and addicting us to one another. If the emotional affair had me chained to a tree by a lake, the physical affair tied big rocks around my neck and threw me into the water, weighed down and drowning by the addiction of it all.
Sex is powerful for so many reasons, but its primary power is rooted in physiology.
When two people have sexual contact, dopamine is secreted by the brain, which is the same chemical released while engaging in a variety of behaviors like speed racing, sky diving, and drug and alcohol use. Dopamine is highly addictive, which is why sex makes us feel addicted to each another.
But besides sex becoming addicting, we also feel bonded and secure because of  the hormone oxytocin. It's been called the love hormone and is always secreted by our brains whenever we have an intimate encounter—when we talk to someone affectionately, touch someone skin to skin, hold hands, hug, embrace, or have sexual contact with one another. And it is oxytocin which causes feelings of contentment, trust, decreased anxiety, calmness, security, and decreased fear. We never feel closer to one another than following an oxytocin-releasing interaction.
Bonded and addicted, sex is powerful. And this is good news for a healthy monogamous marriage. But when affairs turn physical and sex is involved, we become bonded and addicted in the wrong places. And when you throw in the insecurity, guilt, and shame an affair holds, it becomes a sure recipe for devastation, disaster, and pain.
Adding sex to our already intense emotional connection, was like dousing a campfire with gasoline, instantly transforming it into an inferno—a forest fire, which over time would leave a charred disaster in its path.
I want you to know today that sex is powerful—for our good or for our detriment. We have the freedom to choose. 
We can either pursue being bonded and addicted right where we are—with the spouse we already have—or we can become wrecked with guilt and shame and destruction because we chose to become bonded and addicted to someone else. I know this well.
So, today, I don't want to candy coat this and act like the choice is easy, especially if our relationships are currently difficult and disconnected. But I think if we'd stop complicating things so much—stop waiting for the other person to serve us first, and just make a choice to be the one to serve—we'd be surprised what would happen if we did.
And yes, taking full advantage of the power of sex will be hard, but it's a choice. And that choice will be meaningful and determined work, making a long-term investment that will strengthen our bonds, help our marriages grow, and makes us less susceptible to affairs—emotional or otherwise.
And we just might be surprised how much fun we have in the process.
How has the power of sex bonded and addicted you in wrong places?
What one thing can you do TODAY to light a spark in your marriage?

Listen to Day 15 HERE
*While I realize the topic of sex can be complicated, especially in light of neglect and abuse, this post is intended to be a descriptive discussion, never prescriptive, and can not adequately take the place of professional help.  
Throughout this series, if you have a question or a struggle and want me to address it or write on it in this series, please send me an email (jacque at jacquewatkins dot com) or a voicemail (green button on right sidebar) and I will do my best to incorporate it into this series. It will make me so happy to have feedback from you and to write what it is you might need. I can't wait to hear from you.