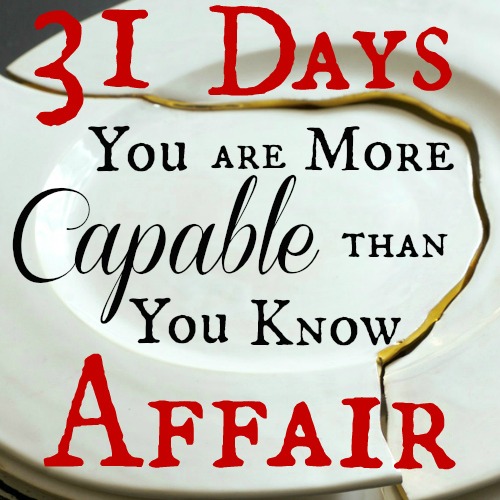 This is Day 12 in the series "31 Days: What You Should Know Before An Affair"
Day 12
She met me at the front of the huge sanctuary after the closing worship song. We talked in a friendly exchange as I would with anyone who needed to talk to someone after a service, and waited for what it was she needed.
After what seemed like a long time of superficial chatter, she finally asked for prayer. As a pastor's wife, that's one thing I absolutely could do.
Leaning in, she barely whispered the words in my ear, as if the world would end if she spoke them out loud.
She asked if God could forgive her for killing her baby.
I watched as a waterfall of tears rolled down her face. Her brokenness palpable and her spirit wrecked by the abortion she'd chosen.
The pain was still raw and so very real.
My heart sank.
Reaching forward, I took her hand in mine, squeezed it tight, and offered her a kleenex from the box on the altar.
I began to  share about God's grace and His mercy, and aimed to reassure her of the forgiveness which was already hers in Christ.
I shared many of the spiritual concepts I learned growing up, and the answers I had down pat—the same clichés I'd spoken aloud countless times: God's grace is enough, no sin is too great that God can not forgive, and so many more.
And then I prayed–for comfort, peace and reassurance of His love for her heart.
Although I was well-intended and sincere, I'd learned what to say in ministry moments and had become pretty good at the right answers.
In general, I didn't much consider how grace applied to me. I mean, of course, I knew grace applied to me, but I'd never considered whether it was complicated to be forgiven. I just knew I was forgiven, and that's all I needed to know.
The real truth was, I'd been so busy checking off my list—doing  for God—I subconsciously believed I was doing my part to earn His forgiveness. Looking back I realize how I unknowingly worked to please God, so He would not regret giving me His mercy and grace.
And yet I would be so quick to tell others God's grace was free, effective, and more than enough for them. The truth is, I knew it was enough for me too, but partly because I wasn't fully convinced that I needed it–not as badly as a person who aborted their baby.
If you would have told me at the age of 21, newly married and in love, that within the next ten years I would be not only capable of committing multiple "top ten" sins, but would actually spend almost three years excelling at them, I would have never, ever, believed you.
I would have thanked you for your concern, internally dismissing your prediction faster than lightning flashing from the sky.
Didn't you realize? I had it all together. I was on it—busy checking off my doing-for-God list. And the top ten sins weren't on it.
Of course, they wouldn't happen to me.
I would never choose them.
I loved God. I loved my husband. I served at my church. I had become a mom.
I was good.
I was a rule-follower, policy-keeper, and perfectly compliant, with a propensity for people-pleasing which rivaled next to none–convinced that the top ten would never be a problem for me.
Choosing another god
Making an idol
Dishonoring my father and mother
Committing adultery
Stealing
Lying
Coveting
I was too good for all of that.
But there I was, at the age of 27, stunned and surprised by who I'd become.
I had chosen my own desires as my god, made my emotional needs and personal pleasure my idol. I had dishonored my parents, coveted and stole someone's husband, committed adultery, and repetitively lied to cover it up. Again and again and again.
I had become an expert–a professional in the top ten.
You need to know today, you are more capable than you know. Maybe you're reading along with me today, thinking that an affair is something you would never do—something that only the worst people do. And there's an air of pride you carry.
But the truth I need you to know is that not one of us is beyond the capability of an affair–of lying, stealing, coveting or pride. Ever. And I know about the pride because I lived it, and still fight to recognize it and wrestle it down.
Pride brings a self-righteousness that lies to us, telling us we can perform to earn God's love, and wrecks us in our effort trying.
Before destruction is pride, And before stumbling — a haughty spirit.

Proverbs 16:18 (GW)
Pride lies to us and tells us we've got this handled, when really it makes us the most vulnerable to danger we can be.
We are most vulnerable to anything we're not aware could be a threat. Whether that's pride, gossip, negativity, or an affair. Unless we make a plan about the danger that might be ahead, we will be planning to fail. And when it comes to our emotional needs and issues of attraction, connectedness, and sexuality, the danger is great and the stakes are high.
You are more capable of failure than you know, and half the battle is an awareness and desire to surrender your pride.
Together, may we lay down our selfishness, our desire to be right, our self-righteous insistence and judgment, and ask God to help us see our sin. And may He help us cultivate dependent and humble hearts, eager to lay down pride and turn from sin, no matter the cost.
For our own good and for His glory.
Have you ever been surprised by your capability of sin?
What have you found helps us shatter our pride and avoid a fall?

Read Day 13 HERE 
Throughout this series, if you have a question or a struggle and want me to address it or write on it in this series, please send me an email (jacque at jacquewatkins dot com) or a voicemail (green button on right sidebar) and I will do my best to incorporate it into this series. It will make me so happy to have feedback from you and to write what it is you might need. I can't wait to hear from you.