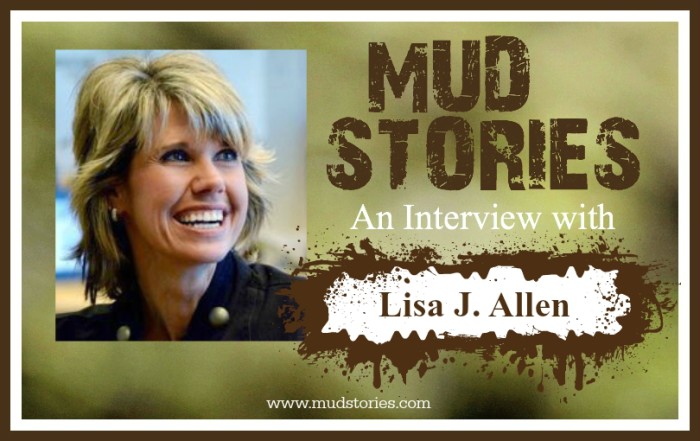 Welcome to episode 060 of Mud Stories!
Mud Stories is a podcast dedicated to bringing you inspiration in your muddiest moments, hope to make it through your mud, and encouragement for you to know, you are not alone.
In today's episode I'm talking with Lisa J. Allen, speaker, certified life coach, and executive director of ministry training at Proverbs 31 Ministries, currently residing in Charlotte, NC, with her husband and two children.
Lisa helps her life-coaching clients harvest their passions and dreams and identify their unique wiring to help them create a strategy to bring those dreams into reality and leave their mark on this world. Lisa's passion is to see people reach their fullest potential and live their best life.
In this episode Lisa shares:
The mud she faced as she saw her dream die
The disappointment that came with church change
And how church change led her to church hurt and isolation
Lisa discusses:
What to do when it feels like we have nothing and our dream dies
How to choose honor instead of gossip and malice
Tips for when we don't feel like "showing up"
How our pain can be our greatest gift
And hope for our hearts to remember God is with us and working through even our greatest disappointments, always
May you find Lisa's thoughts encouraging and hope-filled today, enjoy!
To receive podcast notes for this episode FREE, 

text "Episode60″ to 33444 

and they will be delivered to your inbox right away…
And after you listen, I'd be SO grateful if you'd take the time to give a rating or review over at iTunes, to help others find this podcast. (follow the instructions below)
SCRIPTURE:
Rejoice 

For God alone, O my soul, wait in silence, for my hope is from Him. He only is my rock and my salvation, my fortress; I shall not be shaken. Psalm 62:5-6 (ESV)   
CONNECT with Lisa:
Website:
SOCIAL MEDIA:
LINKS:
First 5 App–

an app for your phone to help you spend your first five minutes of your day focused on God
TO DOWNLOAD THIS PODCAST:
Right click here and save-as, to download this podcast episode. (If reading this in email, click HERE)
How to listen to The Mud Stories Podcast

1. Listen on the Mud Stories App for FREE. Download your free app through the following links:

Mud Stories App: iOS Apple Version

Mud Stories App: android Version

2. Listen on the blog. Click to the podcast episode you would like to listen to and click the play button within the post.

3. On your smart phone or mobile device– There are a lot of great podcasting apps. Apple has a free one in the app store, and there's also one called Downcast, and another called Stitcher Radio. Many of them allow you to search for shows, subscribe to them and even speed up the audio. Let us know your favorite!

4. Subscribe to the Podcast – You can always access the podcast in iTunes or Stitcher, or you can search for Mud Stories on your smartphone's podcast app. And if you have missed past episodes, you can also listen via iTunes or Stitcher after you've subscribed, or click HERE to find all the episodes.

Subscribe in  iTunes HERE

Subscribe in Stitcher HERE
Rate or Review the Podcast

By rating the podcast or writing a 1-2 sentence review, it will help others find Mud Stories more easily, exposing the podcast to a wider audience.

Thank you so much for your help!

 CLICK HERE to leave a review in iTunes 

 CLICK HERE to leave a review in Stitcher