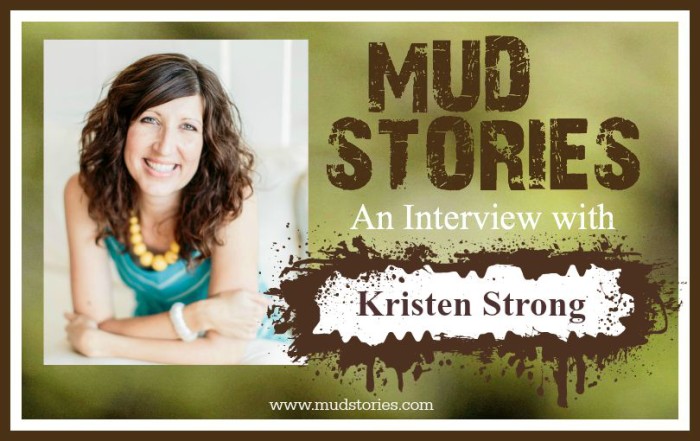 Welcome to episode 059 of Mud Stories!
Mud Stories is a podcast dedicated to bringing you inspiration in your muddiest moments, hope to make it through your mud, and encouragement for you to know, you are not alone.
In today's episode I'm talking with Kristen Strong, mama to twin boys, a darling daughter, and wife to her retired military man, David, where they reside together near the Rocky Mountains of Colorado.
As a born and bred Oklahoma girl, Kristen loves country music, cowboy boots, and Chasing Blue Skies, and has come to appreciate change and loss as inevitable parts of life–parts to be embraced and even celebrated as representations of God's goodness and grace.
Kristen's first book released this week entitled, Girl Meets Change: Truths to Carry You through Life's Transitions
, and she certainly is a girl who has met her share of change, faced loss, and maneuvered transitions which have become her next best thing indeed.
In this episode Kristen shares:
Her own journey through change including infertility, military moves and reassignments, and her daughter's neck and back injury
How change is significant and brings loss
And how change can be a very lonely time, especially if there is grieving
Kristen discusses:
How God uses change as a catalyst to give us not just good things, but best things
Why we should give thanks in the middle of change or loss
How to find a friend–and be a friend–during change
And how God wants to be with you in your change, loss, and transitioning moments
May you find Kristen's thoughts encouraging as you face your own unexpected moments of change, loss, and transition.
Enjoy!
To receive podcast notes for this episode FREE, 

text "Episode59″ to 33444 

and they will be delivered to your inbox right away…
And after you listen, I'd be SO grateful if you'd take the time to give a rating or review over at iTunes, to help others find this podcast. (follow the instructions below)
SCRIPTURE:
Rejoice always, 

pray without ceasing,

 

give thanks in all circumstances;

for this is the will of God in Christ Jesus for you.

I Thess 5:16-18 (ESV)    
CONNECT with Kristen:
Website:
SOCIAL MEDIA:
LINKS:
TO DOWNLOAD THIS PODCAST:
Right click here and save-as, to download this podcast episode. (If reading this in email, click HERE)
How to listen to The Mud Stories Podcast

1. Listen on the Mud Stories App for FREE. Download your free app through the following links:

Mud Stories App: iOS Apple Version

Mud Stories App: android Version

2. Listen on the blog. Click to the podcast episode you would like to listen to and click the play button within the post.

3. On your smart phone or mobile device– There are a lot of great podcasting apps. Apple has a free one in the app store, and there's also one called Downcast, and another called Stitcher Radio. Many of them allow you to search for shows, subscribe to them and even speed up the audio. Let us know your favorite!

4. Subscribe to the Podcast – You can always access the podcast in iTunes or Stitcher, or you can search for Mud Stories on your smartphone's podcast app. And if you have missed past episodes, you can also listen via iTunes or Stitcher after you've subscribed, or click HERE to find all the episodes.

Subscribe in  iTunes HERE

Subscribe in Stitcher HERE
Rate or Review the Podcast

By rating the podcast or writing a 1-2 sentence review, it will help others find Mud Stories more easily, exposing the podcast to a wider audience.

Thank you so much for your help!

 CLICK HERE to leave a review in iTunes 

 CLICK HERE to leave a review in Stitcher