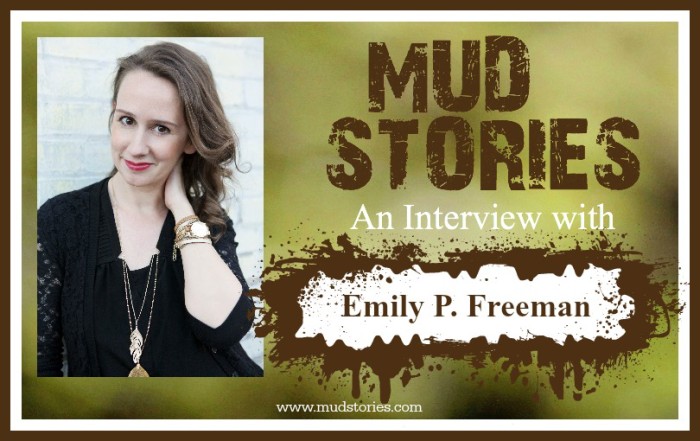 Welcome to episode 056 of Mud Stories!
Mud Stories is a podcast dedicated to bringing you inspiration in your muddiest moments, hope to make it through your mud, and encouragement for you to know, you are not alone.
In today's episode I'm talking with Emily P. Freeman, blogger, writer, and author, who believes the soul is often forgotten beneath the demands of everyday life. 
Through her writing she creates space for our souls to breathe–helping us respect the daily pauses we need to be fully ourselves, so we can be present with God and faithful in our home, work, and community.
Emily is a wife to John and mama to three–one boy and twin girls–who resides with her family in North Carolina.
Emily's fourth book releases this week entitled, Simply Tuesday: Small-Moment Living in a Fast-Moving World
, and I am still savoring her words and allowing this message to simmer in me. It is not one to read fast or haphazardly, but one that will become a kind companion and coach for your soul.
For real. This is one you don't want to miss!
In this episode Emily shares about:
Growing up as a "good girl"
The mud she's faced growing up with an alcoholic dad
Her struggle with a try-hard, rule-following life
The circumstances that shattered her and helped her soul begin to rest
Emily discusses:
How our soul is held hostage by hustle and long to sit down on the inside
The significance of our everyday Tuesdays
Our tendency to think size or growth is equal to God's blessing
How Jesus hangs out on the other side of failure and disappointment
Emily helps us consider:
How God may be waiting for us
How our souls may be afraid of the quiet
How we are prone to put connection as a higher priority than the voice of God
And how life is not primarily lived in brightness or in deep darkness, but in the medium light of a regular day
May you find Emily's words a light, leading you deeper into the self-awareness of your own soul and coaching us toward Christ, who resides with us there.
Enjoy!
To receive podcast notes for this episode FREE, 

text "Episode56″ to 33444 

and they will be delivered to your inbox right away…
And after you listen, I'd be SO grateful if you'd take the time to give a rating or review over at iTunes, to help others find this podcast. (follow the instructions below)
SCRIPTURE:
Do not despise the small beginnings, for the Lord rejoices to see the work begun… 

Zechariah 4:10 (NLT)    
CONNECT with Emily:
Website:
SOCIAL MEDIA:
LINKS:

{To view the video of Sarah Masen's song, Tuesday, click HERE}
TO DOWNLOAD THIS PODCAST:
Right click here and save-as, to download this podcast episode. (If reading this in email, click HERE)
How to listen to The Mud Stories Podcast

1. Listen on the Mud Stories App for FREE. Download your free app through the following links:

Mud Stories App: iOS Apple Version

Mud Stories App: android Version

2. Listen on the blog. Click to the podcast episode you would like to listen to and click the play button within the post.

3. On your smart phone or mobile device– There are a lot of great podcasting apps. Apple has a free one in the app store, and there's also one called Downcast, and another called Stitcher Radio. Many of them allow you to search for shows, subscribe to them and even speed up the audio. Let us know your favorite!

4. Subscribe to the Podcast – You can always access the podcast in iTunes or Stitcher, or you can search for Mud Stories on your smartphone's podcast app. And if you have missed past episodes, you can also listen via iTunes or Stitcher after you've subscribed, or click HERE to find all the episodes.

Subscribe in  iTunes HERE

Subscribe in Stitcher HERE
Rate or Review the Podcast

By rating the podcast or writing a 1-2 sentence review, it will help others find Mud Stories more easily, exposing the podcast to a wider audience.

Thank you so much for your help!

 CLICK HERE to leave a review in iTunes 

 CLICK HERE to leave a review in Stitcher