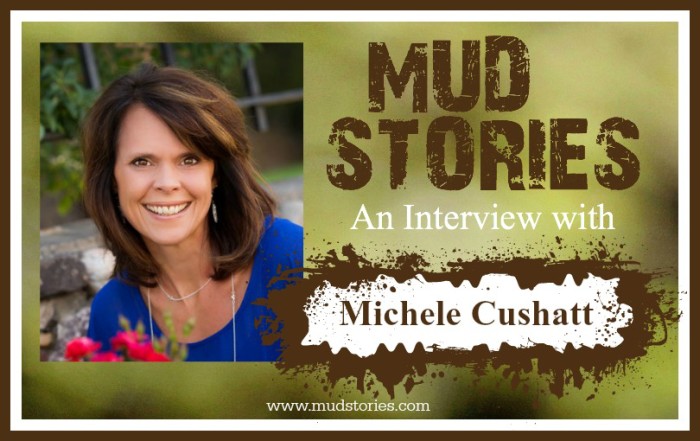 Welcome to episode 052 of Mud Stories!
Mud Stories is a podcast dedicated to bringing you inspiration in your muddiest moments, hope to make it through your mud, and encouragement for you to know, you are not alone.
In today's episode I'm talking with Michele Cushatt, connector, speaker, writer, and author of her first book entitled Undone: A Story of Making Peace With an Unexpected Life
. It is her story through so many undoings in life–how she has come to wrestle with God through the suffering she has faced, and by sharing Michele offers each of us so much hope.
Michele and her husband Troy, reside in Colorado with their six children, ages 8 to 23.  And there is never a dull moment! She enjoys a good novel, a long run, sleeping in the sun, and a kitchen table filled with people.
In this episode Michele shares about:
Making peace with the unexpected turns in life
Her divorce in her twenties and single parenthood
Her remarriage and the challenge of a blended family
And the growth of her faith through those early crises
Michele discusses:
Her first cancer of the tongue diagnosis and initial treatment
The addition of three children to their family
Walking alongside her dad through his cancer
And the horrific challenges in her most recent 2nd and 3rd cancer recurrences and treatments
Michele has faced horrific challenges, and yet has learned so very much through them–lessons about fear, the process of grieving, pain, how to sit with others through their pain, and so much more. I am praying today her words meet and move you in the most deep ways. Michele longs for you to really know that you are NOT alone!
Enjoy!
And to receive podcast notes for this episode FREE, 

text "Episode52″ to 33444 

and they will be delivered to you right away…
Enjoy!
And after you listen, I'd be SO grateful if you'd take the time to give a rating or review over at iTunes, to help others find this podcast. (follow the instructions below)
SCRIPTURE:
Be strong. Take courage. Don't be intimidated.

Don't give them a second thought because 

God

, your God, is striding ahead of you.

He's right there with you.

He won't let you down; he won't leave you.



Deuteronomy 31:6 (MSG)    
CONNECT with Michele:
Website:
SOCIAL MEDIA:
LINKS:

TO DOWNLOAD THIS PODCAST:
Right click here and save-as, to download this podcast episode. (If reading this in email, click HERE)
How to listen to The Mud Stories Podcast

1. Listen on the Mud Stories App for FREE. Download your free app through the following links:

Mud Stories App: iOS Apple Version

Mud Stories App: android Version

2. Listen on the blog. Click to the podcast episode you would like to listen to and click the play button within the post.

3. On your smart phone or mobile device– There are a lot of great podcasting apps. Apple has a free one in the app store, and there's also one called Downcast, and another called Stitcher Radio. Many of them allow you to search for shows, subscribe to them and even speed up the audio. Let us know your favorite!

4. Subscribe to the Podcast – You can always access the podcast in iTunes or Stitcher, or you can search for Mud Stories on your smartphone's podcast app. And if you have missed past episodes, you can also listen via iTunes or Stitcher after you've subscribed, or click HERE to find all the episodes.

Subscribe in  iTunes HERE

Subscribe in Stitcher HERE
Rate or Review the Podcast

By rating the podcast or writing a 1-2 sentence review, it will help others find Mud Stories more easily, exposing the podcast to a wider audience.

Thank you so much for your help!

 CLICK HERE to leave a review in iTunes 

 CLICK HERE to leave a review in Stitcher