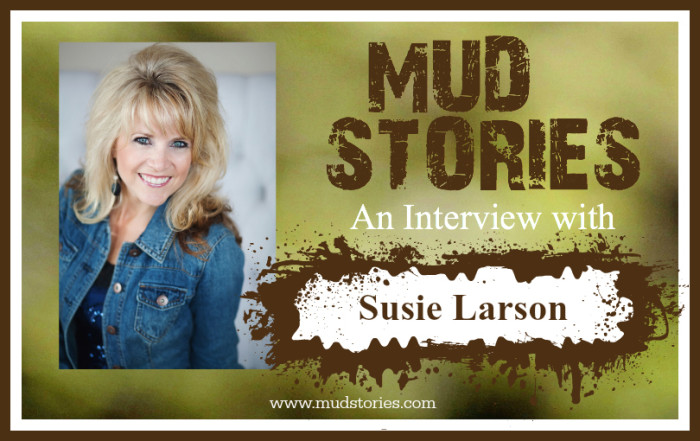 Welcome to episode 049 of Mud Stories!
Podcast: Play in new window | Download
Mud Stories is a podcast dedicated to bringing you inspiration in your muddiest moments, hope to make it through your mud, and encouragement for you to know, you are not alone.
In today's episode I'm talking with Susie Larson, a radio host with her own daily live talk show, Live the Promise with Susie Larson, and is a national speaker and author of her tenth book, entitled Your Sacred Yes: Trading Life-Draining Obligation for Freedom, Passion, and Joy
.
Susie connects weekly with thousands through her radio program and her daily faith encouragements on Facebook, and she resides in Minnesota with her husband Kevin, and their pit bull, Memphis.
In this episode Susie shares about the mud she's faced:
Childhood abuse by bullies
High risk pregnancies with months of bed rest
Her battle with Lyme disease
Financial crisis
And her husband's fight through cancer
Susie discusses:
How many of us know God but don't feel His love in hard times
The challenge it is when it seems God has forgotten us in our pain
And how our suffering is a training ground for what is ahead
Susie encourages us as we learn:
How to hear God
How to rebuild after burnout
How to handle jealousy and comparison
And the differences between a sloppy yes, a shackled yes, and a sacred yes
And to receive podcast notes for this episode FREE,

text "EPISODE49" to 33444

and they will be delivered to you right away…

Enjoy!
And after you listen, I'd be SO grateful if you'd take the time to give a rating or review over at iTunes, to help others find this podcast. (follow the instructions below)
SCRIPTURE:
I love the Lord, because he has heard my voice and my pleas for mercy.
Because he inclined his ear to me, therefore I will call on him as long as I live.
Gracious is the Lord, and righteous; our God is merciful.
The Lord preserves the simple; when I was brought low, he saved me.
I will walk before the Lord in the land of the living.

Psalm 116:1-2, 5-6, 9 (ESV)    
CONNECT with Susie:
Website:
SOCIAL MEDIA:
Twitter

Facebook
LINKS:
Begins June 13, 2015, with free emails and videos to encourage you!

Sign up anytime by clicking HERE
TO DOWNLOAD THIS PODCAST:
Right click here and save-as, to download this podcast episode. (If reading this in email, click HERE)
How to listen to The Mud Stories Podcast

1. Listen on the Mud Stories App for FREE. Download your free app through the following links:

Mud Stories App: iOS Apple Version

Mud Stories App: android Version

2. Listen on the blog. Click to the podcast episode you would like to listen to and click the play button within the post.

3. On your smart phone or mobile device– There are a lot of great podcasting apps. Apple has a free one in the app store, and there's also one called Downcast, and another called Stitcher Radio. Many of them allow you to search for shows, subscribe to them and even speed up the audio. Let us know your favorite!

4. Subscribe to the Podcast – You can always access the podcast in iTunes or Stitcher, or you can search for Mud Stories on your smartphone's podcast app. And if you have missed past episodes, you can also listen via iTunes or Stitcher after you've subscribed, or click HERE to find all the episodes.

Subscribe in  iTunes HERE

Subscribe in Stitcher HERE
Rate or Review the Podcast

By rating the podcast or writing a 1-2 sentence review, it will help others find Mud Stories more easily, exposing the podcast to a wider audience.

Thank you so much for your help!

 CLICK HERE to leave a review in iTunes 

 CLICK HERE to leave a review in Stitcher