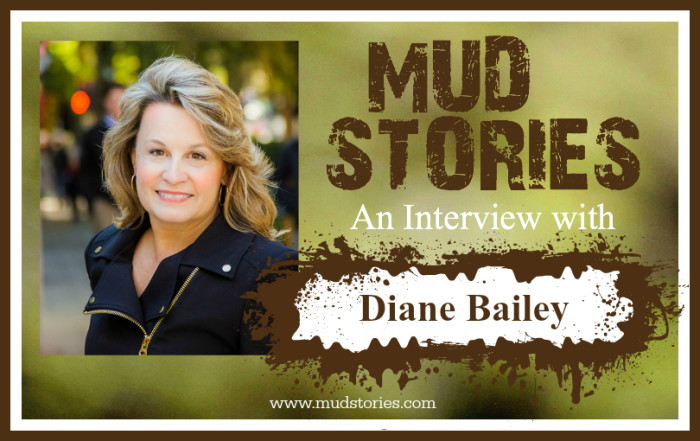 Welcome to episode 045 of Mud Stories!
Podcast: Play in new window | Download
Mud Stories is a podcast dedicated to bringing you inspiration in your muddiest moments, hope to make it through your mud, and encouragement for you to know, you are not alone.
In today's episode I'm talking with Diane Bailey–writer, blogger and life coach—who resides in the Deep South with her husband. Some of Diane's favorite things include fried okra, gumbo, any day at the beach with her family. and overindulging her three grandchildren on a regular basis.
As a blended stepfamily, Diane and her husband have successfully raised four children to adulthood, and from her experience, Diane has written an e-book entitled: 30 days to a Better Step Family, to help assist others through some of their most challenging times.
In this episode Diane discusses:
Domestic violence
Divorce as a rescue from abuse
Single parenting
Dating and remarriage
And the issues surrounding a blended family
Diane shares:
Wisdom and insight about remarriage and step parenting
And provides tips and strategies all parents can apply
Diane is warm and charming, and based on her experience, she lends a perspective that is so very wise. It is my hope that no matter what you're facing today, Diane's words would be an encouragement to you.
Enjoy!
Mud Stories 045: "As parents, let's be the thermostats, not the thermometers.." @dewbailey #MudStories [Tweet that]
And after you listen, I'd be SO grateful if you'd take the time to give a rating or review over at iTunes, to help others find this podcast. (follow the instructions below)
SCRIPTURE:
They will fight against you, but they shall not prevail against you,

for I am with you, declares the 

Lord

, to deliver you.
Jeremiah 1: 19 (ESV)    
CONNECT with Diane:
Website:
SOCIAL MEDIA:
LINKS:

TO DOWNLOAD THIS PODCAST:
Right click here and save-as, to download this podcast episode. (If reading this in email, click HERE)
How to listen to The Mud Stories Podcast

1. Listen on the Mud Stories App for FREE. Download your free app through the following links:

Mud Stories App: iOS Apple Version

Mud Stories App: android Version

2. Listen on the blog. Click to the podcast episode you would like to listen to and click the play button within the post.

3. On your smart phone or mobile device– There are a lot of great podcasting apps. Apple has a free one in the app store, and there's also one called Downcast, and another called Stitcher Radio. Many of them allow you to search for shows, subscribe to them and even speed up the audio. Let us know your favorite!

4. Subscribe to the Podcast – You can always access the podcast in iTunes or Stitcher, or you can search for Mud Stories on your smartphone's podcast app. And if you have missed past episodes, you can also listen via iTunes or Stitcher after you've subscribed, or click HERE to find all the episodes.

Subscribe in  iTunes HERE

Subscribe in Stitcher HERE
Rate or Review the Podcast

By rating the podcast or writing a 1-2 sentence review, it will help others find Mud Stories more easily, exposing the podcast to a wider audience.

Thank you so much for your help!

 CLICK HERE to leave a review in iTunes 

 CLICK HERE to leave a review in Stitcher