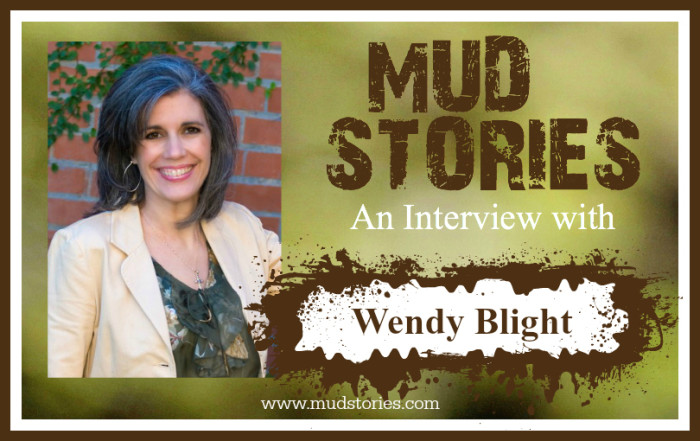 Welcome to episode 042 of Mud Stories!
Podcast: Play in new window | Download
Mud Stories is a podcast dedicated to bringing you inspiration in your muddiest moments, hope to make it through your mud, and encouragement for you to know, you are not alone.
In today's episode I'm talking with Wendy Blight—speaker, Bible study teacher, attorney, wife and mother of two–who resides with her family in North Carolina. Her passion is to teach women about the Bible, for them to understand what it really says, and to apply it in their daily lives.
Wendy is the author of two books: Living 'So That': Making Faith-Filled Choices in the Midst of a Messy Life (InScribed Collection)
 and Hidden Joy in a Dark Corner: The Transforming Power of God's Story
. She has also written numerous Bible studies, which she leads both in her community and online.
In this episode Wendy shares:
Her mud story of sexual assault and rape
The fear which paralyzed her for years
And the details of her journey to complete healing from fear, unforgiveness, and bitterness
Wendy and I discuss:
The way the Bible can help us know about the character of God
How Bible scriptures can tell us about God's promises to us
And how to partner with God to overcome our mud
Wendy describes:
What to do today to learn more about how the Bible can help us in practical ways
How to forgive even when we've been hurt so badly that we don't want to forgive
And resources and steps to take today to begin to connect with God in ways we might not have connected before
Wendy's story is not easy, but I love how it is an amazing example of how God can take anything meant for our harm and bring good from it in time.
It is my prayer today that you'd be inspired and changed, and become closer to God because of Wendy's story. Enjoy!
Mud Stories 042: From rape & fear to forgiveness & peace..A mud story w/ @wendy_blight  [Tweet that]
And after you listen, I'd be SO grateful if you'd take the time to give a rating or review over at iTunes, to help others find this podcast. (follow the instructions below)
SCRIPTURE:
..Don't be afraid, because I have saved you.


    

I have called you by name, and you are mine.




When you pass through the waters, I will be with you.




    

When you cross rivers, you will not drown.




When you walk through fire, you will not be burned,




    

nor will the flames hurt you.


This is because I, the 

Lord

, am your God.. Isaiah 43:1-3 (NCV)    
CONNECT with Wendy:
Website:
SOCIAL MEDIA:
LINKS:
TO DOWNLOAD THIS PODCAST:
Right click here and save-as, to download this podcast episode. (If reading this in email, click HERE)
How to listen to The Mud Stories Podcast

1. Listen on the Mud Stories App for FREE. Download your free app through the following links:

Mud Stories App: iOS Apple Version

Mud Stories App: android Version

2. Listen on the blog. Click to the podcast episode you would like to listen to and click the play button within the post.

3. On your smart phone or mobile device– There are a lot of great podcasting apps. Apple has a free one in the app store, and there's also one called Downcast, and another called Stitcher Radio. Many of them allow you to search for shows, subscribe to them and even speed up the audio. Let us know your favorite!

4. Subscribe to the Podcast – You can always access the podcast in iTunes or Stitcher, or you can search for Mud Stories on your smartphone's podcast app. And if you have missed past episodes, you can also listen via iTunes or Stitcher after you've subscribed, or click HERE to find all the episodes.

Subscribe in  iTunes HERE

Subscribe in Stitcher HERE
Rate or Review the Podcast

By rating the podcast or writing a 1-2 sentence review, it will help others find Mud Stories more easily, exposing the podcast to a wider audience.

Thank you so much for your help!

 CLICK HERE to leave a review in iTunes 

 CLICK HERE to leave a review in Stitcher