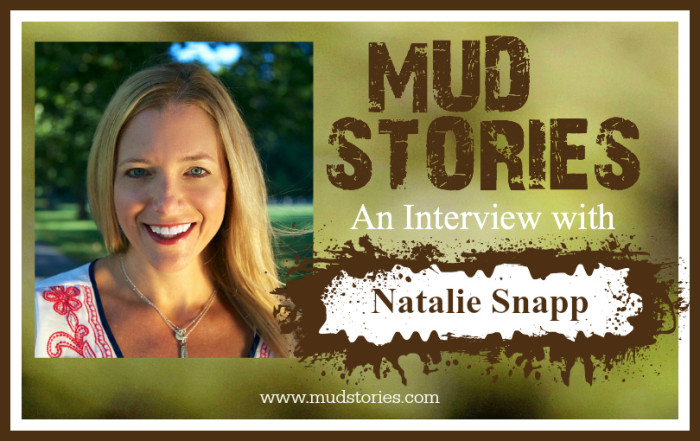 Welcome to episode 041 of Mud Stories!
Podcast: Play in new window | Download
Mud Stories is a podcast dedicated to bringing you inspiration in your muddiest moments, hope to make it through your mud, and encouragement for you to know, you are not alone.
In today's episode we're talking all about the messy mud of friendship with my friend,  Natalie Snapp—a follower of Jesus, wife to Jason, and mom to one spunky girl and two spirited boys. Natalie lives in the Midwest with her energetic crew, and is most passionate about sharing the grace, mercy, and truth of God's love for us all–regardless of our track record.
You can find Natalie pouring out her heart-words, and championing friendship and heart sisters, over at her website nataliesnapp.com. 
Her very first book releases TODAY, entitled Heart Sisters: Be the Friend You Want to Have
, and she's got quite the giveaway happening over at her book page!! Natalie is also offering a Heart Sisters 5-day Challenge too!
In this episode we discuss:
Conflict in friendship
A system called PEG–Pray, Examine, Go
Some specific tips to implement during disagreements
How to speak the truth in love
The difference between being candid and being honest
How to establish boundaries
Some red flags in friendship
And how to find a heart sister friend, even amidst loneliness
Mud Stories 041: Heart sisters practice humility and speak truth in love. [email protected] #heartsistersbook [Tweet that]
And after you listen, I'd be SO grateful if you'd take the time to give a rating or review over at iTunes, to help others find this podcast. (follow the instructions below) Enjoy!
SCRIPTURE:
Faithful are the wounds of a friend… Proverbs 27:6 (ESV)    
CONNECT with Natalie:
Website:
SOCIAL MEDIA:
LINKS:

To enter to WIN a copy of Natalie's book,

Leave a review on iTunes HERE

!!
TO DOWNLOAD THIS PODCAST:
Right click here and save-as, to download this podcast episode. (If reading this in email, click HERE)
How to listen to The Mud Stories Podcast

1. Listen on the Mud Stories App for FREE. Download your free app through the following links:

Mud Stories App: iOS Apple Version

Mud Stories App: android Version

2. Listen on the blog. Click to the podcast episode you would like to listen to and click the play button within the post.

3. On your smart phone or mobile device– There are a lot of great podcasting apps. Apple has a free one in the app store, and there's also one called Downcast, and another called Stitcher Radio. Many of them allow you to search for shows, subscribe to them and even speed up the audio. Let us know your favorite!

4. Subscribe to the Podcast – You can always access the podcast in iTunes or Stitcher, or you can search for Mud Stories on your smartphone's podcast app. And if you have missed past episodes, you can also listen via iTunes or Stitcher after you've subscribed, or click HERE to find all the episodes.

Subscribe in  iTunes HERE

Subscribe in Stitcher HERE
Rate or Review the Podcast

By rating the podcast or writing a 1-2 sentence review, it will help others find Mud Stories more easily, exposing the podcast to a wider audience.

Thank you so much for your help!

 CLICK HERE to leave a review in iTunes 

 CLICK HERE to leave a review in Stitcher