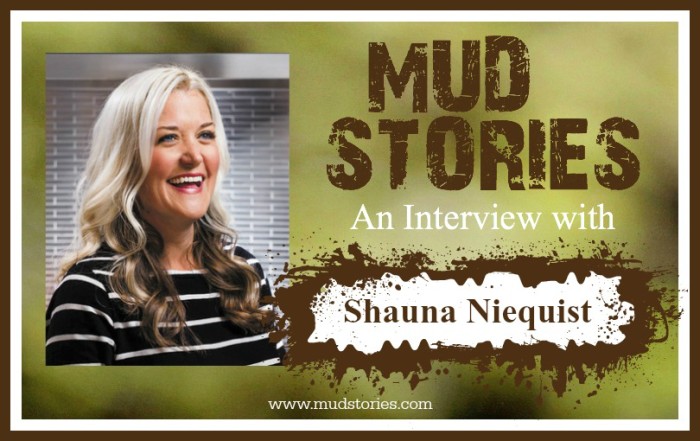 Welcome to episode 038 of Mud Stories!
Podcast: Play in new window | Download
Mud Stories is a podcast dedicated to bringing you inspiration in your muddiest moments, hope to make it through your mud, and encouragement for you to know, you are not alone.
Today I'm talking with Shauna Niequist, writer, author, and speaker, who resides in Chicago with her husband Aaron, and their two boys, Henry and Mac.
Shauna's three great loves are her family, dinner parties, and books, and she believes that vulnerable storytelling, hard laughter, and cold pizza for breakfast can cure almost anything.
Shauna is the author of four books: Cold Tangerines, Bittersweet, Bread and Wine, and her latest book entitled Savor: Living Abundantly Where You Are, As You Are
, a 365-day devotional.
In this episode Shauna shares various types of mud from her life:
Church leadership and ministry loss
Job loss
Infertility and miscarriage
Friendship challenges
Jealousy, Envy and Social Media
Being a Creative
Waiting
And the struggle to forgive when we don't want to
Shauna and I discuss:
How change is a function of God's graciousness
How pain transforms us
What to say when you don't know what to say
How jealousy can teach us something
How creativity is rarely driven by inspiration
How forgiveness really sets us free
The way silence and prayer can help start our day
The importance of finding "your people"
And how, what feels like a curse in our lives, can actually be a blessing
Mud Stories 038: Change is a function of God's graciousness, and pain an opportunity to be transformed. [email protected] [Tweet that]
Mud Stories 038: When life is sweet say thank you and celebrate. When life is bitter say thank you and grow. [email protected] [Tweet that]
And after you listen, I'd be SO grateful if you'd take the time to give a rating or review over at iTunes, to help others find this podcast. (follow the instructions below) Enjoy!
SCRIPTURE:
My sacrifice, O God, is a broken spirit;

a broken and contrite heart you, God will not despise.

Psalm 51:17 (NIV)
See, I am doing a new thing! Now it springs up; do you not perceive it?

I am making a way in the wilderness and streams in the wasteland.

Isaiah 43:19 (NIV)
CONNECT with Shauna:
Shauna's Website: shaunaniequist.com

Social Media:

Twitter

Facebook

 Instagram

Pinterest
QUOTES:
 "Sometimes in the moments of the most searing pain, we think we don't have a choice. But we do. It's in those moments that we make the most important choice: grow or give up. It's easy to want to give up under the weight of what we're carrying. It seems sometimes like the only possible choice. But there's always, always, always another choice, and transformation is waiting for us just beyond that choice."

~Shauna Niequist, Savor
"My prayer for you is not that you live a life that's only sweet and never bitter, but that in even the bitterest of moments, you will find the comfort of Christ, deep and enduring, powerful beyond all imagination. And when life is sweet say thank you and celebrate. And when life is bitter, say thank you and grow."

~Shauna Niequist, Bittersweet
Shauna's Books:
TO DOWNLOAD THIS PODCAST:

Right click here and save-as, to download this podcast episode. (If reading this in email, click HERE)
How to listen to The Mud Stories Podcast

1. Listen on the Mud Stories App for FREE. Download your free app through the following links:

Mud Stories App: iOS Apple Version

Mud Stories App: android Version

2. Listen on the blog. Click to the podcast episode you would like to listen to and click the play button within the post.

3. On your smart phone or mobile device– There are a lot of great podcasting apps. Apple has a free one in the app store, and there's also one called Downcast, and another called Stitcher Radio. Many of them allow you to search for shows, subscribe to them and even speed up the audio. Let us know your favorite!

4. Subscribe to the Podcast – You can always access the podcast in iTunes or Stitcher, or you can search for Mud Stories on your smartphone's podcast app. And if you have missed past episodes, you can also listen via iTunes or Stitcher after you've subscribed, or click HERE to find all the episodes.

Subscribe in  iTunes HERE

Subscribe in Stitcher HERE
Rate or Review the Podcast

By rating the podcast or writing a 1-2 sentence review, it will help others find Mud Stories more easily, exposing the podcast to a wider audience.

Thank you so much for your help!

 CLICK HERE to leave a review in iTunes 

 CLICK HERE to leave a review in Stitcher