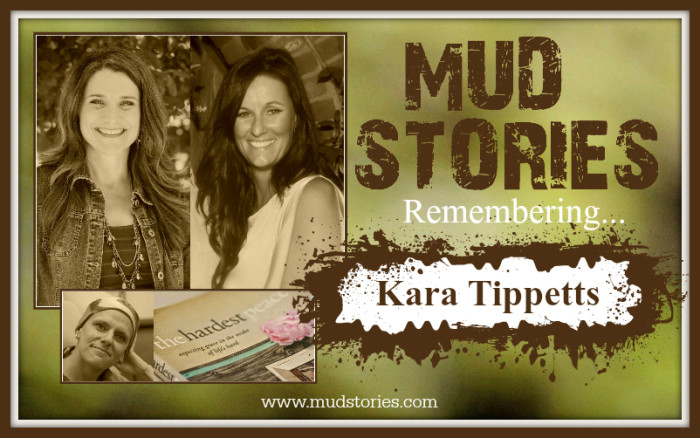 Welcome to episode 037 of Mud Stories!
Podcast: Play in new window | Download
Mud Stories is a podcast dedicated to bringing you inspiration in your muddiest moments, hope to make it through your mud, and encouragement for you to know, you are not alone.
Today I have a special episode for you.
A time of reflection and remembering.
A time to refocus our hearts on what matters most of all.
As many of you may know, the very special Kara Tippetts–wife, mother, and friend–died this past Sunday March 22, 2015, at the age of thirty-eight, after her long battle with cancer. And this week many of us are left in the aftermath of her loss, grieving, and yet still so full of hope because of Kara.
I have asked my cousin, Heather, to join me as we reflect and remember the life and legacy of our friend Kara Tippetts. Heather is the wife to Brad and mom to five children, ages one to twenty-three, and like me, has journeyed through some hard mud in life.
Kara Tippetts has meant so very much to us, even though we never had the privilege to meet her. And we are certain we're not the only ones who feel this way.
In this episode we discuss all Kara taught us, including:
Being reminded how much we need Jesus
Living life at the heart of the matter
Being transparent in sharing the hard things, to help others face their hard things
Staying small, being peaceful, and serving
Embracing our mortality
Loving BIG and in kindness
Slowing down to make others feel important, valued, and loved
Seizing small moments as being the actual big moments
Becoming the hands and feet of Jesus
Remembering God meets us with grace in our grief and in all things
Whether you've never heard of Kara before, loved her from afar as we did, or were some of her closest family or friends, it is our hope you'd be encouraged today, as we reflect and remember Kara today.
Enjoy!
 Mud Stories 037: If the answer isn't yes, trust God that the story is good, even if the path is hard [email protected]_tippetts [Tweet that]
SCRIPTURE:
But as for me, the nearness of God is my good;
I have made the Lord God my refuge,
That I may tell of all Your works.

Psalm 73:28 (NASB)
CONNECT with Kara's Story:
Website: mundanefaithfulness.com

Facebook Page: Mundane Faithfulness

Kara's books:

Kara's Interviews with Dr. James Dobson's Family Talk:

Kara's Videos:

The Small Things ARE the Big Things:

{To view this video, click HERE}

{To view this video, click HERE}

{To view this video, click HERE}

{To view this video, click HERE}
LINKS:
In lieu of flowers, donations may be sent to a fund benefitting the Tippetts children:
Jason Tippetts
P.O. Box 49727
Colorado Springs, CO 80949
TO DOWNLOAD THIS PODCAST:

Right click here and save-as, to download this podcast episode. (If reading this in email, click HERE)
How to listen to The Mud Stories Podcast

1. Listen on the Mud Stories App for FREE. Download your free app through the following links:

Mud Stories App: iOS Apple Version

Mud Stories App: android Version

2. Listen on the blog. Click to the podcast episode you would like to listen to and click the play button within the post.

3. On your smart phone or mobile device– There are a lot of great podcasting apps. Apple has a free one in the app store, and there's also one called Downcast, and another called Stitcher Radio. Many of them allow you to search for shows, subscribe to them and even speed up the audio. Let us know your favorite!

4. Subscribe to the Podcast – You can always access the podcast in iTunes or Stitcher, or you can search for Mud Stories on your smartphone's podcast app. And if you have missed past episodes, you can also listen via iTunes or Stitcher after you've subscribed, or click HERE to find all the episodes.

Subscribe in  iTunes HERE

Subscribe in Stitcher HERE

Rate or Review the Podcast

By rating the podcast or writing a 1-2 sentence review, it will help others find Mud Stories more easily, exposing the podcast to a wider audience.

Thank you so much for your help!

 CLICK HERE to leave a review in iTunes 

 CLICK HERE to leave a review in Stitcher