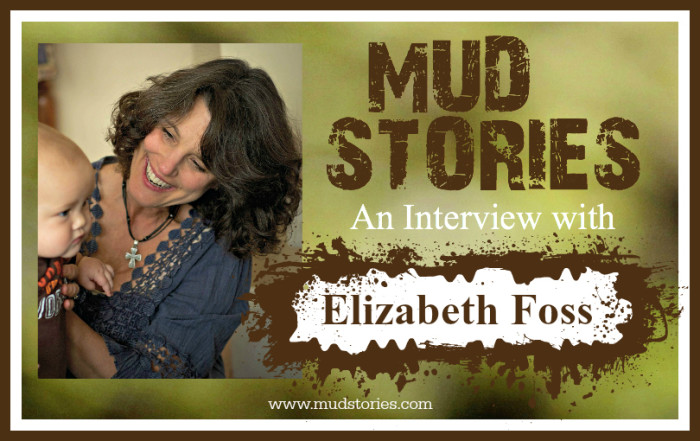 Welcome to episode 033 of Mud Stories!
Podcast: Play in new window | Download
Mud Stories is a podcast dedicated to bringing you inspiration in your muddiest moments, hope to make it through your mud, and encouragement for you to know, you are not alone.
In today's episode I'm talking with Elizabeth Foss, wife to Mike and mom to nine children–ages six to twenty six–who resides in Northern Virginia with her family.
Elizabeth is a homeschooler, knitter, runner, family life columnist and writer for over 20 years, the author of two books, and she blogs regularly about all things at the heart of her home.
Elizabeth finds the charm, wonder, and the cacophony of big family imperfection to be great inspiration as she strives to meet the challenges of daily life with creativity and grace.
And Elizabeth has been through some challenging mud. From her early years as the child of an alcoholic mother, to her own cancer diagnosis at age twenty-four, to unexpected C-sections, a high risk pregnancy, fear, burnout and even depression.
In this episode Elizabeth and I discuss:
Her cancer diagnosis at age 24
And the hard journey through chemo and radiation
The unexpected complications of pregnancy
C-sections, preemies, and being predisposed to depression
How crisis can solidify a marriage
And her come-to-Jesus turning point
We talk about:
Our mutual love for Amy Grant, back in the days when a Walkman was popular
And the power of music to minister and heal our hearts
Through Elizabeth's story, together we explore:
Our need to relinquish control in the midst of hard things,
Our need to surrender again and again
How control is an illusion
And the process of facing fear during and after suffering
 Mud Stories 033: The faithfulness of God gives us power to conquer our fear. [email protected] [Tweet that]
And after you listen, I'd be SO grateful if you'd take the time to give a rating or review over at iTunes, to help others find this podcast. (follow the instructions below) Enjoy!
SCRIPTURE:
Are you tired? Worn out? Burned out on religion?

Come to me. Get away with me and you'll recover your life.

I'll show you how to take a real rest.

Walk with me and work with me—watch how I do it.

Learn the unforced rhythms of grace.

I won't lay anything heavy or ill-fitting on you.

Keep company with me and you'll learn to live freely and lightly.

Matthew 11:28-30 (MSG)
CONNECT with Elizabeth:
Elizabeth's Website: elizabethfoss.com

Social Media:

Twitter

Facebook

 Instagram

Pinterest
The Restore Workshop: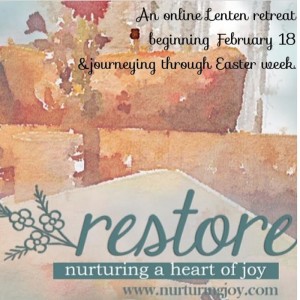 Have questions about Restore?

Elizabeth answers FAQ's HERE
Register for The Restore Workshop HERE

(through April 12, 2015)
LINKS:
{For email subscribers: To watch this video, click HERE}

Written by, Chris Christian, Brown Bannister, Amy Grant

I had laid some mighty plans

Thought I held them in my hands

Then my world began to crumble all away

I tried to build it back again

I couldn't bear to see it end

How it hurt to know You wanted it that way

Chorus:

And I'm so glad, glad to find the reason

That I'm happy-sad that You've torn it all away

And I'm so glad, though it hurts to know I'm leaving

Everything I ever thought that I would be

Once I held it in my hand

It was a kingdom made of sand

But now you've blown it all away

I can't believe that I can say that I'm glad

Long before my plans were made

I know a master plan was laid

With a power that superceded my control

And if that truth could pierce my heart

I wouldn't wander from the start

Trying desperately to make it on my own
TO DOWNLOAD THIS PODCAST:
Right click here and save-as, to download this podcast episode. (If reading this in email, click HERE)
How to listen to The Mud Stories Podcast
1. Listen on the Mud Stories App for FREE. Download your free app through the following links:

Mud Stories App: iOS Apple Version

Mud Stories App: android Version

2. Listen on the blog. Click to the podcast episode you would like to listen to and click the play button within the post.

3. On your smart phone or mobile device– There are a lot of great podcasting apps. Apple has a free one in the app store, and there's also one called Downcast, and another called Stitcher Radio. Many of them allow you to search for shows, subscribe to them and even speed up the audio. Let us know your favorite!

4. Subscribe to the Podcast – You can always access the podcast in iTunes or Stitcher, or you can search for Mud Stories on your smartphone's podcast app. And if you have missed past episodes, you can also listen via iTunes or Stitcher after you've subscribed, or click HERE to find all the episodes.

Subscribe in  iTunes HERE

Subscribe in Stitcher HERE
Rate or Review the Podcast
By rating the podcast or writing a 1-2 sentence review, it will help others find Mud Stories more easily, exposing the podcast to a wider audience.

Thank you so much for your help!

 CLICK HERE to leave a review in iTunes 

 CLICK HERE to leave a review in Stitcher