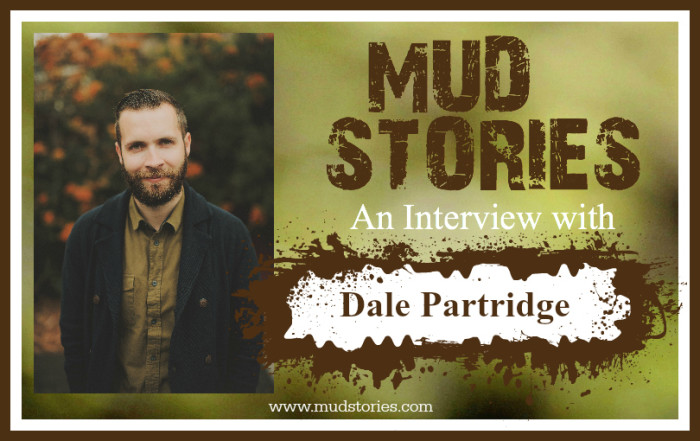 Welcome to episode 028 of Mud Stories!
Podcast: Play in new window | Download
Mud Stories is a podcast dedicated to bringing you inspiration in your muddiest moments, hope to make it through your mud, and encouragement for you to know, you are not alone.
In today's episode I'm talking with Dale Partridge, a serial entrepreneur and founder of Sevenly.org, The Daily Positive, and most recently, StartupCamp.com.
Dale teaches startups, entrepreneurs, and everyday dreamers how to form strong ideas, launch lucrative ventures, position their brand, love their people, and develop business models that offer freedom to their founders.
Dale resides with his wife, Veronica and their daughter, in Bend, OR, and is a renowned expert on branding, consumer psychology, and startup strategy. Dale is also an avid speaker and has been featured in various business publications including the cover of Entrepreneur Magazine, Fox News, NBC, MSN Money, and Forbes Magazine.
In this episode Dale and I discuss:
His early promising baseball career,
His entrepreneurial ventures and startups over the years
And his mud story which unfolded behind the scenes as the CEO and founder of Sevenly.org
Dale shares:
How stress, worry, insomnia, and anxiety took over his life
The strategies he used to deal with and overcome the crisis
The benefits of intensive counseling
The importance of sleep
The value of scripture and truth
The role of the church
Our tendency to self-sabotage because of shame
And our great need for community, connection, accountability, and vulnerability to overcome and heal
Dale shares what he learned along the way and with his story offers help to anyone who is struggling to try to balance it all in the face of mounting stress on all sides.
 Mud Stories 028: Hope for overcoming stress, worry & anxiety with entrepreneur @dalepartridge [Tweet that]
And after you listen, I'd be SO grateful if you'd take the time to give a rating or review over at iTunes, to help others find this podcast. (follow the instructions below) Enjoy!
SCRIPTURE:
"Therefore I tell you, do not worry about your life, what you will eat or drink; or about your body, what you will wear. Is not life more than food, and the body more than clothes?

Can any one of you by worrying add a single hour to your life?

If that is how God clothes the grass of the field, which is here today and tomorrow is thrown into the fire, will he not much more clothe you—you of little faith?

Therefore do not worry about tomorrow, for tomorrow will worry about itself. Each day has enough trouble of its own.

Matthew 6:25, 27, 30, 34 (NIV)
CONNECT with Dale:
Dale's Websites:

Social Media:

Twitter

Facebook

 Instagram

Pinterest
LINKS:
TO DOWNLOAD THIS PODCAST:
Right click here and save-as, to download this podcast episode. (If reading this in email, click HERE)
How to listen to The Mud Stories Podcast
1. Listen on the Mud Stories App. Download through the following links:

Mud Stories App: iOS Apple Version

Mud Stories App: Aandroid Version

2. Listen on the blog. Click to the podcast episode you would like to listen to and click the play button within the post.

3. On your smart phone or mobile device– There are a lot of great podcasting apps. Apple has a free one in the app store, and there's also one called Downcast, and another called Stitcher Radio. Many of them allow you to search for shows, subscribe to them and even speed up the audio. Let us know your favorite!

4. Subscribe to the Podcast – You can always access the podcast in iTunes or Stitcher, or you can search for Mud Stories on your smartphone's podcast app. And if you have missed past episodes, you can also listen via iTunes or Stitcher after you've subscribed, or click HERE to find all the episodes.

Subscribe in  iTunes HERE

Subscribe in Stitcher HERE
Rate or Review the Podcast
By rating the podcast or writing a 1-2 sentence review, it will help others find Mud Stories more easily, exposing the podcast to a wider audience.

Thank you so much for your help!

 CLICK HERE to leave a review in iTunes 

 CLICK HERE to leave a review in Stitcher