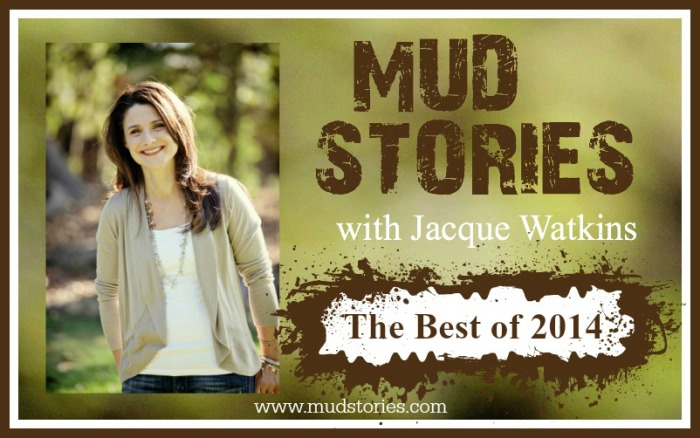 Welcome to episode 025 of Mud Stories!
Podcast: Play in new window | Download
Mud Stories is a podcast dedicated to bringing you inspiration in your muddiest moments, hope to make it through your mud, and encouragement for you to know, you are not alone.
This week and next we are reviewing the best of 2014, here on the Mud Stories podcast.
And I am SO very excited to share with you, the NEW Mud Stories Podcast App is here and is FREE for each one of you! This means that you no longer have to be tied to the computer to listen to an episode, nor do you need to use any alternate app to listen–no need for the Apple podcast app, no need for Stitcher radio, the Downcast app, or any other app!
Now, we have our very own app! And it is FREE! 

Merry Christmas to you!
Here's a picture of the iOS Apple version of the Mud Stories App, isn't it lovely?
And here's a picture of the Android version of the Mud Stories App!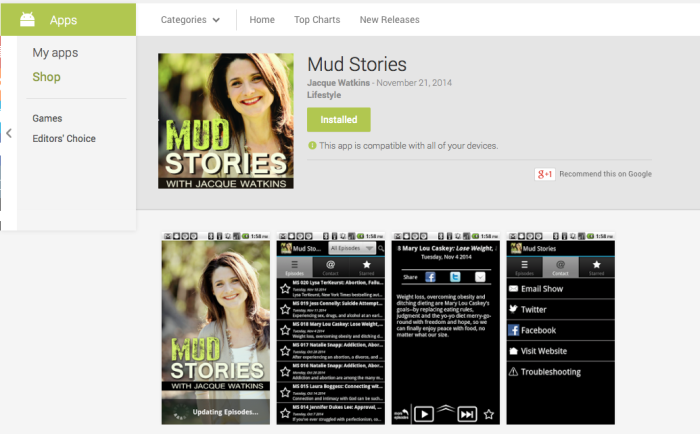 To download the app, all you have to do is click below and it will take you directly to the page to download the app for FREE today!

To download the Apple version App: CLICK HERE

To download the Android version App: CLICK HERE
Also you can get a free Audiobook download today, at no cost to you, by going to mudstoriesbook.com. When you go there, you can sign up for a free 30-day trial and get your free audiobook today. In return, I will receive a small commission which will help so much to support this podcast and the creation of things like the Mud Stories App.
And you should know, not only do you get a free audiobook and I receive a small commission, but you are absolutely able to cancel the trial at any time! And even if you cancel, you keep your audiobook and the podcast is still supported … a win-win for us both!
In today's episode I review highlights of 2014, reviewing episodes 1-12 of the Mud Stories podcast.
The highlights include episodes with:
And also, after you listen, I'd be SO grateful if you'd take the time to subscribe to the podcast in iTunes and give a rating or review over at iTunes, to help others find this podcast. (follow the instructions below) Enjoy!
TO DOWNLOAD THIS PODCAST:
Right click here and save-as, to download this podcast episode. (If reading this in email, click HERE)
How to listen to The Mud Stories Podcast
1. Listen on the Mud Stories App. Download through the following links:

Mud Stories App: iOS Apple Version

Mud Stories App: Aandroid Version

2. Listen on the blog. Click to the podcast episode you would like to listen to and click the play button within the post.

3. On your smart phone or mobile device– There are a lot of great podcasting apps. Apple has a free one in the app store, and there's also one called Downcast, and another called Stitcher Radio. Many of them allow you to search for shows, subscribe to them and even speed up the audio. Let us know your favorite!

4. Subscribe to the Podcast – You can always access the podcast in iTunes or Stitcher, or you can search for Mud Stories on your smartphone's podcast app. And if you have missed past episodes, you can also listen via iTunes or Stitcher after you've subscribed, or click HERE to find all the episodes.

Subscribe in  iTunes HERE

Subscribe in Stitcher HERE
Rate or Review the Podcast
By rating the podcast or writing a 1-2 sentence review, it will help others find Mud Stories more easily, exposing the podcast to a wider audience.

Thank you so much for your help!

 CLICK HERE to leave a review in iTunes 

 CLICK HERE to leave a review in Stitcher