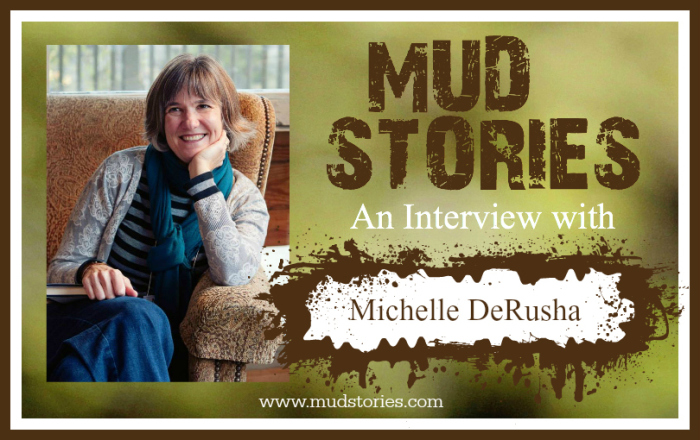 Welcome to episode 023 of Mud Stories!
Podcast: Play in new window | Download
Mud Stories is a podcast dedicated to bringing you inspiration in your muddiest moments, hope to make it through your mud, and encouragement for you to know, you are not alone.
In today's episode I'm talking with Michelle DeRusha—writer, author, speaker and Massachusetts native,  who relocated to the Great Plains of Nebraska in 2001, where she discovered grasshoppers the size of Cornish hens … and God.
Michelle writes about finding and keeping faith in the everyday at MichelleDeRusha.com, and is the mom to two bug-loving boys–Noah and Rowan–and is married to an English professor named Brad.
Michelle struggled in the wilderness of unbelief for two decades, unwilling to commit to a God who didn't fit her need for concrete, black-and-white answers. And it was only when she finally admitted her unbelief that she became aware of how God had long ago begun the slow process of bringing her back to Him.
In this episode Michelle shares:
Her childhood experience with church
How she stayed away from church and God for over 20 years
And how she struggled with faith for so long, having more questions than answers
Michelle describes:
How hitting rock bottom was the perfect view from which to look for God
The awkward experience of having so many firsts—first attending church, first buying a Bible, first mingling with believers, and the challenge of sorting through a whole new culture in the Christian faith
The discomfort of not having life all mapped out
And the beauty she's discovered in a God who loves us no matter what
And who waits as long as it takes for us to learn how His grace is always enough, every single time.
Michelle shares with wit and transparency and I just know that you will identify with a portion of her story, which she tells with such candor, charm, and much hope!
 Mud Stories 023:  Despite our unbelief, God's love is relentless & His grace has no limit [Tweet that]
And after you listen, I'd be SO grateful if you'd take the time to give a rating or review over at iTunes, to help others find this podcast. (follow the instructions below) Enjoy!
SCRIPTURE:
…Lord I believe; help my unbelief. Mark 9:24 (ESV)  
CONNECT with Michelle:
Website:

Social Media:

Twitter

Facebook

 Instagram

Pinterest
LINKS:
TO DOWNLOAD THIS PODCAST:
Right click here and save-as, to download this podcast episode. (If reading this in email, click HERE)
How to listen to The Mud Stories Podcast
1. Listen on the blog. Click to the podcast episode you would like to listen to and click the play button within the post.

2. On your smart phone or mobile device– There are a lot of great podcasting apps. Apple has a free one in the app store, and there's also one called Downcast, and another called Stitcher Radio. Many of them allow you to search for shows, subscribe to them and even speed up the audio. Let us know your favorite!

3. Subscribe to the Podcast – You can always access the podcast in iTunes or Stitcher, or you can search for Mud Stories on your smartphone's podcast app. And if you have missed past episodes, you can also listen via iTunes or Stitcher after you've subscribed, or click HERE to find all the episodes.

Subscribe in  iTunes HERE

Subscribe in Stitcher HERE
Rate or Review the Podcast
By rating the podcast or writing a 1-2 sentence review, it will help others find Mud Stories more easily, exposing the podcast to a wider audience.

Thank you so much for your help!

 CLICK HERE to leave a review in iTunes 

 CLICK HERE to leave a review in Stitcher