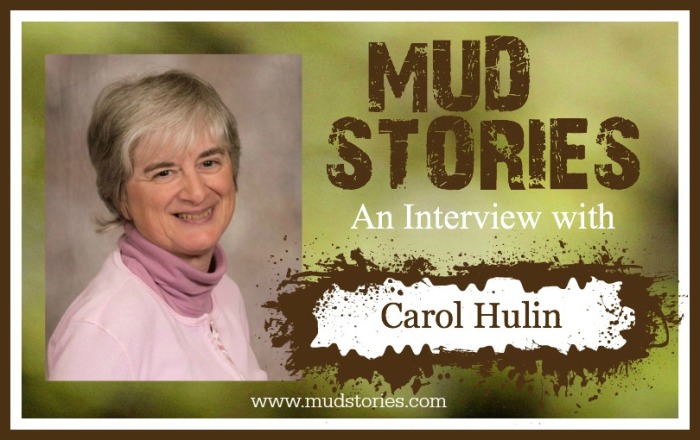 Welcome to episode 022 of Mud Stories!
Podcast: Play in new window | Download
Mud Stories is a podcast dedicated to bringing you inspiration in your muddiest moments, hope to make it through your mud, and encouragement for you to know, you are not alone.
In today's episode I'm talking with Carol Hulin, a follower of Jesus and a native of Canada, who loves to encourage others. Although Carol is not a blogger, she writes for Team 365, and also devotionals — called "Thursday's with Carol" — for her HelloMornings group.
Carol found Jesus, or better yet He found her, 17 years ago, after living a life of running as far from God as possible. She knows that she is only alive today because of God's tender compassion and great mercy.
After working 25 years in the hotel business, she is embarking on a new adventure: She's going back to college! Her goal is a degree in biblical studies, but at this point, she's simply focusing on her first year back in the classroom. She is single and has no children, yet her heart's desire is to spiritually nurture women's souls and draw them closer to Christ.
In this episode, together we discuss Carol's:
Abuse as a child
Withdrawal and isolation
Alcohol use
Abusive serial relationships
Promiscuity
Carol shares:
Her anger and doubt in God
The way she found Jesus
The struggle to let go of the shame and guilt
And learning how to trust again
Mud Stories 022:  Don't ever give up. Seek help always. And never stop talking to Jesus. [Tweet that]
And after you listen, I'd be SO grateful if you'd take the time to give a rating or review over at iTunes, to help others find this podcast. (follow the instructions below) Enjoy!
SCRIPTURE:
In you, O 

Lord

, do I take refuge; 

let me never be put to shame!




In your righteousness deliver me and rescue me;




    

incline your ear to me, and save me!




Be to me a rock of refuge, 

to which I may continually come;




you have given the command to save me, 

for you are my rock and my fortress.

Psalm 71:1-3 (ESV)  
CONNECT with Carol:
 Social Media:

Twitter

Facebook
LINKS:
HELP SUPPORT THIS PODCAST:
Help support this podcast by signing up for a FREE 31-day trial with Audible, and get one audio downloaded book for FREE! You are free to cancel anytime and a small commission will go to support this podcast!

Thank you so much!

Go to:
TO DOWNLOAD THIS PODCAST:
Right click here and save-as, to download this podcast episode. (If reading this in email, click HERE)
How to listen to The Mud Stories Podcast
1. Listen on the blog. Click to the podcast episode you would like to listen to and click the play button within the post.

2. On your smart phone or mobile device– There are a lot of great podcasting apps. Apple has a free one in the app store, and there's also one called Downcast, and another called Stitcher Radio. Many of them allow you to search for shows, subscribe to them and even speed up the audio. Let us know your favorite!

3. Subscribe to the Podcast – You can always access the podcast in iTunes or Stitcher, or you can search for Mud Stories on your smartphone's podcast app. And if you have missed past episodes, you can also listen via iTunes or Stitcher after you've subscribed, or click HERE to find all the episodes.

Subscribe in  iTunes HERE

Subscribe in Stitcher HERE
Rate or Review the Podcast
By rating the podcast or writing a 1-2 sentence review, it will help others find Mud Stories more easily, exposing the podcast to a wider audience.

Thank you so much for your help!

 CLICK HERE to leave a review in iTunes 

 CLICK HERE to leave a review in Stitcher