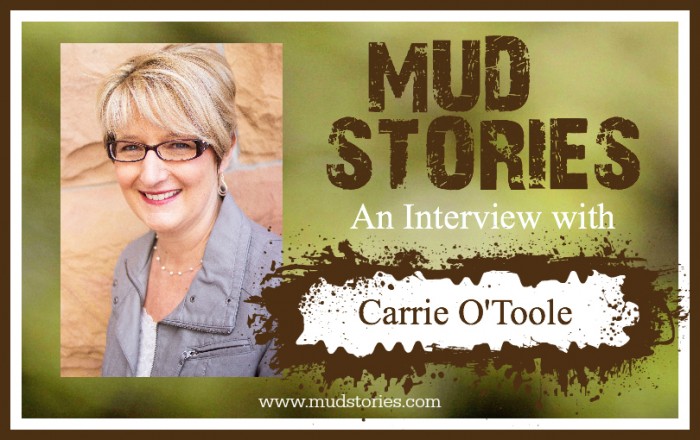 Welcome to episode 011 of Mud Stories!
Podcast: Play in new window | Download
Mud Stories is a podcast dedicated to bringing you inspiration in your muddiest moments, hope to make it through your mud, and encouragement for you to know, you are not alone.
In today's episode I'm talking with Carrie O'Toole a counselor and life coach who lives in Colorado with her husband Bob and their college-aged children.
Carrie loves to bike, camp, play the tuba, and coach individuals and couples who are struggling in their relationships. Carrie is the author of a book entitled, Relinquished: When Love Means Letting Go, and on this podcast she so bravely shares her mud story, including her struggle in the process of choosing to let go.
In this episode we discuss:
Carrie's personal mud story beginning with her international adoption
Her child's Reactive Attachment Disorder
How the experience almost destroyed her and her family
The desperation and hopelessness of depression, anxiety, and insomnia
The stigma of mental health issues
And the pain and suffering involved with losing a child, the process of letting go, and the anguish of the choice
This episode encompasses so many issues which affect so many, and I pray you are deeply encouraged by Carrie's story today–a story that is not wrapped up in a pretty red bow, but one God is continuing to redeem each and every day.
Mud Stories 011: "What if the only way for healing to occur is to let go?" @CarrieOToole [Tweet that]
And after you listen, I'd be SO grateful if you'd take the time to give a rating or review over at iTunes, to help others find this podcast. (follow the instructions below) Enjoy!
SCRIPTURE:
Then I will make up to you for the years




That the swarming locust has eaten,




The creeping locust, the stripping locust and the gnawing locust,




My great army which I sent among you.

Joel 2: 25 (NASB)  
CONNECT with Carrie:
Website:

Social Media:

Twitter
LINKS:
TO DOWNLOAD THIS PODCAST:
Right click here and save-as, to download this podcast episode. (If reading this in email, click HERE)
How to listen to The Mud Stories Podcast
1. Listen on the blog. Click to the podcast episode you would like to listen to and click the play button within the post.

2. On your smart phone or mobile device– There are a lot of great podcasting apps. Apple has a free one in the app store, and there's also one called Downcast, and another called Stitcher Radio. Many of them allow you to search for shows, subscribe to them and even speed up the audio. Let us know your favorite!

3. Subscribe to the Podcast – You can always access the podcast in iTunes or Stitcher, or you can search for Mud Stories on your smartphone's podcast app. And if you have missed past episodes, you can also listen via iTunes or Stitcher after you've subscribed, or click HERE to find all the episodes.

Subscribe in  iTunes HERE

Subscribe in Stitcher HERE
Rate or Review the Podcast
By rating the podcast or writing a 1-2 sentence review, it will help others find Mud Stories more easily, exposing the podcast to a wider audience.

Thank you so much for your help!

 CLICK HERE to leave a review in iTunes 

 CLICK HERE to leave a review in Stitcher