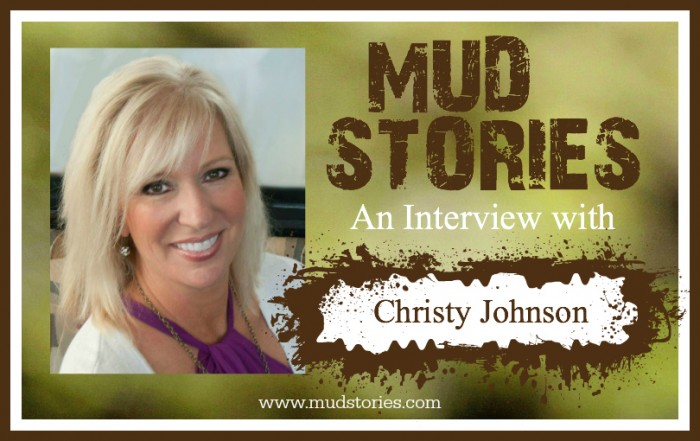 Welcome to episode 008 of Mud Stories!
Podcast: Play in new window | Download
Mud Stories is a podcast dedicated to bringing you inspiration in your muddiest moments, hope to make it through your mud, and encouragement for you to know, you are not alone.
In today's episode I'm talking to Christy Johnson–certified life coach, writer, and inspirational speaker. Christy advocates for the healthy development of our souls within our relationships, because she knows the pain and chaos that accompanies toxic ones.
After a disastrous first marriage filled with addiction and adultery, and also the tragic death of her two-and-a-half year-old son, Christy has found beauty on the other side of brokenness.
Christy lives in Oklahoma, with her husband John, and as a soul-health advocate, she is on a mission to help us identify our own roots of bitterness, to maintain joy in the midst of our adversity, and to develop drama-free habits to help us improve our relationships.
In this episode we discuss:
Christy's dysfunctional relationship with her father
How we often use relationships to get validation and approval
How so many people use relationships as a drug to medicate their pain
The dangers of comparison
How unrealistic expectations set us up to fail
How emotional and physical affairs begin
How we learn to forgive by actually forgiving
And how God works in and through our past, if we surrender it to Him
Mud Stories 008: Christy Johnson ~ How relationships as a sole source of happiness can be addictions…  [Tweet that]
And after you listen, I'd be SO grateful if you'd take the time to give a rating or review over at iTunes, as those will help others find this podcast. (follow the instructions below) Enjoy!
SCRIPTURE:
This is what 

God

 says,


    

the God who builds a road right through the ocean,




    

who carves a path through pounding waves,




The God who summons horses and chariots and armies—




    

they lie down and then can't get up;




    

they're snuffed out like so many candles:




"Forget about what's happened;




    

don't keep going over old history.




Be alert, be present. I'm about to do something brand-new.




    

It's bursting out! Don't you see it?




There it is! I'm making a road through the desert,




    

rivers in the badlands.

Isaiah 43:16-19 (MSG)  
CONNECT with Christy:
Website:

Social Media:

 Twitter

 Pinterest
LINKS:
Christy's Book:

Love Junkies, 7 Steps for Breaking the Toxic Relationship Cycle
TO DOWNLOAD THIS PODCAST:
Right click here and save-as, to download this podcast episode. (If reading this in email, click HERE)
How to listen to The Mud Stories Podcast
1. Listen on the blog. Click to the podcast episode you would like to listen to and click the play button within the post.

2. On your smart phone or mobile device– There are a lot of great podcasting apps. Apple has a free one in the app store, and there's also one called Downcast, and another called Stitcher Radio. Many of them allow you to search for shows, subscribe to them and even speed up the audio. Let us know your favorite!

3. Subscribe to the Podcast – You can always access the podcast in iTunes or Stitcher, or you can search for Mud Stories on your smartphone's podcast app. And if you have missed past episodes, you can also listen via iTunes or Stitcher after you've subscribed, or click HERE to find all the episodes.

Subscribe in  iTunes HERE

Subscribe in Stitcher HERE
Rate or Review the Podcast
By rating the podcast or writing a 1-2 sentence review, it will help others find Mud Stories more easily, exposing the podcast to a wider audience.

Thank you so much for your help!

 CLICK HERE to leave a review in iTunes 

 CLICK HERE to leave a review in Stitcher