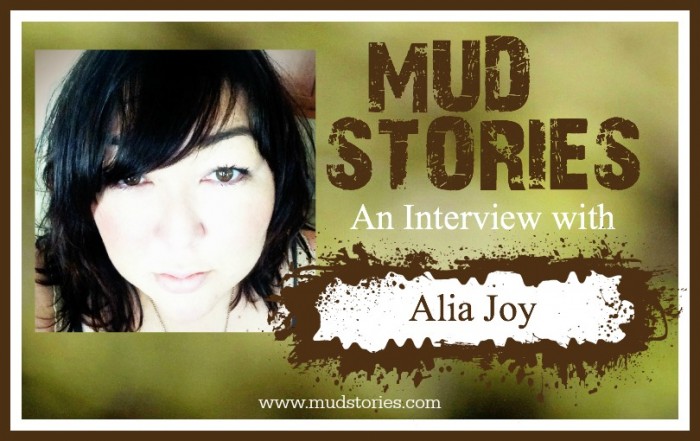 Welcome to episode 007 of Mud Stories!
Podcast: Play in new window | Download
Mud Stories is a podcast dedicated to bringing you inspiration in your muddiest moments, hope to make it through your mud, and encouragement for you to know, you are not alone.
In today's episode I'm talking to Alia Joy, a storyteller, speaker, and homeschooling mother of three who makes her home in Central Oregon.
Alia shares her life with readers of her blog Alia Joy.com— a resting place for the beauty she finds woven throughout even the most broken of stories. Her personal tale touches on so many of the hurts of today's women: depression, abuse, race, culture, body image and the hard work of seeing God's glory in every mess.
Alia's unique perspective and raw vulnerability make her an approachable voice, bringing hope her readers. She is a regular contributor to both the Allume and (in)courage blogs, and can be found on twitter  hashtagging "all the things," drinking copious amounts of coffee, and making goo-goo eyes at her husband.
In this episode we discuss:
Alia's story and journey through depression
How to recognize the symptoms of depression
Practical steps we can take today if we're impacted by depression
And a community challenge to stand together against depression: #mudstoriesbeautiful
Mud Stories 007: Alia Joy ~ On living through depression and how to offer up a broken hallelujah… [Tweet that]
And after you listen, I'd be SO grateful if you'd take the time to give a rating or review over at iTunes, as those will help others find this podcast. (follow the instructions below) Enjoy!
SCRIPTURE:
For I, the 

Lord

 your God, 

 

hold your right hand; 

It is I who say to you, "Fear not,

 

I am the one who helps you."

Isaiah 41:13 (ESV)  
CONNECT with Alia:
Website:

Alia's website:

aliajoy.com

Social Media:

 Twitter

 Pinterest
LINKS:
For RSS and email subscribers, click HERE to watch
TO DOWNLOAD THIS PODCAST:
Right click here and save-as, to download this podcast episode. (If reading this in email, click HERE)
How to listen to The Mud Stories Podcast
1. Listen on the blog. Click to the podcast episode you would like to listen to and click the play button within the post.

2. On your smart phone or mobile device– There are a lot of great podcasting apps. Apple has a free one in the app store, and there's also one called Downcast, and another called Stitcher Radio. Many of them allow you to search for shows, subscribe to them and even speed up the audio. Let us know your favorite!

3. Subscribe to the Podcast – You can always access the podcast in iTunes or Stitcher, or you can search for Mud Stories on your smartphone's podcast app. And if you have missed past episodes, you can also listen via iTunes or Stitcher after you've subscribed, or click HERE to find all the episodes.

Subscribe in  iTunes HERE

Subscribe in Stitcher HERE
Rate or Review the Podcast
By rating the podcast or writing a 1-2 sentence review, it will help others find Mud Stories more easily, exposing the podcast to a wider audience.

Thank you so much for your help!

 CLICK HERE to leave a review in iTunes 

 CLICK HERE to leave a review in Stitcher