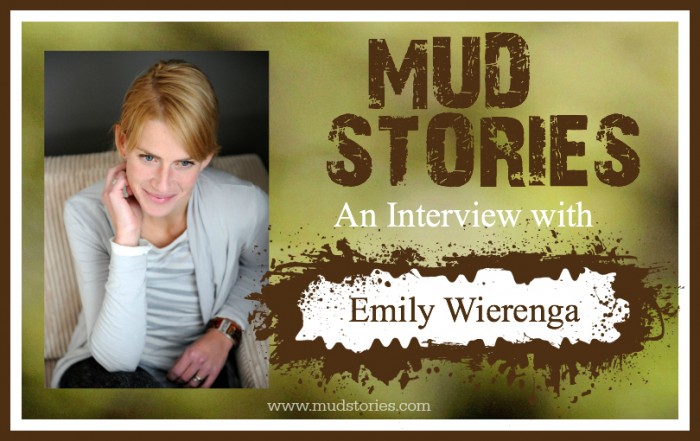 Welcome to episode 006 of Mud Stories!
Podcast: Play in new window | Download
Mud Stories is a podcast dedicated to bringing you inspiration in your muddiest moments, hope to make it through your mud, and encouragement for you to know, you are not alone.
In today's episode I'm talking to Emily Wierenga, an award-winning journalist, columnist, artist, author and blogger at emilywierenga.com. Emily's work has appeared in many publications, including Christianity Today, Dayspring's (in)courage, and Focus on the Family, and she speaks on a regular basis about her journey with anorexia.
Emily lives in Alberta, Canada with her husband Trenton, and their two adorable sons. And she's the author of her newly-released memoir entitled Atlas Girl: Finding Home in the Last Place I Thought to Look.
ALL proceeds from Emily's book will go to The Lulu Tree–a grassroots non-profit organization she founded–bringing healing and hope to women and children in the slums of Uganda through the arts, community, and the gospel.
In this episode we discuss:
Anorexia and how it begins
How to maintain hope in order to find healing
How to wait in the middle of our mud
How suffering can propel us toward God
How to allow our kids to suffer well
Steps to take today in order to see God, even in the middle of our pain
Mud Stories 006: Emily Wierenga ~ Anorexia, Hope Amidst Pain, and How to See God Even in Suffering  [Tweet that]
And after you listen, I'd be SO grateful if you'd take the time to give a rating or review over at iTunes, as those will help others find this podcast. (follow the instructions below) Enjoy!
SCRIPTURE:
Blessed are the pure in heart, for they shall see God.

Matthew 5:8 (ESV)  
CONNECT with Emily:
Website:

Social Media:

 Twitter

 Pinterest
LINKS:
DOWNLOAD the first two chapters of Atlas Girl HERE for free!

TO DOWNLOAD THIS PODCAST:
Right click here and save-as, to download this podcast episode. (If reading this in email, click HERE)
How to listen to The Mud Stories Podcast
1. Listen on the blog. Click to the podcast episode you would like to listen to and click the play button within the post.

2. On your smart phone or mobile device– There are a lot of great podcasting apps. Apple has a free one in the app store, and there's also one called Downcast, and another called Stitcher Radio. Many of them allow you to search for shows, subscribe to them and even speed up the audio. Let us know your favorite!

3. Subscribe to the Podcast – You can always access the podcast in iTunes or Stitcher, or you can search for Mud Stories on your smartphone's podcast app. And if you have missed past episodes, you can also listen via iTunes or Stitcher after you've subscribed, or click HERE to find all the episodes.

Subscribe in  iTunes HERE

Subscribe in Stitcher HERE
Rate or Review the Podcast
By rating the podcast or writing a 1-2 sentence review, it will help others find Mud Stories more easily, exposing the podcast to a wider audience.

Thank you so much for your help!

 CLICK HERE to leave a review in iTunes 

 CLICK HERE to leave a review in Stitcher