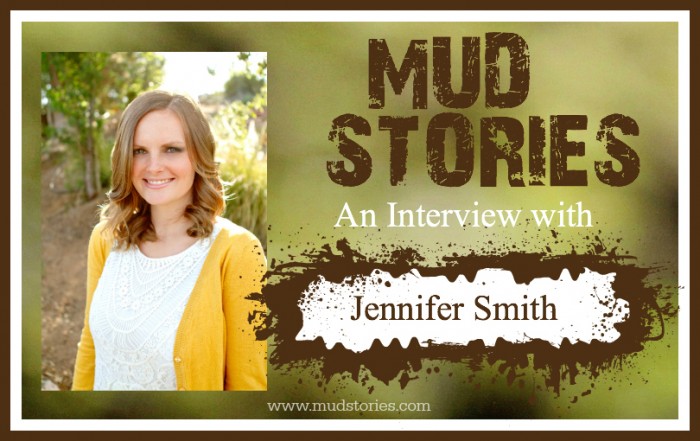 Welcome to episode 005 of Mud Stories!
Podcast: Play in new window | Download
Mud Stories is a podcast dedicated to bringing you inspiration in your muddiest moments, hope to make it through your mud, and encouragement for you to know, you are not alone.
In today's episode I'm talking to Jennifer Smith, founder and writer of Unveiled Wife. Jennifer began blogging in 2011 with the intention of sharing with other wives, not only the struggles she had in her marriage, but also the healing she and her husband Aaron encountered. Before they were married they asked God to use them–for Him–in an incredible way, and it seems that God is doing just that!
Today Jen's blog has grown into a worldwide ministry to wives, and is having a greater impact than they ever imagined would have been possible. She's the author of a 30-day marriage devotional, entitled Wife after God, and will be releasing her first traditionally published book with Tyndale in the spring of 2015. Jennifer lives with her husband, and their son Elliott, in central Oregon. And I am more than thrilled to invite you to share in our conversation today!
Jennifer holds nothing back, and shares her story with beautiful transparency and vulnerability, and I'm so excited you're here to join us. 
In this episode we discuss:
The struggles through her first few years of her marriage, including the physical pain and intimacy challenges she faced
The wonderful way God uses others in our lives to help us heal
The power of receiving God's grace, and then extending that same grace to our spouses
And the way our connectedness with God can lead to an increase in the intimacy of our marriages
Mud Stories 005: An interview with Jennifer Smith @unveiledwife–>Encouragement for YOUR marriage! [Tweet that]
And after you listen, I'd be SO grateful if you'd take the time to give a rating or review over at iTunes, as those will help others find this podcast. (follow the instructions below)
Enjoy!
SCRIPTURE:
Trust in the 

Lord

 with all your heart 

and lean not on your own understanding;




in all your ways acknowledge him,

 

and He will make your paths straight.

Proverbs 3:5-6 (NIV)  
CONNECT with Jennifer:
Website:

Social Media:

 Twitter

 Pinterest
LINKS:
TO DOWNLOAD:
Right click here and save-as, to download this podcast episode. (If reading this in email, click HERE)
How to listen to The Mud Stories Podcast
1. Listen on the blog. Click to the podcast episode you would like to listen to and click the play button within the post.

2. On your smart phone or mobile device– There are a lot of great podcasting apps. Apple has a free one in the app store, and there's also one called Downcast, and another called Stitcher Radio. Many of them allow you to search for shows, subscribe to them and even speed up the audio. Let us know your favorite!

3. Subscribe to the Podcast – You can always access the podcast in iTunes or Stitcher, or you can search for Mud Stories on your smartphone's podcast app. And if you have missed past episodes, you can also listen via iTunes or Stitcher after you've subscribed, or click HERE to find all the episodes.

Subscribe in  iTunes HERE

Subscribe in Stitcher HERE
Rate or Review the Podcast
By rating the podcast or writing a 1-2 sentence review, it will help others find Mud Stories more easily, exposing the podcast to a wider audience.

Thank you so much for your help!

 CLICK HERE to leave a review in iTunes 

 CLICK HERE to leave a review in Stitcher