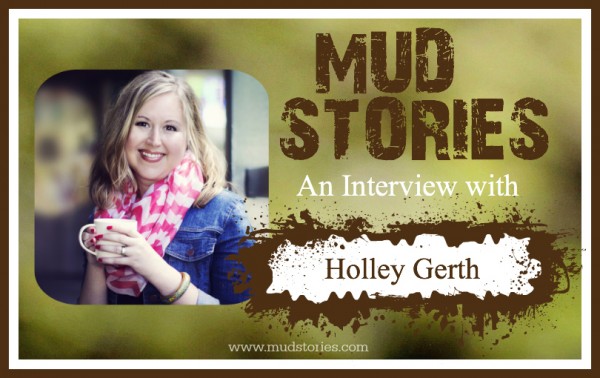 Welcome to episode 004 of Mud Stories!
Podcast: Play in new window | Download
Mud Stories is a podcast dedicated to bringing you inspiration in your muddiest moments, hope to make it through your mud, and encouragement for you to know, you are not alone.
In today's episode I'm talking to Holley Gerth, co-founder of the beautiful online community (in)courage.me, the best-selling author of books like You're Already Amazing, You're Made for a God-Sized Dream, and You're Going to Be Okay, and most importantly, a follower of Jesus, a wife to Mark, and a friend to us all.
Holley is an author and speaker, whose blog, HolleyGerth.com, is the coffee we need for our hearts.
In this episode we discuss:
How our preset expectations are changed as God takes us on Divine detours
How to hold on to hope when we continue to be disappointed by our circumstances
How to continue to trust God when He's taken something precious from us
How our loss of control can take our faith to a new place of growth and fulfillment
Mud Stories 004: An interview with @holleygerth–>Infertility, Redemption, and How to Hold on to Hope with @jacque_watkins [Tweet that]
And after you listen, I'd be SO grateful if you'd take the time to give a rating or review over at iTunes, as those will help others find this podcast. (follow the instructions below)
Enjoy!
SCRIPTURE:
Many are the plans in the mind of a man,     but it is the purpose of the Lord that will stand. (ESV) We humans keep brainstorming options and plans,
but God's purpose prevails. (MESSAGE) Proverbs 19:21
CONNECT with Holley:
Website:

Social Media:

 Twitter

 Pinterest
LINKS:
TO DOWNLOAD:
Right click here and save-as, to download this podcast episode. (If reading this in email, click HERE)
How to listen to The Mud Stories Podcast
1. Listen on the blog. Click to the podcast episode you would like to listen to and click the play button within the post.

2. On your smart phone or mobile device– There are a lot of great podcasting apps. Apple has a free one in the app store, and there's also one called Downcast, and another called Stitcher Radio. Many of them allow you to search for shows, subscribe to them and even speed up the audio. Let us know your favorite!

3. Subscribe to the Podcast – You can always access the podcast in iTunes or Stitcher, or you can search for Mud Stories on your smartphone's podcast app. And if you have missed past episodes, you can also listen via iTunes or Stitcher after you've subscribed, or click HERE to find all the episodes.

Subscribe in  iTunes HERE

Subscribe in Stitcher HERE
Rate or Review the Podcast
By rating the podcast or writing a 1-2 sentence review, it will help others find Mud Stories more easily, exposing the podcast to a wider audience.

Thank you so much for your help!

 CLICK HERE to leave a review in iTunes 

 CLICK HERE to leave a review in Stitcher