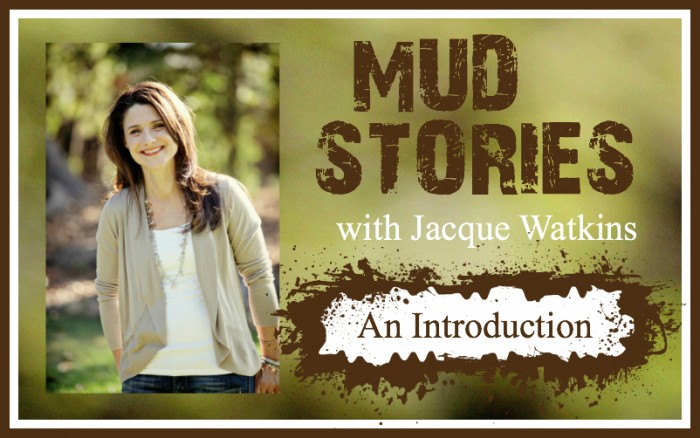 It's here! The very first episode of the Mud Stories podcast!

Podcast: Play in new window | Download
Mud Stories is a podcast dedicated to bringing you inspiration in your muddiest moments, hope to make it through your mud, and encouragement for you to know, you are not alone.
It's all about our mud—times of trials, adversity, failure, suffering, or pain—no matter how we got there, and no matter how dirty or messy it all was, and how God met us even there. And I am so excited to share it with you!
There are several ways to listen: you can download the podcast to your computer or listen to it right here on the blog. And in addition, I'll be submitting the podcast feed to iTunes and Stitcher soon, so you'll be able to subscribe there too–but, I'll let you know when it's up and ready to go!
Since this is the very first episode, I spend some time answering a few questions:
Who is this host, Jacque Watkins?
What is a mud story? And what will this podcast be about anyway?
Who this podcast is for?
And what you can expect along the way.
In the future, the podcast will feature special guests who will share their mud stories–what they went through and what they learned, and how God met them in the middle of their messy mud. And just maybe, every once in a while, there may be a solo show from me too.
We have all faced our own mud–or are walking through some even now–and it is my hope that these podcasts will be the encouragement our hearts need…
To be reminded that God has not forgotten us,
To be reassured that He is with us in our mud,
And to know He really is working to redeem and restore our situation in His perfect time.
And as you listen, I'd be so grateful if you'd consider sharing this podcast with a couple friends, or with your social media communities, so others can be encouraged too.
A NEW podcast!! Mud Stories with Jacque Watkins–a podcast about our messy mud and how God meets us in it. #mudstories [Tweet that]
Again, your friends can find the podcast by coming to the blog and clicking on "The Podcast" tab at the top of this page, or they can go to www.mudstories.com to see all the current episodes. And very soon, they'll be able to find it over at iTunes and Stitcher too.
If you're interested in receiving posts, you can subscribe below.