Sometimes I think Satan gets way too much credit. Like he's omnipresent or omniscient or something. I hear people say they're "under attack", especially when they try to do something for God. And I don't completely buy it.
The truth is, when God asks us to do something, saying yes is hard. Many times He's asking us to say yes to something beyond what we can do alone. And most often, our biggest enemy is our very own selves.
And I know.
I lived some wasted years in between my confession and my declaration–in between revealing my failure and being healed by it. And yet even though those half-a-dozen years felt wasted, nothing is ever wasted with God.
"Hardships in life shape us, struggles define us, and both ultimately prepare us for the future God is calling us to.

"The most breathtaking moments often come when we discover we have nothing left, but everything we need. This deep brokenness feels like the end, but it's actually a new beginning.

"These devastating moments in our lives can be redeeming…the hard seasons make us stronger. Struggling is part of moving forward.

"God uses our brokenness for His purpose. What He puts back together heals stronger.

~Kristen Welch, Rhinestone Jesus
Little did I know that through those years–years I thought were wasted, God was preparing me to be ready to help others, by first healing the brokenness inside of me.
"Often God puts us in uncomfortable spots because it's where the hard work is done. When God says wait, it's because He's getting ready to show up.

"These devastating moments in our lives can be redeeming…the hard seasons make us stronger. Struggling is part of moving forward.

~Kristen Welch, Rhinestone Jesus
I finally did say yes to sharing my story publicly. Because God had brought me to a place where, as I shared, He could be glorified in me. And He also matured me to a place where I was able to handle the inevitable criticism with grace.
Saying yes in the middle of my mess not only changed me, but has helped change others, as together we've seen how God really does leave nothing in our lives unredeemed.
His mercy finds us every time.
His grace changes us every day.
And God uses it all.
Our tragedy, our pain, and even our failure.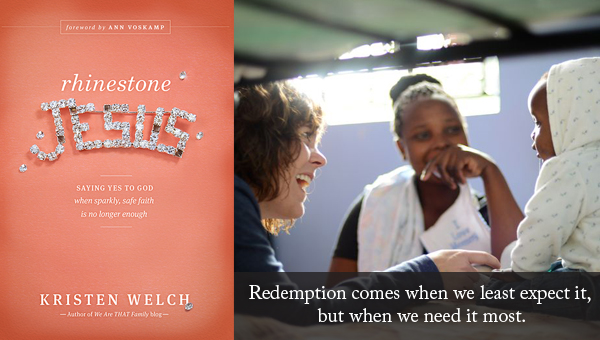 He uses it to make us more like Him so that our lives will reflect His love to a lost and dying world.
"God doesn't promise we won't have hardships; He promises us we won't be alone in them.

"God can turn the thing that hurts you into the thing that heals you.

"Not only does He provide…He changes me in the process. 

~Kristen Welch, Rhinestone Jesus
But it's not easy to say yes when God asks. And we can be our own worst enemy.
We second guess what we heard Him tell us to do.
We decide to keep waiting for more direction because we're too afraid.
And we keep begging Him for there to be another way–longing for Him to confirm we've heard wrong.
Even when we want to say yes to Him with our whole heart, we struggle. We get anxious and uncomfortable and afraid. We worry about what could go wrong, how it will turn out, and we doubt we should say yes. We doubt we can do it.
And the real truth is, we can't do it.
But He can. 
"I believe God is calling us to smallness…He wants us to participate in the miracle.

"World changers don't set out to change the world; they see one need and do what they can to meet it.

~Kristen Welch, Rhinestone Jesus
And that's the beauty of being called to something by Him that is beyond ourselves.
It is something God-sized–something only He can do. 
"God never promises He won't give us more than we can handle; He promises we won't be alone.

~Kristen Welch, Rhinestone Jesus
Because when we get through it to the other side and He alone has brought the miracle, then He alone gets the glory.
This is the story of Kristen Welch, author of the newly released book, Rhinestone Jesus
. She is a mom of three, who said yes to God, right in the middle of her mess.
There she was, living in a suburb, serving Jesus in her safe and comfortable way. Having worn a JESUS Rhinestone pin in high school, to show her love for Him. But deep inside she always suspected there was more to life than chasing the elusive American dream. And she also felt like God was about to show her how.
And He did.
Through a Compassion International blogger trip to one of the most impoverished slums in the world, Kristen came face to face with the extremes of poverty and injustice, and learned of travesties she'd never known existed.
And it wrecked her. Shook her. And all of it changed her.
And Kristen returned home new. And she knew deep down that she could not, NOT do something.
And so…
She. said. yes.
"God didn't wait for me to get my life together before I said yes–He accepted my willingness in the middle of my mess.

~Kristen Welch, Rhinestone Jesus
In the middle of her motherhood mess, one tiny decision at a time, Kristen and her family said yes to God. Yes to the dream of rescuing and empowering young mothers in Africa through a Maternity Home called Mercy House.
Yes to rescue.
Yes to restoration.
Yes to healing.
Yes to trust He'd open the doors.
And Yes to see Him make a way.
"Saying yes isn't really about doing it all. It's about saying yes right where you are.

"World changers don't set out to change the world; they see one need and do what they can to meet it.

"We aren't called to do big things; we are just called to do something that fulfills this command: Love God. Love others.

~Kristen Welch, Rhinestone Jesus
Rhinestone Jesus
 is a redemptive story.
The story of one ordinary woman, determined to follow Jesus wherever He would lead. No matter how dark it seemed, and no matter how impossible it looked.
And that first little yes has changed countless lives–lives transformed and rescued because Kristen and her family took a risk and said yes. And continued saying yes, all along the way.
If you want to be inspired in your own mess,
If you crave something more in this life,
If your heart longs to make a difference in the world right where you are,
This book is for you!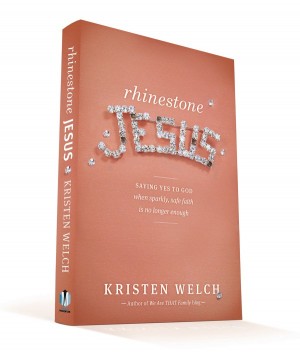 Kristen will not only guide you in how to say yes in your mess, she will show you how in the most marvelous ways. Through infertility, motherhood messes, marriage challenges, and over scheduled days, Kristen shares her struggles, realistically conveys her fears, and in the midst, passionately chooses Christ in the middle of it all.
Her encouragement to our hearts is great, as she offers a riveting in-real-life story. She brings words of inspiration to empower us, and give us courage when we're doubting and second-guessing ourselves, and wondering if a yes is really possible for even us.
In the words of Kristen herself…
"Lay down your burden and simply ask Jesus for an opportunity to say yes. And then watch out!

"Your small yes can change the world.

 ~Kristen Welch, Rhinestone Jesus
May it be so for us all is my prayer.
Read Rhinestone Jesus and be changed . . . changed to say yes to God, right where you are.
How have you said yes to God lately?
What happened when you did?
Kristen's book Rhinestone Jesus, releases today, and is available at:

Amazon, Barnes & Noble, Dayspring, CBD, and wherever books are sold.

A portion of the proceeds go to Mercy House Kenya.
And as you consider YOUR yes, Kristen would love to partner with you, as she and her team serve pregnant women and new mothers at Mercy House, Kenya.   She'd also love if you'd consider sponsoring a child through Compassion International, an organization changing lives, one child at a time.  

To learn more about partnering with Mercy House, click here.  To sponsor a child through Compassion, click here.