Woo Hoo!!! TODAY is the day registration opens for our (in)couragers community groups through the amazingly fantastic super-powers over at (in)courage!
Last year I was blessed to lead an online (in)couragers group through the fall and the spring, and some of the connections we made have become real friendships full of love and support.
In case you didn't know, (in)courage is a captivating online community, full of daily encouragement and inspiration. And TODAY I am partnering with them as we kick off this fall session of (in)couragers community groups…
Groups made to connect women beyond just a blog post.
Groups built around common interests or themes,
Made for women just like you, by women just like you!
And I'm honored to be serving on their leadership team this fall!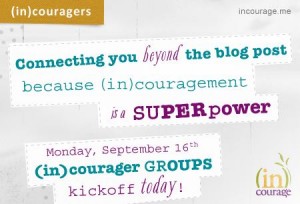 We have Bible Study groups, Women in Ministry Groups, Motherhood Groups, Marriage groups, Empty Nester groups, Adoption groups, Professional groups, Student groups, Writing groups, and other Special Interest groups–including abuse survivors, chronic illness, depression, infertility, and hope for hurting families. Over 70 groups waiting for you … to walk alongside you in community!
S-E-V-E-N-T-Y!!!
What could be better than that?
Yet I know, many of us have been hurt or wounded in community, and we are hesitant to take a risk again–too guarded to open our hearts to this scary vulnerable thing called community.
But as Mary DeMuth says, sometimes the thing that has wounded us most, is the very thing God uses to heal us.
And I promise you there is no safer, more loving place, than (in)courage for  you to begin!
(in)couragers are community and community is connection … and God meets us as we care for one another there. [Tweet that]
We have been planning and preparing and praying for you, that you'd come and connect, and be changed in community!
Each group is limited to 30 members, in order to facilitate interaction in the building of meaningful relationships, and I can't wait for you to see what is waiting for you there!
Join us and be changed by the power of community!
And don't forget … tell a friend! There are chocolate and cupcakes waiting for you there!
May your fall be blessed beyond measure as you are touched by connection with others who understand!
With so much love and thanks for you…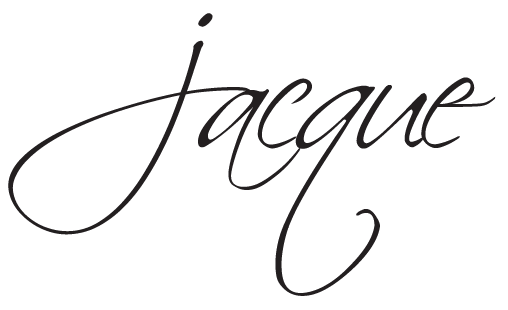 How has community changed your life?