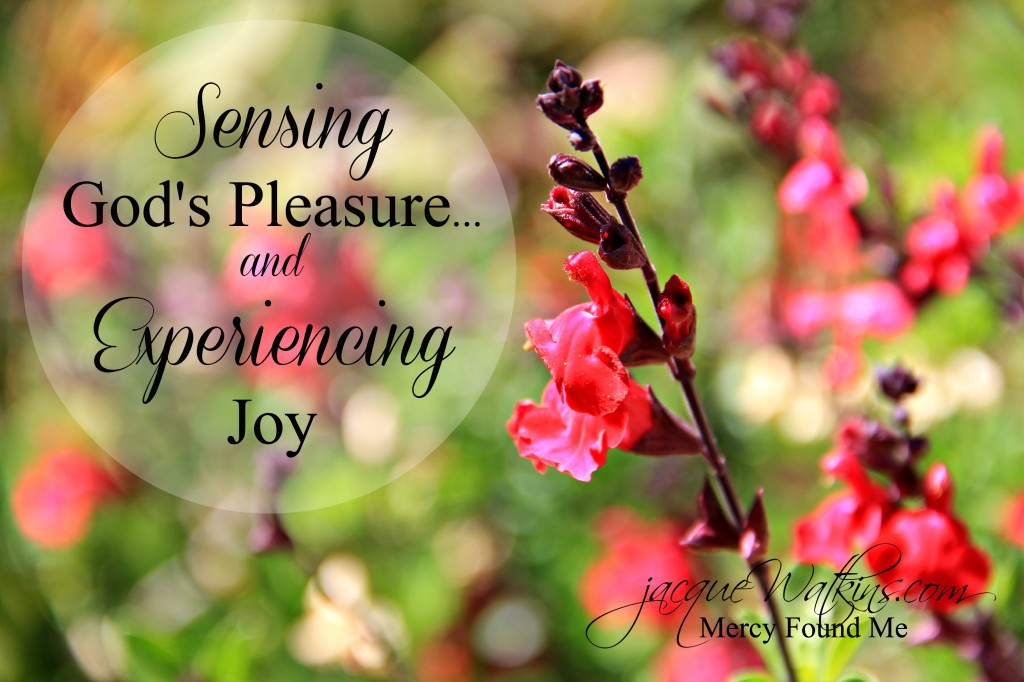 The times in life when I experience the most joy, are the times I sense God's pleasure.
The times I'm close to Him, reading His Word, journaling my thoughts, and sharing with Him my heart.
The times He multiplies my efforts as a mom, filling in the gaps where I lack, and showing me there's hope anyway.
The times I write my heart on pages, and my fingers tap out something that speaks more to me than anyone else, as if I needed to teach my own heart the truth first, without realizing it at all.
And lately, joy has come in facing the fear and dreaming God-sized dreams … in praying and longing for God to use me to help others find mercy and know His grace. It's joy as I pray to be used by Him in ways far beyond anything I could dream or imagine … praying to sense His pleasure even there.
And you know what?
He's doing it. He is bringing opportunities for me to be used by Him, and as I walk through the doors that open, I'm feeling His pleasure, and I am experiencing joy.
And  in particular, today is one of those days.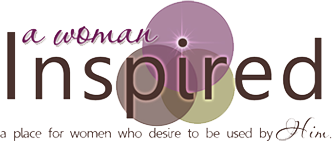 Several weeks ago I was asked to speak at an online conference called A Woman Inspired. .. a conference  where women come together wherever they are, log in for free, hear amazing encouragement from speakers and interact in an online community.
And the conference begins today, March 20th, and continues through Friday March 22nd.
I think you would really love to gather there and be encouraged in your faith. And the best part, there's no cost! You can call in from a phone to hear the sessions, or log in from your computer wherever you are. All you have to do is register, so that you have access to the link required to log in.
And, if you're not available during the live sessions, the mp3's and downloadable and printable notes will be available to all registrants. So you can't lose either way.
It's FREE encouragement for the end of your week, and I think you'll be so glad you registered!
And if I may humbly ask one thing?
Would you mind saying a prayer for me as I speak today, and for the hearts of the women as they will listen?  That they would really know how very much God loves them and how He really can redeem all things. Perhaps you'd consider typing a small prayer out in the comments? Either way, I'd be so very thankful.
I'll be speaking today at 10am PST. You can read the synopsis of my talk below, and click on the link to register too.
And if you listen in, let me know how you liked the conference … you can contact me anytime … I'd love to connect with you!
So what do ya say? Won't you join me there?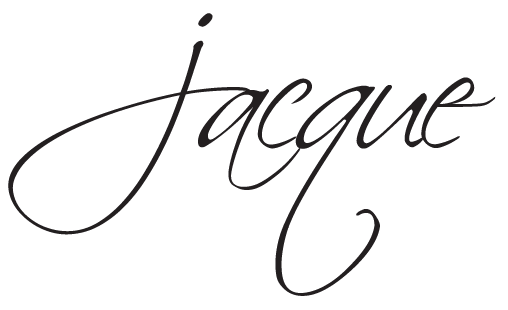 Expectations that Bury: Steps for Digging Your Way Out

Do you find your heart buried with the weight of not being enough? Have you set expectations for your life, only to become frustrated and disappointed when they aren't being met? Perhaps you've been hurt by life's circumstances or struggled with personal failure, leaving you disillusioned by the life you're now living … one you never expected at all. Join Jacque as she exposes the expectations that bury us, and some steps we can take to dig our way out and into the freedom and joy God intends for us all.

Click HERE to register for A Woman Inspired, Online Conference