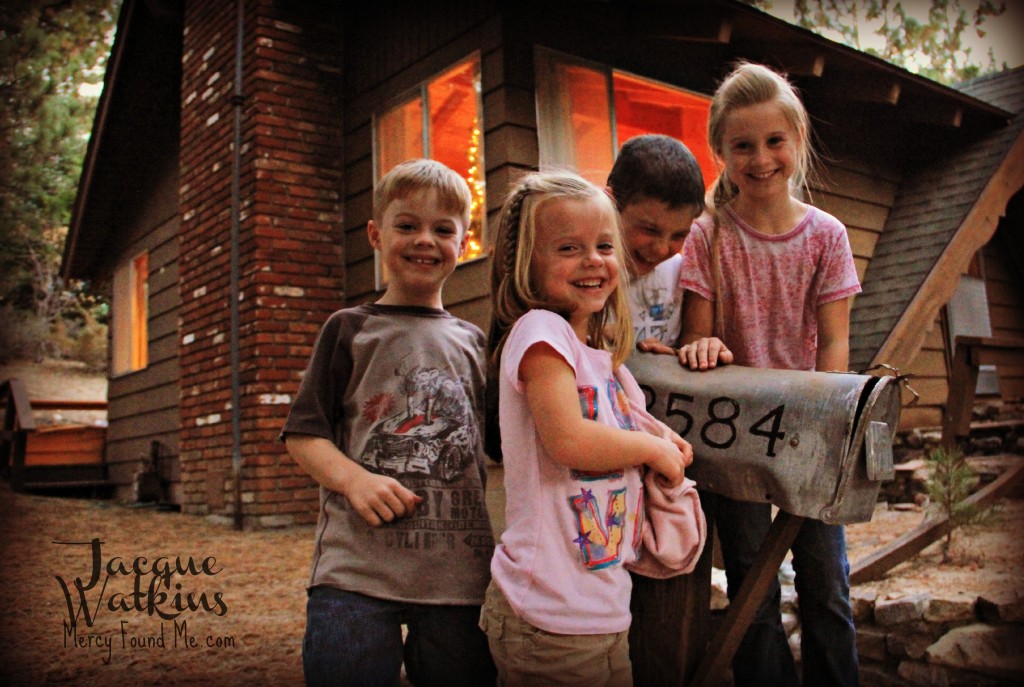 They run around the mountain cabin like a band of barbarians, wild and crazy and loud. They chase and they banter and their excitement is palpable. And still, I'm irritated and annoyed, and I come Unglued.
Nevermind they're just kids in a new and exciting place

Never mind they've been cooped up in a car on a long drive up the mountain
I explode and blame them … and I shame myself in the process.
Why is this so hard?

Why can't I loosen up?

Why can't I just let things go?
As I've examined my unglued moments over the past few weeks, I'm realizing I come most unglued with my own children.
Because I have unrealistic expectations…
Of quiet and calm behavior

Of serene moments just hanging out together
And I'm not sure what dream land I'm in, but I'm realizing, this is not the season for all that. At the ages of 10, 8, 6, and 4 there is nothing short of boundless energy and constant interaction at all times, with someone always disagreeing with someone else. And no one needed this week's chapter more than me!
A Procedure Manual for the Unglued, provided actual steps I could take when I'm feeling the intensity of my raw emotions. And the few times I was able to successfully implement each step was a new benchmark for me.
But you know what two things were required of me in order to respond with patient gentleness?
First, an awareness—a recognition that I may be beginning to come unglued,

And then, self-control–the hardest part of all!
It's so much easier to just let my emotions run wild, refusing to discipline myself to what God says gives life—kind and gentle words. And I so want my children to hear life-giving words from me, not stifling words. I want them to grow strong and confident because of me, not be on edge with anxiety, never knowing if their mama's gonna come unglued.
Predetermined Biblical Procedure Manual 1. Alarmed, I resolve to remember who I am. 2. Jesus, Jesus, Jesus. 3. Stay in the flow–my job is obedience, God's job is results. 4. Shift from an attitude to gratitude. 5. My reactions determine my reach. ~Unglued, p.117
And won't you join me on this journey, to do these steps that may change our lives and those around us?
Let's resolve to recognize when we're beginning to come unglued.

Let's determine to remember who we are.

Let's call on the powerful name of Jesus, and operate in His way instead of our own.

And as we do, let's shift our perspective and give thanks for what we do have, so our reach will be a blessing.
This week we'll be covering session 5 in the participant's guide and chapters 9 and 10 in the book. There are times we come unglued while interacting with people, but there are others times our tendency to become unglued is the result of our own selves.
This week, Lysa will help us become more aware of how jealousy, comparisons, negative thoughts, and assumptions can be fertile ground for becoming unglued.
And as we recognize what we do have … as we focus on giving to others, and as we banish our insecurities and replace our destructive thoughts with more constructive ones, we can make more imperfect progress on our say.
Lysa has some lingering words for our unglued hearts and I can't wait to hear them!
Jacque
How did these steps work for you this week?
What was your biggest success or biggest failure in coming unglued?
If you want to share something from your journey through the book Unglued, please, please, leave a comment or link-up with us today!! Tracie and I can't wait to hear what's been happening with you!!
(And just so you know, if you're behind in your reading you are not alone!! … remember…imperfect progress … that's the goal!)